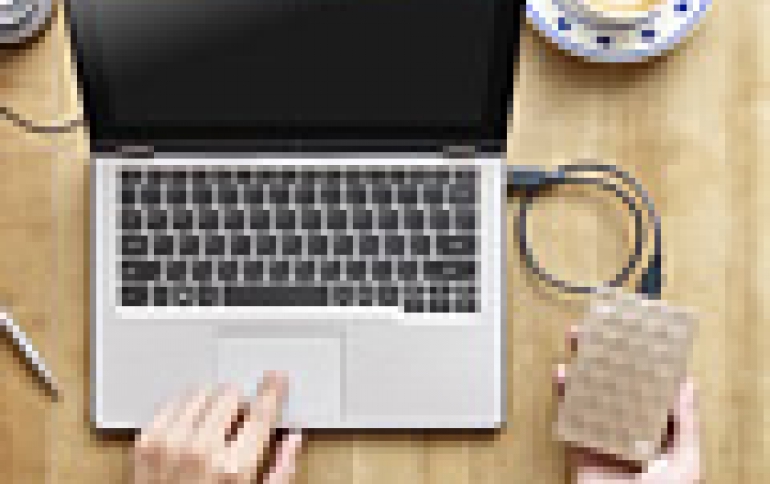 Seagate Launches World's Thinnest 2TB Mobile Hard Drive, New Lacie And Porche Design Desktop Drives
Seagate and its LaCie subsidiary today announced at CES a new line of backup hard drives, in both desktop and mobile form factors: the 2TB Seagate Backup Plus Ultra Slim, the 1TB Chromé desktop SSD, and the LaCie Porsche Design Drives in both desktop amd mobile options. Seagate says that the Backup Plus Ultra Slim is the world's thinnest 2TB mobile hard drive. At just 9.6mm, the Backup Plus Ultra Slim external drive employs Seagate's latest 2.5-inch HDD technology, making it more than 50 percent thinner than other 2TB drives on the market. The drive uses a USB 3.0 (6Gbps) interface to connect to host computers.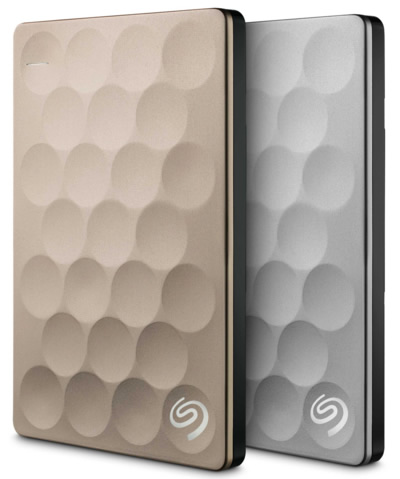 It will be available this quarter in golden or platinum metal finish.
The Backup Plus Slim includes Seagate Dashboard software, which offers users either one-click on-demand or customizable, scheduled backups for their devices.
Backup Plus Ultra Slim also comes with 200GB of free Microsoft OneDrive cloud storage for two years, which lets users share and access their favorite files anywhere on a mobile device or a PC. The Backup Plus Ultra Slim also includes Lyve software, which helps users to protect photos and videos from their digital cameras and smartphones and automatically organizes them into a single unified library accessible from any mobile device or computer.
Seagate's LaCie subsidiary also announced the 1TB Chromé desktop drive, which is based on solid-state drive (SSD) technology, and features USB 3.1 Gen 2 technology (up to 10Gbps throughput), and USB-C connectivity. The drive is also compatible with standard USB 3.0 (Type-A) ports, thanks to the included adapter cable.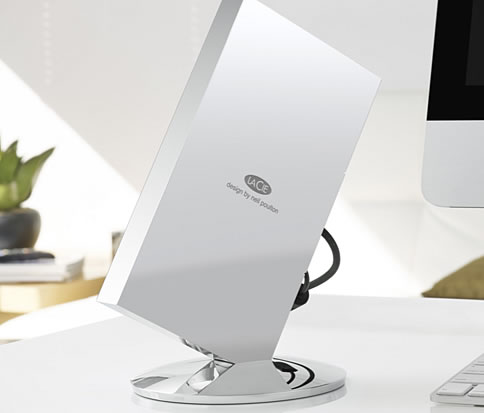 The drive features a pair of 500GB M.2 SATA SSDs configured in RAID 0 and USB 3.1 connectivity. Lacie claims the Chromé is the fastest USB storage product on the market, with up to 940MB/s throughput.
The LaCie Chromé features a two-year limited warranty that can also be extended and upgraded. The Chromé is expected to be available as early as this quarter at a retail price of $1,100, LaCie said.
LaCie also announced two new drives based on designs from Porsche. Both are targeted at Apple hardware with its brushed aluminum finishes and rounded edges.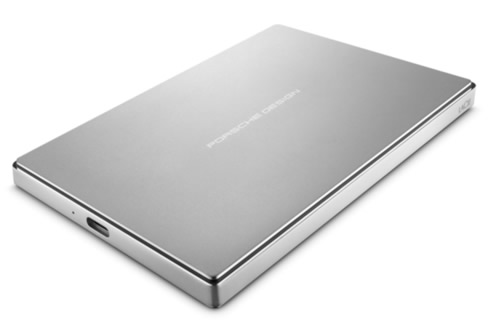 The Porshe Design Mobile Drive comes in 1TB, 2TB and 4TB capacities. The Porshe Mobile Drive offers USB 3.1/Type C connector technology and has a USB 3.0 adapter for backward compatibility.
The LaCie Porsche Design Mobile Drive will available in March with a starting price of $110.
LaCie's new Porsche Design Desktop Drive comes in 4TB, 5TB and 8TB capacities and uses a single 3.5-in hard disk drive. It can charge a compatible laptop's battery when the drive's power supply is connected to the wall outlet. Via a single USB-C cable, users can power their notebook and access their drive at the same time.
The Porsche Design Desktop Drive comes with a two-year limited warranty and will have a retail price starting at $210.