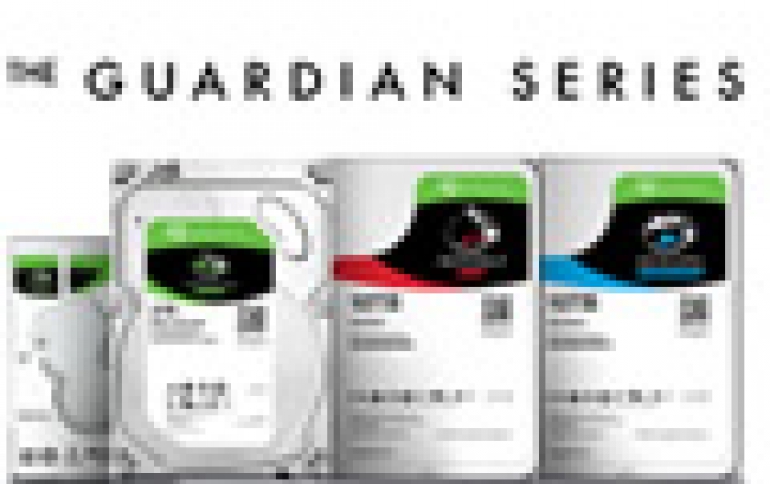 Seagate Unveils 10TB hard Drive Portfolio
Seagate Technology plc today unveiled a new portfolio of 10TB helium-based drives dubbed the Guardian Series. The 10TB Seagate BarraCuda Pro desktop drive, Seagate IronWolf for NAS applications and Seagate SkyHawk for surveillance introduce new brand names.
Capabilities in the new 10TB drives include multi-tier caching technology (MTC Technology), an intelligent caching architecture for maximized performance; AgileArray, designed to optimize drive performance through error recovery control, dual-plane balancing, and power management; and ImagePerfect for surveillance, supporting high resolution cameras.
The standard BarraCuda line now includes hard disk drives with spindle speeds ranging from 5,900rpm to 7,200rpm and capacities ranging from 500GB to 10TB. The drives also come with 16GB to 64GB of DRAM cache, depending on the overall capacity, and are being offered in 2.5-in. laptop form factors and 3.5-in. desktop sizes.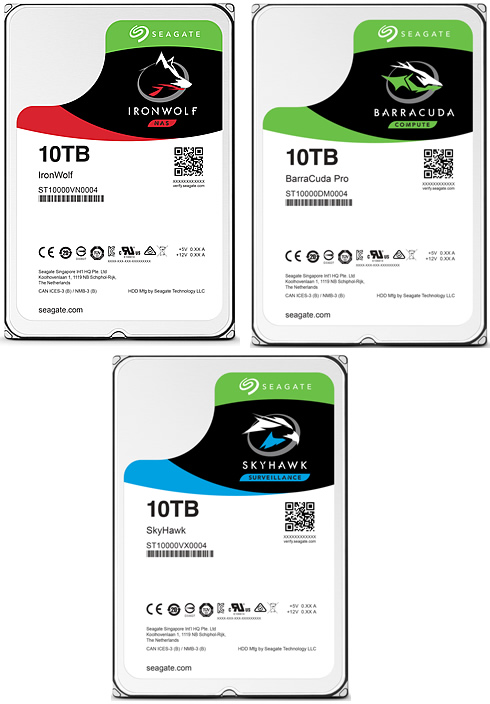 The updated BarraCuda drive line will offer sustained data transfer rates of up to 210MB/s. The 2TB models will retail for $81 and the 3TB models will sell for $100.
Seagate also announced a new drive for PC "enthusiasts," the BarraCuda Pro, which comes in capacities of up to 10TB. The drive has a 7,200rpm spindle speed and a data transfer rate of up to 220MB/s, and comes with a five-year limited warranty. That's more than twice the typical two-year BarraCuda HDD warranty.
The drive also comes with Seagate's Self-Encryption Drive (SED) technology, which password protects data on the drive but also allows users to crypto-erase it by changing the encryption key, ensuring no one can access it.
The BarraCuda Pro can sustain up to 55TB of data writes per year. The 10TB BarraCuda Pro will retail for $535.
Furthermore, the FireCuda SSHD combines flash with the latest hard drive technology for both 2.5 inch and 3.5 inch offerings. The FireCuda drives ignite both capacity (up to 2TB) and performance solutions (up to 5 times faster than its HDD counterpart) for gaming and creative applications.
NAS-optimized with AgileArray, IronWolf is built with drive balance, and is the first in its class of drives to have rotational vibration (RV) sensors to mitigate vibration in multi-drive systems, RAID optimization for performance with error recovery control, and advance power management providing power savings in NAS. IronWolf raises the bar even further with multi-user technology that provides a 180TB/year user workload rate.
The IronWolf 10TB HDD will retail for $470
Seagate celebrates its 10th year of shipping surveillance drives with its latest 10TB SkyHawk offering for surveillance systems relying on large storage solutions for network video recording (NVR). SkyHawk drives use rotational vibration sensors to help minimize read/write errors, and can support the sharp vision of 64 cameras. SkyHawk drives also come with a data recovery services option.
The 10TB SkyHawk HDD will retail for $460.
IronWolf and BarraCuda Pro are now shipping worldwide, and Seagate is currently sampling the SkyHawk to select customers.