Sharp Claims New Oxide Semiconductor Technology Will Revolutionize Displays
Sharp and Semiconductor Energy Laboratory Co., Ltd. have jointly developed a new oxide semiconductor (IGZO) technology that will make displays slimmer and clearer. Sharp says that this material will enable even higher resolutions, lower power consumption, and higher performance touch screens, as well as narrower bezel widths for LCD display panels used in mobile devices such as smartphones.
Details of this new development will be presented at the 2012 SID Display Week Symposium to be held in Boston, USA, on June 5 as part of the annual international conference of the Society for Information Display.
This jointly developed new IGZO technology imparts crystallinity in an oxide semiconductor composed of indium (In), gallium (Ga) and zinc (Zn). Compared to current amorphous IGZO semiconductors, it enables even smaller thin-film transistors to be achieved and provides higher performance. This new material is expected to be adopted for use in LCD displays for mobile devices such as smartphones where the trend toward higher screen resolutions is growing increasingly strong. Further, it can also be adapted for use in organic EL displays which hold out high expectations for the future. Although challenges to commercialization remain in terms of both service life and production, the two companies plan to push ahead with R&D in anticipation of future market needs.
Sharp showacsed LCD IGZO display prototypes for smartphones sized at 6.1 and 4.9 inches. The 4.9-nnch display features a resolution of 1280 x 720 pixels, and a pixel density of 302ppi. The larger 6.1-inch prototype displays at 2560 x 1600 pixels and has a 498ppi.
The company's OLED prototypes include a 13.5-inch 2160 x 3840 (QFHD) display with a 326ppi pixel density using a white OLED + RGB color filter. A smaller 3.4-inch OLED display was flexible and had a resolution of 960 x 540 at 326ppi.
 
LCD display
Screen size
4.9 inch
6.1 inch
Resolution (pixels)
720 x 1280
2560 x 1600
Pixel density
302 ppi
498 ppi
Envisioned application
Smartphones
Mobile devices
 
Organic EL display
Screen size
13.5 inch
3.4 inch
Resolution (pixels)
2160 x 3840 (QFHD)
450 x 960
Pixel density
326 ppi
326 ppi
Outstanding feature
White OLEDs + RGB color filters
Flexible type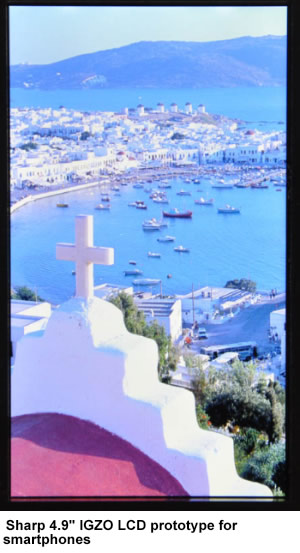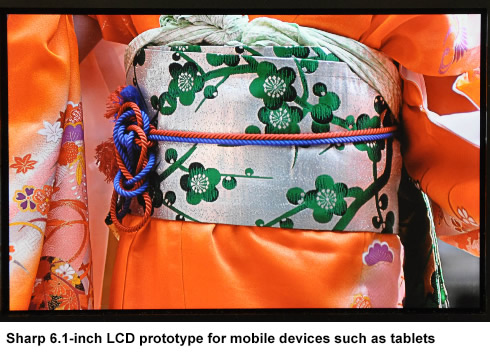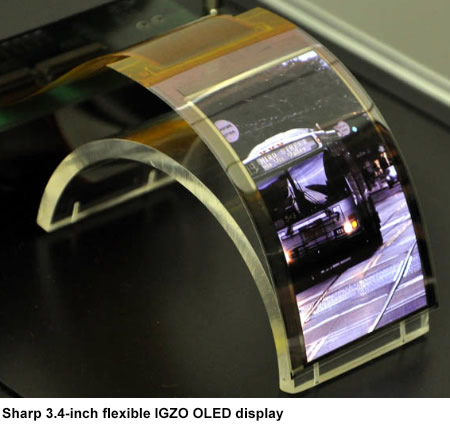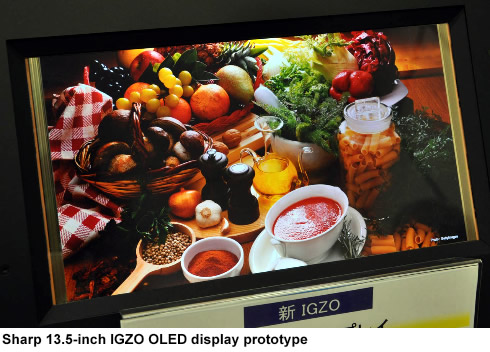 With the aim of early commercialization LCD displays using this new IGZO technology, the two companies will also be pursuing R&D to expand the use of this material in non-display devices and to develop applications other than displays in the future.