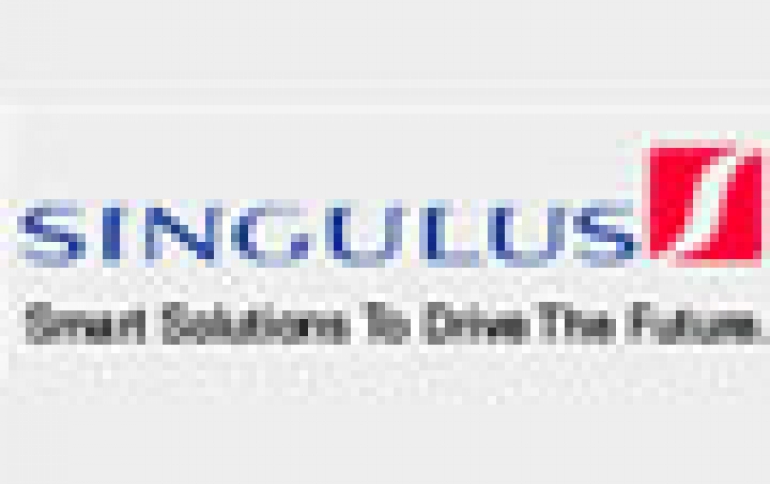 Singulus Receives New Blu-ray Orders, Returns to Profitability
Singulus Technologies has completed a new major order for Blu-ray production machines of the BLULINE II type and CRYSTALLINE Mastering Systems and has confirmed that with orders for nearly 40 BLULINE II machines, it is confident of reaching its forecast of up to 50 machines this year. The company's long-standing customer Cinram International Inc., Canada, continues to invest significantly in the Blu-ray discs production.

"In line with growing market demand, we are expanding our Blu-Ray production capacity in North America and Europe. We expect a large increase in our Blu-ray disc business", states Steven G. Brown, CEO of Cinram International Inc., Toronto/Canada. "We are completely satisfied with the machines from SINGULUS and we believe that the new investment will assure a cost effective production of Blu-Ray Disc."

SINGULUS has become the global market leader with the BLULINE II replication systems. Worldwide almost all replicators produce Blu-ray discs with 50 GB storage capacity with SINGULUS machines. The BLULINE II is a manufacturing machine with a high production rate and the worldwide benchmark in the Blu-ray disc production. The SINGULUS Blu-ray Mastering System CRYSTALLINE is well accepted for Single and Dual-Layer Blu-ray masters and stampers and follows the BD specification.

SINGULUS TECHNOLOGIES relies on its two core business areas and a lean business model. In the Optical Disc segment SINGULUS is market leader - the activities in the Solar segment will provide considerably positive impulses for the business development of the company.

Due to the fact that the order intake of €65.9 million in the first quarter 2011 already has increased by 66 % compared to previous year, Singulus' executive board published a sales forecast of more than €160 million for the business year 2011 on the occasion of these new orders received. With a projected increase of at least 33 %, the sales forecast is significantly higher than the €120.1 million realized in the business year 2010. As further major orders will be completed shortly, the order intake of the total year 2011 is expected to be considerably higher than the sales expectancy. Following three years with negative earnings, the company is expected to achieve a turnaround in 2011 and to post a positive result.

In its "Blu-ray Disc Replication Report" in November 2010 the market research institute Futuresource Consulting announced that the global Blu-ray production increased sharply in the year 2010. By the end of the year 2010 a total production of 400 million pre-recorded video Blu-ray discs was expected. This corresponds to an increase of 60 % compared to the year 2009. For the next couple of years the analysts at Futuresource Consulting forecast a further rise in the Blu-ray production. The required production capacity for the manufacturing of Blu-ray Discs is set to nearly triple and to amount to more than 3 billion discs.