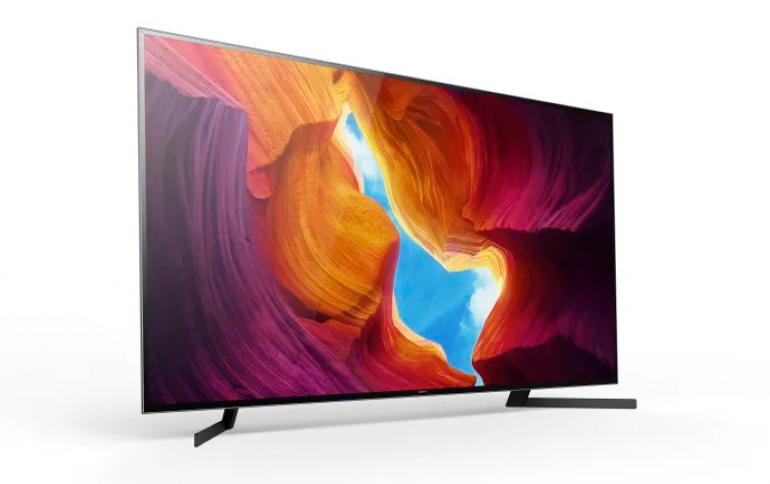 Sony's Flagship XH95 4K HDR Full Array LED TV Now Available in Europe
Sony's top-of-the-range 4K HDR Full Array LED TV is now available in Europe, bringing the best of the company's picture, sound and user experience features in five screen sizes.
The XH95 uses Sony's Picture Processor X1 Ultimate for clear and precise picture quality. The models also feature Sound-from-Picture Reality, which gives consumers the feeling that sound is coming directly from the screen.
The XH95 TVs continue to deliver the creator's intent with Netflix Calibrated Mode, offering studio-quality Netflix content, and IMAX Enhanced, which brings the IMAX Experience into the home.
Sony's XH95 TVs also introduce Ambient Optimization, a new technology that optimises picture and sound quality in any customer environment. It will automatically adjust the picture brightness to the ambient light in the room, boosting the brightness in bright rooms and reducing in dark rooms for the perfect view. It even detects objects in the room, such as curtains and furniture that can absorb or reflect sound, fine-tuning the acoustics.
In addition to Ambient Optimization, the XH95 TVs will feature a new Immersive Edge design concept. A discrete stand is now located at the edge of the screen.
The XH95 line-up features Android TV with the Google Assistant, Google Play Store and Chromecast built-in, which offers users easy access to content, services and devices via its extensive platform. Sony's original user interface menus and voice controls are also enhanced for better daily use. With the Google Assistant and Amazon Alexa enabled devices, you may cast and control videos from YouTube with Google Home or change the channel or volume with Amazon Alexa enabled devices. Apple AirPlay 2 users can stream movies, music, games and photos to their television right from their iPhone, iPad or Mac. The Apple HomeKit technology provides an easy way for users to control their television from their iPhone, iPad or Mac.
Sony XH95 4K HDR Full Array LED TV
UK RRP prices
123 cm (49'') KD-49XH9505: £1,199.002(incl. VAT)
139 cm (55") KD-55XH9505: £1,599.002(incl. VAT)
164 cm (65") KD-65XH9505: £1,999.002(incl. VAT)
189 cm (75") KD-75XH9505: £3,199.002(incl. VAT)
215 cm (85'') KD-85XH9505: £3,999.002(incl. VAT)
Screen sizes: 85", 75", 65", 55" and 49"
Features Picture Processor X1 Ultimate providing 4K HDR viewing with the following technologies: Object-based Super Resolution, Object-based HDR remaster, Super Bit Mapping 4K HDR and Dual database processing
Features full-array local dimming backlight with X-tended Dynamic Range PRO that ensures 6 times the contrast of our conventional LED TVs
X-Wide Angle technology provides vivid real-world colours from any angle while retaining more colour and brightness. The XH95 4K Full Array LED TV will come with X-Wide Angle in the 55" size and above.
Features improved Acoustic Multi-Audio, Sound-from-Picture Reality concept with a bi-amp system, which controls the main speaker and invisible tweeter separately, and an X-Balanced Speaker, a new speaker unit that packs clear sound in a slim design (bi-amp, X-Balanced Speaker only available for the 55", 65" and 75" screen sizes; Acoustic Multi-Audio for 55" and above)
Flush Surface design offers bezel-less look (55", 65" and 75" models only)
New Ambient Optimization optimises picture and sound quality in any customer environment.
TRILUMINOS Display
Dolby Vision and Dolby Atmos compatible
Features hands-free capabilities (available for 55" and above)
Works with Smart Speakers, including Google Home and Amazon Alexa enabled devices
Easy connectivity to most devices, including Apple AirPlay 2, HomeKit
Quick access to an array of content and services with Android TV