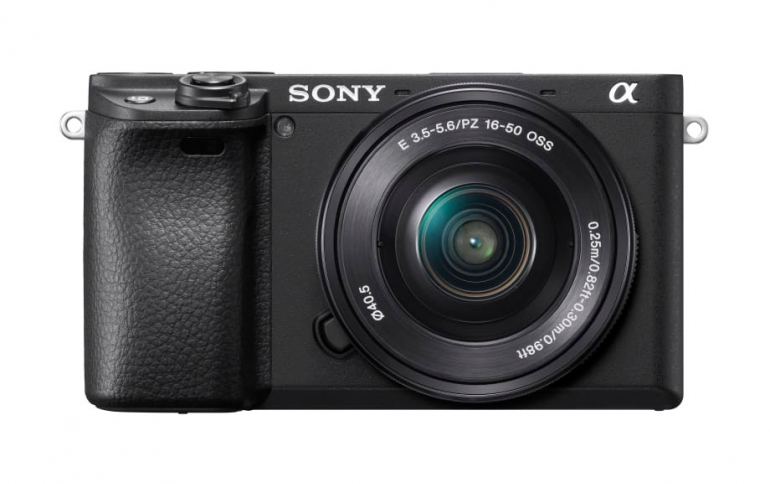 Sony Announces the α6400 Mirrorless Camera with Real-time Eye Autofocus, Real-time Tracking
Sony today introduced a new addition to its E-mount mirrorless camera line-up, the α6400 (model ILCE-6400).
The α6400 brings many of Sony's most advanced technologies from their full-frame line-up to a compact APS-C camera. The camera boasts the world's fastest AF acquisition of 0.02 seconds, while also introducing the new advanced 'Real-time Eye AF' and 'Real-time Tracking' capabilities. Also included is high speed shooting at up to 11 fps with AF/AE tracking, a new-generation BIONZ X image processing, 4K video recording, a 180-degree fully tiltable LCD touch screen and more, making it a tool for all types of creators ranging from professionals to everyday vloggers.
The autofocus system on the new α6400 inherits many technologies from Sony's newest line-up of full-frame cameras including the α9, α7R III and α7 III models. The new camera features 425 phase-detection AF points and 425 contrast-detection AF points that are placed over the entire image area, covering approximately 84% of the image area. This tracking AF system is paired with a new-generation BIONZ X image processing engine that together allows the camera to acquire focus in as little as 0.02 seconds.
The α6400 introduces a 'Real-time Eye AF', the latest version of Sony's Eye AF technology. This capability employs artificial intelligence-based object recognition to detect and process eye data in real time, resulting in improved accuracy, speed and tracking performance of Eye AF. In all autofocus modes, the camera now automatically detects the eyes of the subject and activates Eye AF with a half press of the shutter button, and when in AF-C or AF-A mode, the preferred eye (left or right) of your subject can be selected as the focus point. Choices include Auto / Right Eye / Left Eye, and a Switch Right / Left Eye function can be assigned to a custom function as well. Sony said that Eye AF support for animals will be added in Summer 2019 via a system software update.
Also debuting on the α6400 is Sony's newly developed 'Real-time Tracking'. This mode utilises Sony's latest algorithm including Artificial Intelligence based object recognition and processes colour, subject distance (depth), pattern (brightness) as spatial information to ensure that all subjects can be captured with accuracy. Plus, when photographing or videoing humans or animals, face and eye position information is recognised by AI and the subjects eye is monitored in real time with high tracking precision. This can be activated by a simple half press of the shutter button, or can be assigned to a custom function as well.
In terms of overall shooting speeds, the new camera can shoot at up to 11 fps with full AF/AE tracking while utilising the mechanical shutter, and up to 8 fps with full AF/AE tracking while silent shooting. It can shoot at each of these speeds for up to 116 frames JPEG Standard / 46 frames RAW compressed.
The α6400 is equipped with a 24.2 MP APS-C sized image sensor that is paired with an upgraded BIONZ X processor. Standard ISO ranges up to ISO 32000 for both still and movie and is expandable up to ISO 102400 for still images.
The camera also inherits many of the image processing algorithms from Sony's newest full-frame cameras, suppressing noise while preserving resolution and improving texture depiction.
The α6400 is also a video camera, offering internal 4K (QFHD: 3840 x 2160) movie recording with full pixel readout and no pixel binning to collect about 2.4x the amount of data required for 4K movies, and then oversamples it to produce high quality 4K footage with detail and depth. Focusing during movie shooting is fast and stable thanks to upgraded Fast Hybrid AF technology, which keeps the subject in constant smooth focus no matter the scene, and even if an object crosses in front.
For time-lapse movie creation, the new camera features built-in interval recording that can be set anywhere between 1 and 60 seconds, with a total number of shots from 1 to 9999. AE tracking sensitivity can be adjusted to "High", "Mid" or "Low" during interval shooting, allowing for reduced changes in exposure over the shooting interval.
Additionally, for the first time in a Sony APS-C mirrorless camera, the new model includes an HLG (Hybrid Log-Gamma) picture profile, which supports an Instant HDR workflow, allowing HDR (HLG) compatible TV's to playback 4K HDR imagery. Furthermore, both S-Log2 and S-Log3 are available for increased colour grading flexibility, as well as Zebra functionality, Gamma Display assist and proxy recording. The camera can also record Full HD at 120 fps at up to 100 Mbps, allowing footage to be reviewed and eventually edited into 4x or 5x slow-motion video files in Full HD resolution with AF tracking.
New on the α6400 is a 180-degree, fully tiltable, 3.0-type LCD flip screen with 921k-dots of resolution that allows for simple framing of selfie-style shooting for both still and video capture. Utilising this capability, vloggers will be able to check and monitor composition throughout their entire creative process. The LCD screen is also equipped with touch functionality, with options for Touch Pad, Touch Focus, Touch Shutter and new Touch Tracking which quickly activates 'Real-time Tracking' through the touch screen.
The camera features an XGA OLED Tru-finder viewfinder, extensive customisation with 89 functions that are assignable to 8 custom keys, the new My Dial and My Menu functionality, a help screen for menus, star rating for images, and many other features. It is also built with a tough magnesium alloy design, is dust and moisture resistant and has a durable shutter that is rated for approximately 200,000 cycles. It is also capable of transferring files to a smartphone or tablet when connected to the new 'Imaging Edge Mobile' application.
The body-only price will be $900 in the US and €1050 in Europe. This is noticeably less expensive (by $100 and €200) than the a6300.
Firmware updates for a7 III, a7R III and a9, improving AF
Sony has also announced two major firmware updates for the a9 alongside updates for the a7R III and a7 III. The a9 updates adds a range of features, including improved tracking in both stills and video, as well as extending Eye AF to animals. The a7R III and a7 III will also gain the improved tracking and animal Eye AF, as well as time-lapse capabilities.
The a9 firmware will be coming in two waves: version 5.0 will be available in March while version 6.0 is slated for 'summer.' Firmware version 3.0 for the a7 III and a7R III will arrive in April.
The a9 updates center on autofocus and usability improvements. Firmware version 5.0 will bring about a new 'Real-time Tracking mode,' which uses Sony's latest subject recognition algorithm. Sony confirmed this mode is based on 'AI,' which we're taking to mean it's based on machine learning . The company branded the capability 'Speed x AI.'
The updated 'Real-time Tracking' mode adds consideration of eye detection and pattern recognition to the color, distance and and face detection that was previously being used. There's also now a 'Real-time Eye AF' mode which similarly adds a level of 'AI' to lock onto a subject's eye. You'll have to wait until firmware version 6.0 for the animal Eye AF mode, though.
The Eye AF feature has been expanded to be able to recognize animals' eyes, which Sony says will help both wildlife shooters and photographers taking images of their own pets. Knowing that the camera will focus on eyes means the photographer can concentrate on composition, rather than focus.
As well as the AF improvements, the two a9 firmware updates promise more than 20 updates. These include the addition of a screen allowing you to see which buttons are mapped to offer which function.