Sony Introduces Head Mounted 3D Display Equipped OLED Panel
Sony will start selling a head mounted display that provides a 3-D theater of music videos, movies and games, targeting people who prefer solitary entertainment rather than sitting in front of a TV with family or friends. Sony on Wednesday announced the launch of Head Mounted Display "Personal 3D Viewer" 'HMZ-T1', a device that offers a new style for viewing both 2D and 3D content. Simply slip the device onto your head to experience the movie theater-like virtual screen (equivalent to a 750-inch screen) expand before your eyes.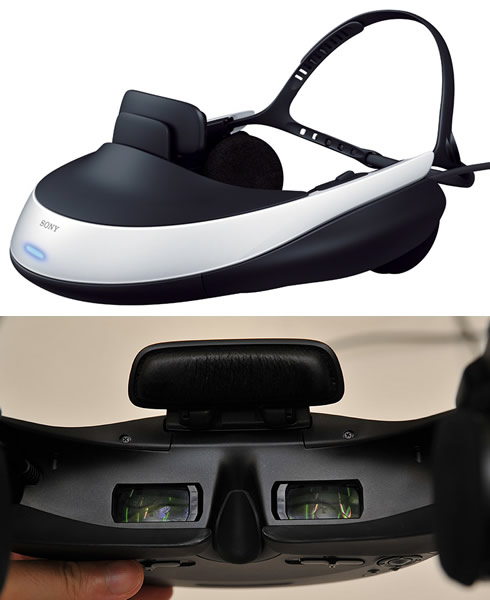 The 60,000 yen ($800) device is set to go on sale Nov. 11 in Japan, and is planned for the U.S. and Europe, perhaps in time for Christmas.
The device is equipped with the newly-developed 0.7-inch (diagonal 18.0mm) high definition OLED panel (1280 x 720). The 'HMZ-T1' achieves HD picture quality that makes full use of the OLED display's high contrast, color reproducibility (powered by 'Super Bit Mapping Video (SBMV) technology' that converts the 8-bit video of terrestrial digital broadcasts and Blu-ray discs for reproduction as a gradation expression equivalent to 14-bits), and fast response (less than 0.01ms). In addition, the device adopts the 'Dual Panel 3D Method' which consists of separate panels for the left and right eye in order to display independent HD picture quality to each eye, which realize 3D vision. Furthermore, Sony has achieved a wide horizontal viewing angle of 45 degrees by incorporating an optical lens that thoroughly suppresses unwanted elements such as aberration and distortion.
Viewers can now enjoy watching video on a movie theater-like big-screen (750-inch virtual screen, virtual viewing distance approx. 20m). Sony has also adopted its original virtual surround signal processing technology. Combined with the high-resolution 3D picture quality, viewers will be able to fully enjoy powerful acoustics equivalent to a maximum of 5.1ch through the left and right headphones alone.
The device's control key (located behind the front) is used to control the volume and basic operations (such as playback, pause, fast forward, rewind, previous chapter, next chapter) of any connected devices with HDMI CEC control function. Settings for the picture quality and audio quality can also be performed via menu screen.
The device is also is equipped with a wearable sensor, which automatically turn off the panel if the viewer is not wearing the product.
The processor unit is equipped with one socket for HDMI output and another for through output. The built-in HDMI output switcher enables both the Head Mounted Display and a television to be connected to the processor unit at any given time, thereby allowing the user to switch between devices for their desired output destination.
Furthermore, the processor unit and the HMD can be connected together with a single cable, which integrates the audio and video signals with the power source.
Considering the protection of the growth and development, Sony asks children (age 15 and younger) to refrain from using this product.
The 60,000 yen ($800) device is set to go on sale Nov. 11 in Japan, and is planned for the U.S. and Europe, perhaps in time for Christmas.
Specifications
Model
HMZ-T1
Panels
Organic LED panels × 2
Resolution
1280 × 720
Viewing angle
45 degrees
Virtual screen size
50-inch virtual screen, virtual viewing distance approx. 20m)
Picture Modes
Standard / Cinema / Dynamic / Custom
Headphones
Open-air Dynamic
Surround sound
5.1ch virtual surround
Quality Mode

Standard / Cinema / Game / Music

Features
Sensor configuration /auto power / HDMI CEC compatible
Inputs and outputs
HDMI input
x1
HDMI output
x 1
Size
Width × height × depth

About 210mm × 126mm × 257mm (head-mounted units), including the headband

About 180mm × 36mm × 168mm minimum moving parts (processor unit) including a maximum projection

Cable length
3.5m (connects head-mounted unit with the processor unit).
Weight

Approximately 420g (head-mounted unit)

600g (processor unit)

Power
Supply voltage
100V
Power consumption (standby)
15 (0.35) W
Accessories
Code / HDMI cable / head pad / power light shield, etc.