Sony Introduces Luxurius Vaio Red Edition
Sony is raising the status of its VAIO Duo, Pro and Fit models by releasing a limited number of VAIO red edition PCs. VAIO red edition's red finish is achieved by a variety of painting techniques on different materials, including carbon fiber and aluminum. Multiple paint layers are individually applied and hand-polished, building layer upon layer of lustrous color. To give it that extra glossy finish, a protective UV coating creates an extra vibrant sheen.
In addition to premium luxury design, the VAIO red edition of the Duo, Pro and Fit models are fused with the power of Sony's display technologies, camera quality and audio technology.
The VAIO red edition models deliver high performance with Intel Core i7 fourth generation processors. The VAIO Pro 13, the world's lightest 13.3" touch Ultrabook, is also the first notebook PC on the market to include a high speed PCIe SSD drive. The VAIO Fit 15 offers a hybrid hard drive and an optical drive that reads and writes Blu-ray Disc media.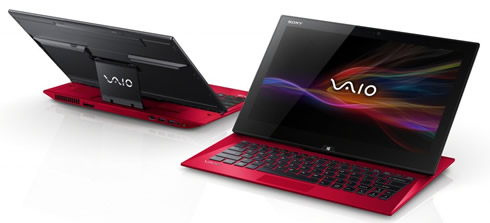 VAIO Duo, Pro and Fit models also include standard Sony features such as a full-size backlit and full-pitch keyboard, track pad and instant PC resume technology.
With NFC (Near Field Communication technology) included across the VAIO Duo, Pro and Fit lines, users can exchange website URLs and enable Bluetooth connections by simply tapping a compatible NFC device to the PCs.
In addition, the PCs feature ArtRage Studio (VAIO Duo includes ArtRage Studio Pro), the premiere digital arts software. And for those that want to try their hand at video creation, all models include VAIO Movie Creator.
All models are also touch-enabled and unlock the full potential of Windows 8.
Beginning today, August 8th, VAIO red edition is available exclusively through Sony stores and online at www.sony.com/VaioRed. The VAIO Duo 13 model is available for $2,999.99. The VAIO Pro 13 model is available for $2,599.99. The VAIO Fit 15 model is available for $1,999.99. All prices include Sony?s 1 year of protection against accidental damage from handling.