Sony to Showcase New Creative and Technological Concepts at SXSW 2018
Sony will take part in SXSW 2018 (South By Southwest), the world's largest creative business conference and festivals, introducing various ongoing projects, incorporating cutting-edge technologies and its latest prototypes.
South By Southwest dedicates itself to helping creative people achieve their goals. The event, an essential destination for global professionals, features sessions, showcases, screenings, exhibitions, and a variety of networking opportunities. SXSW 2018 will occur Friday, March 9 through Sunday, March 18.
Beginning on Saturday, March 10 at the SXSW Interactive Festival, Sony's exhibit, titled the "WOW Studio", will include the following projects:
A(i)R Hockey
A new AR (Augmented Reality) experience that combines Sony's high-speed vision sensors (IMX382), which boasts 1,000 frames-per-second high-speed tracking of objects, predictive algorithms, and haptics technology.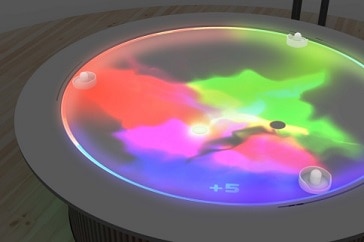 This exhibit is an air hockey game that tracks a quick-moving puck and paddle in real-time as guests play and project various images onto them.
Hero Generator
Participants can experience Sony's Free-Viewpoint Visual Technology in a space equipped with multiple cameras set up in 360 degrees around them. With this technology, images of the spaces between cameras are automatically synthesized, creating a moving 3D avatar of each visitor that can be viewed from all directions. At SXSW, guests will be able to create avatars of themselves and star as the protagonist of their own short film. These movies can be rendered and shared to a smartphone for later viewing.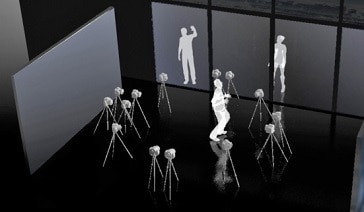 Interactive CUBE
Interactive CUBE is an entertainment experience that invigorates the senses by incorporating projected images, sounds, lights, and vibrations onto a giant cube. By forming two screens, one of which is transparent, into the shape of a cube and projecting images onto them, guests inside the cube will feel as if the images are floating in midair. Multiple cubes have been set up for this display, and layouts will be periodically changed to allow visitors to enjoy a variety of interactive games. Furthermore, through a collaboration with the creative agency SIX, messages in music will be visualized and manipulated by a DJ.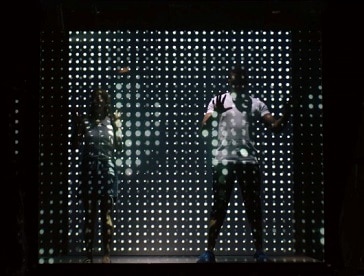 VR Soccer
Jointly developed by Sony Music Communications Inc. and the VR content producer Hashilus, this attraction showcases a new type of interactive VR soccer.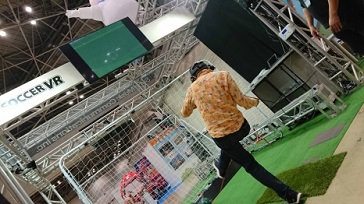 The demo on display will have a player assume the role of a legendary striker facing off versus a goalie in a penalty kick shootout. If the player's shot is timed just right, it will unleash a strike that travels up to 50 times faster than normal. Visitors can enjoy outsmarting the goalie in this ultimate soccer experience, only made possible by utilizing VR technologies. Sensors reproduce the ball's direction and speed in the VR space.
Superception
Superception (Super + perception) is a research framework that uses computer technologies to intervene in the process of human perception and to connect multiple senses together in order to alter and expand the limits of perception. Continuing on from last year's event, this year's exhibit will feature the "Head Light" system, which sees the visitor exploring the sensory world of a non-human creature through personal projection mapping.
Technology has continued to enhance the human perceptual abilities. At the same time, it is worth noting that different species with their own perceptual abilities build their subjective perceptual worlds different from that of humans. Hence, it is highly probable that the perceptual abilities of these species are different from the abilities possessed by the humans. So, how could we integrate the different perceptual abilities to human beings?
"Head Light" aims to expand human perception by visually reproducing perceptive abilities and sensations of various species by means of a wearable projector.
3D Creator
Sony Mobile's 3D Creator on Xperia smartphones bring 3D creation to each visitor. A robotic arm wielding an Xperia XZ1 creates a complete 3D model of the guest's head.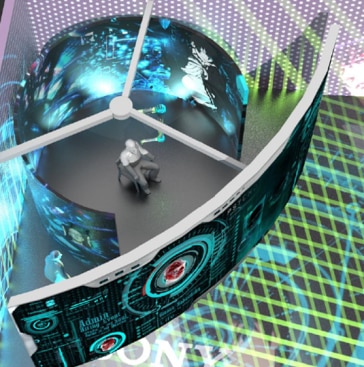 Guests will receive a video they can view and share on their smartphones to commemorate the experience.
Acoustic Vessel "Odyssey"
Acoustic Vessel "Odyssey" allows visitors to immerse themselves in music, enabled by a combination of music and Sony's spatial audio technology that creates a space where sounds are free to move around. Using 576 speakers controlled by Sony's sound field synthesis technology, visitors will be taken on an audio voyage through time and space. Enveloped in a dynamic wave of sound, guests will undertake an epic journey spanning cityscapes and lush forests, the depths of the ocean, and even the outer reaches of the solar system. The audio is accompanied by a light installation.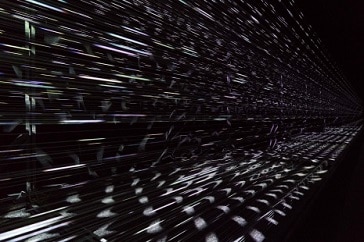 In addition to the above, Sony will also showcase its efforts in the field of AI x Robotics, such as the entertainment robot "aibo," the communication robot "Xperia Hello!" and the Sony Innovation Fund.