Sony Unveils Its New Products at IFA 2016
At the IFA consumer electronics show in Berlin, Germany, Sony will unveil its new lineup of products including new Xperia XZ and Xperia X Compact smartphones. In advance of IFA's official opening, Sony held a press conference on September 1. There, Sony President and CEO Kazuo Hirai introduced the company's newest audio lineup. He touched on the PlayStationVR virtual reality (VR) system, and went on to elaborate on various initiatives as Sony continues to identify opportunities for innovation within consumer electronics, such as the Seed Acceleration Program, Life Space UX, AI and robotics. He remarked, "We want our products to be at the 'last one inch,' at the closest point to you. Our relevance to you lies in continuing to offer emotional value through a wide range of products which are intimately involved in enhancing what you see, hear, experience and enjoy."
Xperia Smartphones and Xperia Smart Products
Sony announced two new models in the Xperia X series of smartphones: the new flagship Xperia XZ, and Xperia X Compact, both of which boast an enhanced camera experience thanks to Sony's new Triple image sensing technology. Xperia XZ will launch globally from October, while Xperia X Compact will launch globally from September.
Triple image sensing technology, Sony's camera development that allows you to capture split-second moments in any environment, works by fusing the following three technologies:
Image sensing that boasts fast autofocus with great object tracking, thanks to Sony's image sensor which is powered by Predictive Hybrid AF to track and predict the subject's next movexperia back
Distance sensing with the Laser AF sensor which enables fast and accurate AF even in low light
Color sensing with the RGBC-IR sensor which captures colors the way you see them, regardless of the lighting environment
The two models also deliver advancements in video shooting as the first smartphones with 5-axis image stabilization, enabling you to capture smoother videos, even in close-up zoom. Furthermore, they are packed with intelligent features to optimize your Xperia user experience based on how it's used, such as Adaptive Charging technology developed with Qnovo Inc. to extend the battery lifespan. Xperia XZ features a 5.2" Full HD display and metal casing. Xperia X Compact features a 4.6" HD display.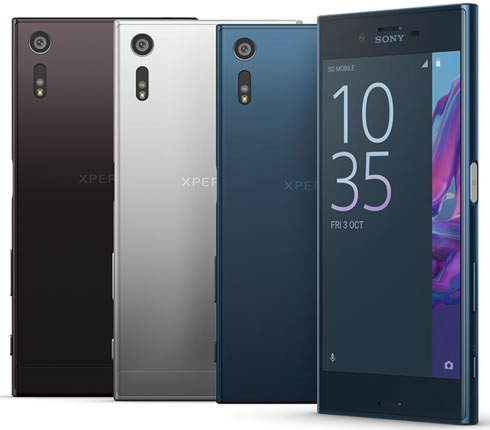 The unlocked Xperia XZ runs with the same Snapdragon 820 and 3GB of RAM as the earlier Xperia X Performance, but Sony squeezed that horsepower into a new body.
The Xperia X Compact s powered by 2,700mAh battery, it has 32GB of storage, a microSD card slot, a USB Type-C port and a water-resistant chassis, just like the XZ.
The X Compact runs with one of Qualcomm's hexa-core Snapdragon 650 chipsets, 3GB of RAM and an Adreno 510 GPU.
 

Xperia XZ

Xperia X Compact

SoC
Qualcomm Snapdragon 820

2x Kryo @ 2.15GHz
2x Kryo @ 1.59GHz
Adreno 530 @ 624MHz
Qualcomm Snapdragon 650

2x Cortex-A72 @ 1.8Ghz
4x Cortex-A53 @ 1.4GHz
Adreno 510
RAM
3GB
3GB
NAND
32GB/64GB eMMC
+ microSD
32GB eMMC
+ microSD
Display
5.2? 1080p
Triluminos LCD
4.6" 720p
Triluminos LCD
Dimensions
146 x 72 x 8.1 mm
161 grams
129 x 65 x 9.5 mm
135 grams
Modem
Qualcomm X12 (Integrated)
2G / 3G / 4G LTE
Qualcomm X8 (Integrated)
2G / 3G / 4G LTE
SIM Size
NanoSIM / Dual NanoSIM
NanoSIM
Front Camera
13 MP, 1/3.06? Exmor RS
5 MP, 1/3.06? Exmor RS, f/2.0
Rear Camera
23 MP, 1/2.3? Exmor RS, Laser AF, PDAF
23 MP, 1/2.3? Exmor RS, Laser AF, PDAF
Battery
2900 mAh
2700 mAh
Connectivity
802.11a/b/g/n/ac 2x2 MIMO, BT 4.1 LE, GPS/GNSS, NFC, USB Type-C
802.11a/b/g/n/ac, BT 4.2, GPS/GLONASS, USB Type-C
Launch OS
Android M w/ Xperia UI
Android M w/ Xperia UI
Around the back, you'll find the same 23-megapixel, "triple-sensing" camera Sony built into the high-end XZ.
Sony said Xperia XZ will be launched on the global market next month, while Xperia X Compact will make a global debut this month.
Sony also announced that Xperia Ear, its in-ear and hands-free Smart Product, will be available from November starting in select markets. Xperia Ear responds to verbal commands with operations, and through a wireless connection to your smartphone, it gives you information and assistance in a natural voice interaction. Equipped with Sony Agent Technology and a proximity sensor, Xperia Ear provides you with useful information such as your schedule and other personalized updates when you just place it in your ear, enabling you to stay connected while enjoying the world around you. Sony will also display Xperia Projector and Xperia Agent as concepts, combined with services from Yahoo Japan.
Audio
Sony introduced a new "Signature Series" flagship line . This series of High-Resolution Audio (Hi-Res) products is made up of the MDR-Z1R stereo headphones, two new WM1 series Walkman models (the NW-WM1Z and NW-WM1A), and the TA-ZH1ES headphone amp.
The $3,200 NWM1Z Walkman is literally gold-plated, which not only makes it bling, but supposedly reduces "contact resistance and oxidation," according to Sony.
Realistically, most people probably won't hear the difference between that model and the nearly identical-looking $1,200 (£1,000) NW-WM1A Walkman. Both support the 384kHZ/32-bit "Hi-Res" music format, which has separate digital and analog circuitry and technology that upscales low bit-rate files to "near high resolution audio quality," according to Sony. It also supports balanced connections if you have the right set of headphones.
Sony also unveiled the MDR-1000X Hi-Res wireless noise canceling stereo headphones, which boast leading noise cancellation and allow you to enjoy high-quality music regardless of the surrounding noise. The headphones also feature modes that enable you to hear sound around you, from PA announcements at the airport to quick conversations, without having to remove the headphones.
Sony expects to fetch $400 for its MDR-1000X Bluetooth noise-cancelling headphones, which will be available in October. They are available for pre-order now.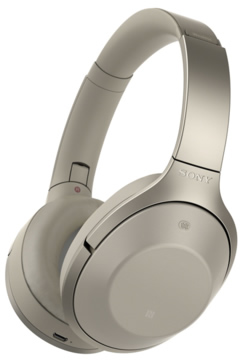 Additionally, Sony will display an array of other new audio products at its IFA booth. This includes Hi-Res high power home audio system (model MHC-GT7DW), two wireless Extra Bass headphones for sports use (models MDR-XB80BS and MDR-XB50BS), and a NW-A30 series Hi-Res Walkman that boasts improved ease of use with its 3.1" touch screen.
The new NW-WM1Z Walkman, MDR-Z1R headphones and TA-ZH1ES Headphone Amplifier will be available this November, while the NW-WM1A Walkman will be available early next year.
The MDR-Z1R Signature Series headphones MSRP is $2,299.99
The NW-WM1Z Signature Series Walkman MSRP is $3,199.99
The NW-WM1A Signature Series Walkman MSRP is $1,199.99
The TA-ZH1ES Signature Series headphone amplifier MSRP is $2,199.99
4K BRAVIA
Sony's Z series, the new flagship range of BRAVIA 4K HDR TVs (previously announced and available in 100"/75"/65" models) features a newly developed 4K image processor, 4K HDR Processor X1 Extreme. This series is also the first to be equipped with Sony's Backlight Master Drive backlighting technology, whose dense, direct full-array LED structure realizes deeper blacks and brighter lights.
With 40% more powerful real-time processing than Sony's 4K Processor X1, X1 Extreme incorporates three new technologies: object-based HDR remaster technology which up-scales standard dynamic range (SDR) content to near 4K HDR quality; dual database processing which removes unwanted digital noise for brilliant picture; and Super Bit Mapping 4K HDR which creates smoother color gradations.
Sony will also showcase an Ultra HD Blu-ray player prototype for the first time.
Life Space UX short throw
Sony announced that the Portable Ultra Short Throw Projector and Glass Sound Speaker, already on sale in Japan and the US, are available starting today in the UK. The 10cm cubic Portable Ultra Short Throw Projector, in spite of its compact size, is capable of throwing up to an 80″ image onto a table, wall, or any other surface you want to bring to life. Meanwhile, the Glass Sound Speaker fills every corner of your living space with warm LED and clear sound made possible thrglass sound speakerough its organic glass.
Digital Imaging
Sony's new FDR-X3000R 4K Action Cam is its first ever Action Cam to be equipped with the Balanced Optical SteadyShot image stabilization technology, made possible by a newly developed lens unit. This ensures that captured video footage is smooth and stable even in 4K or high speed recording modes. A new wide-angle ZEISS Tessar lens delivers more natural images with less lens distortion. And with its array of accessories including the bundled Live-View Remote which gives you full control of shooting and on/off power settings at your fingertips, this Action Cam will serve your needs in various shooting scenes.
Sony will showcase its latest digital imaging products including α7R II, α7S II, α6300, RX1R II and G Master brand FE 85mm F1.4 GM telephoto prime lens.
Game & Networks
PlayStation VR (PS VR) virtual reality system expands the world of PlayStatio 4 (PS4), enabling you to become enveloped in a fully realized 360-degree virtual world. By putting on the VR headset, you can enjoy an experience just like stepping inside the very game itself. Your head orientation and movement are accurately tracked, so that as you turn your head, the image of the virtual world moves along naturally in real-time. At the Sony booth, a variety of VR content will be available for visitors to play, including the PS VR game "THE PLAYROOM VR," which can be played in groups of up to 5 players, with 1 using the VR headset and 4 others using DUALSHOCK 4 Wireless Controllers.
Future Lab Program
Sony will also exhibit "T," the second concept prototype from its Future Lab Program research and development initiative which aims to co-create future lifestyles with users. "T" turns a tabletop or any other surface into an interactive display, projecting images responsive to touch input. The Future Lab Program will also begin accepting participants in the US for an early adopter program for its first concept prototype "N", from September 1st.
The Future Lab N Program fee will be $100 USD.
Applicants can sign-up for this program on the event site after they?ve experienced the prototypes which will be on an invite-only basis. An invitation to the event will be sent to applicants who agree to Future Lab Program N?s terms and conditions and have applied beforehand.
Participants will be asked to use the concept prototype throughout the program period, and their feedback collected from questionnaires, interviews, and meet-up events will be used for further development for research and development.
Concept prototype "N" represents a new, unencumbered way to experience audio, with a hands-free and open-ear style interactive interface for accessing music and audio information. It was unveiled for the first time ever in March, at SXSW Interactive 2016.
The Concept Prototype N contains the following elements which are currently under development:
Neckband-style wearable device
The neckband is equipped with open speakers and responds to voice prompts, making it a new breed of a wearable device that requires no earpiece and realizes a fully hands-free operation.
Open-ear earphones
This device is an entirely new breed of earphones: an open-ear type.
Personalized radio service
This service leverages the behavior recognition technology equipped in the Concept Prototype N in order to provide the user with timely audio information based on the user?s surroundings or location, or in response to a voice command.
Sony will also feature the diverse products born out of the start-up projects from ita internal new business incubation initiative, the Seed Acceleration Program; the autonomous drones and cloud-based data processing services for measurement and inspection that are offered by the joint venture, Aerosense Inc.; and Sony's new educational kit called "KOOV," which takes a fresh approach to teaching robotics and programming.