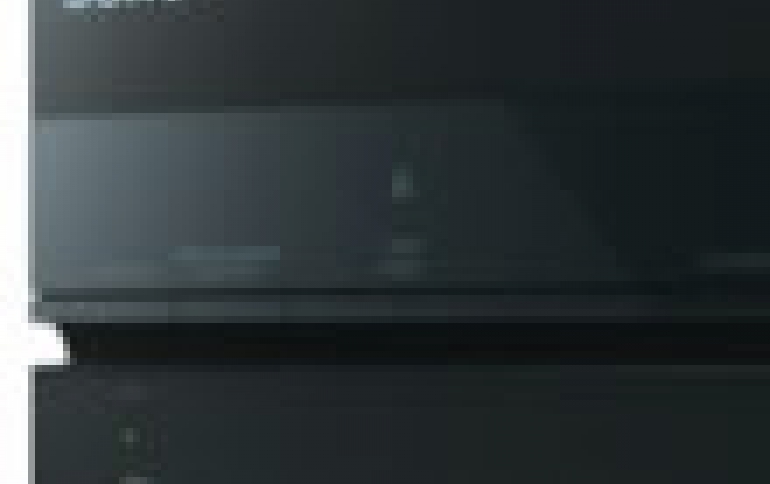 Sony's High-Resolution Audio Line-up Coming To Europe
Sony's new High-Resolution Audio line-up includes the STR-DN1050 and STR-DN850 Home Cinema Network AV Receivers, the MAP-S1 Multi Audio Player System and the BDP-S7200 SA-CD/Blu-ray Disc player -- all coming to Europe this spring. While MP3 files sacrifice detail in the original signal, High-Resolution Audio retains far more information during the analogue-to-digital conversion process.


The STR-DN1050 and STR-DN850 AV receivers support including DSD (DSDIFF 2.8MHz, DSF 2.8MHz DN1050 only) and 192KHz/24-bit (WAV/FLAC) files. Both receivers can stream Hi-Res sound over your home network -- or alternatively, hook up your phone or slip in a USB drive loaded with High-Res tracks. Built-in Wi-Fi and Bluetooth allows wireless connection with mobile devices. Plus, both models offer one-touch listening with Xperia and other NFC-enabled Android devices and Apple Airplay.

The flagship STR-DN1050 employs a rigid chassis that cuts unwanted vibration, plus a glass epoxy resin circuit board. Custom components include a super-size power transformer plus hand-selected block electrolytic capacitors and audio-grade resistors.

The received outputs 165W x 7.2ch sound with a wideband amplifier circuitry. On-board 4K pass through brings extra detail to lower-resolution video sources. Zone 2 distribution lets you enjoy audio simultaneously in other rooms, and the receiver's visual interface makes it easy to adjust settings via your TV screen and simplified new remote.

You can explore your High-Resolution Audio entertainment with the uncluttered new remote. Or use Sony's free SongPal app (iOS6/Android 2.3.3 or later) to control the receiver with your phone and browse online services like Music Unlimited, Spotify and Deezer.

The compact MAP-S1 has a 100W amplifier, tuner and CD player integrated in a sleek unit that fits neatly on a shelf or bookcase. It plays High-Resolution as well as MP3 and other audio formats from a wide range of sources and connected devices. Sony's S-Master HX Audio Amplifier reduces distortion and noise, while DSEE HX upscales your existing music collection -- including compressed files and CDs -- to better than CD quality.

You can stream music over your home network from a PC or Internet services like Spotify and Music Unlimited. Or connect a USB thumb drive, or hook up your smartphone via cable, Bluetooth or Apple AirPlay. And one touch instantly makes a wireless connection with your NFC-enabled Xperia phone or tablet.

Sony's newest Blu-ray Disc player adds High-Resolution audio playback capabilities to the list of specifications. The range-topping BDP-S7200 offers access to a world of online content and can play both Super Audio CD and Hi-Resolution audio files. And even if you're listening to low-res Internet videos or MP3 tracks, Sony's Digital Music Enhancer restores frequencies that get lost in heavily-compressed files.

The player also supports 4K upscaling. Even web video quality is boosted with IP Content Noise Reduction Pro that?s powered by the Dual Core processor.

The BDP-S7200 has improved Wi-Fi to stream videos and music more reliably across your network. It has access to Sony Entertainment Network and supports screen mirroring with Miracast.

The new range of High-Resolution Audio products from Sony will be on sale in Europe from May 2014.


Spring 2014 -- High Resolution Audio
STR-DN1050

STR-DN850

7 x 165W
High-Resolution Audio Playback (192kHz/24bit WAV/AIFF/FLAC/ALAC/DSD)
6 x HDMI In, 3 x HDMI Out
4K Upscale / 4K Pass through
2 x MHL
USB for Walkman, iPod/iPhone and USB memory devices
2 zones distribution
Wi-Fi certified
Airplay
One-touch listening (Bluetooth/NFC)
Sony Entertainment Network
Spotify
DEEZER
Tunein Radio
aptX for Bluetooth
Intuitive graphic user interface
SongPal app (iOS6/Android 2.3.3 or later)
Simplified remote controller

7 x 150W
High-Resolution Audio Playback (192kHz/24bit WAV/AIFF/FLAC/ALAC/DSD)
5 x HDMI In, 1 x HDMI Out
4K Upscale / 4K Pass through
1 x MHL
USB for Walkman, iPod/iPhone and USB memory devices
Wi-Fi certified
Airplay
One-touch listening (Bluetooth/NFC)
Sony Entertainment Network
Spotify
DEEZER
Tunein Radio
aptX for Bluetooth
Intuitive graphic user interface
SongPal app (iOS6/Android 2.3.3 or later)
Simplified remote controller
MAP-S1
Total 100W
CD
FM/AM, DAB
USB-DAC
USB for Walkman, iPod/iPhone and USB memory devices
Wi-Fi certified
Airplay
One-touch listening (Bluetooth/NFC)
DLNA
Sony Entertainment Network
Spotify
DEEZER
Tunein Radio
SongPal app (iOS6/Android 2.3.3 or later)
DSEE HX
aptX for Bluetooth
High-Resolution Audio playback (192kHz/24bit WAV/AIFF/FLAC/ALAC/DSD)
BDP-S7200
4K Upscale
Super Bit Mapping
IP Noise Reduction Pro
3D Playback
High-Resolution Audio playback
SA-CD Playback
Digital Music Enhancer
Screen Mirroring
Wi-Fi certified
DLNA
Sony Entertainment Network
Dual Core
TV Side View App
Wider Codec Support
Super Quick Start