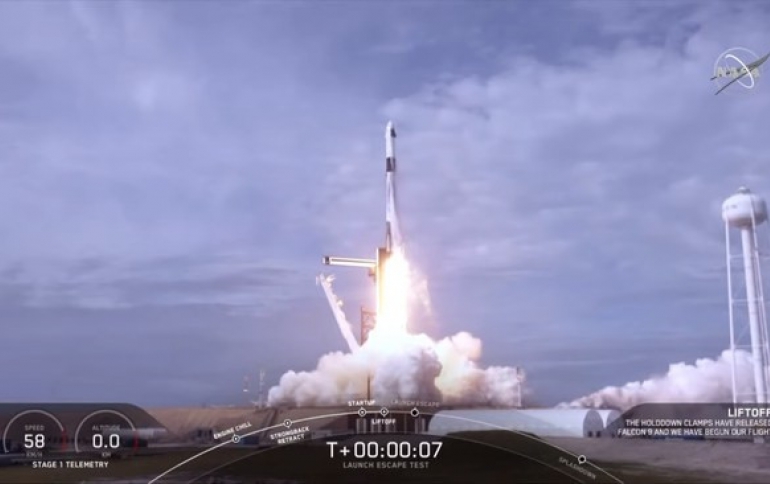 SpaceX Completes key Test of Dragon
SpaceX on Sunday successfully completed a key test of the emergency abort system of the spacecraft it is developing to fly NASA's astronauts to the International Space Station.
With SpaceX's test, NASA astronauts could again lift off from the Cape Canaveral sometime this spring. NASA has been unable to send humans to space since the Space Shuttle was retired in 2011
In a press conference after the mission, Musk said he was "super fired up" and said the mission was a significant and "surreal" milestone.
"I can't believe we've gotten this far," he said. "It's just going to be wonderful to get astronauts back into orbit from American soil after almost a decade of not being able to do so. I think that's super exciting."
"This critical flight test puts us on the cusp of returning the capability to launch astronauts in American spacecraft on American rockets from American soil," said NASA Administrator Jim Bridenstine. "We are thrilled with the progress NASA's Commercial Crew Program is making and look forward to the next milestone for Crew Dragon."
Sunday's test began shortly after a Falcon 9 rocket blasted off from a launch site at 10:30 a.m. But nearly 90 seconds after the booster blasted off, the engines of SpaceX's Dragon spacecraft ignited, shooting the capsule off at more than twice the speed of sound, while the booster came apart midflight in a fiery spectacle miles above the Florida Space Coast.
The capsule landed softly in the Atlantic Ocean nine minutes after liftoff, floating down under a quartet of parachutes, completing a test designed to show that the astronauts would be flown to safety if there ever were a problem with the rocket.
In 2014, NASA awarded contracts to SpaceX and Boeing to develop spacecraft capable of flying humans to the space station. Since then, both companies' progress has been hampered by technical problems and funding issues that have delayed the first flights with crews by years.
Last spring, a Dragon capsule exploded during a test of its abort engines. The company blamed a faulty valve that caused a propellant leak. It has also struggled with its parachutes, but SpaceX has moved to a new design that seemed to work well Sunday.
Boeing also has had problems with its Starliner spacecraft. During a test of its abort system last year, one of its three main parachutes failed to deploy. And a test of its Starliner capsule in December was cut short when a software problem prevented the spacecraft from docking with the space station as intended.
Under NASA's Commercial Crew Program, SpaceX hopes to fly its first mission with astronauts within a few months, but first it needs to analyze the data from the mission and go through safety checks.