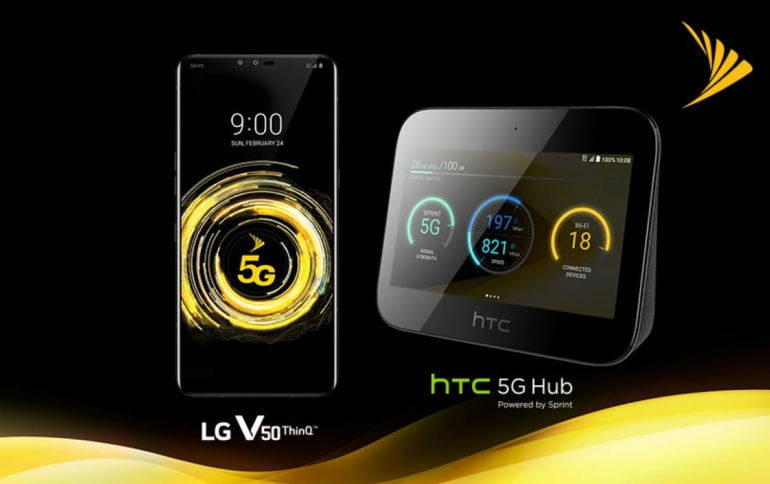 Sprint's First 5G Devices Available in May 31
Sprint announced May 31 as the availability date for its first two 5G devices, LG V50 ThinQ 5G and HTC 5G Hub.
Both devices will initially be available to the company's customers in the first four expected 5G markets – Atlanta, Dallas, Houston and Kansas City. They will then be available in Sprint's other 5G markets – Chicago, Los Angeles, New York City, Phoenix and Washington, D.C. – in the next few weeks.
Pre-order for both devices begins in Sprint's expected 5G markets on Friday, May 17 at www.sprint.com/sprint5G.
Limited time pricing for the inaugural 5G devices is:
LG V50 ThinQ 5G is just $24 per month with $0 down with Sprint Flex lease – that's half off the lease price.
HTC 5G Hub is just $12.50 per month – that's a savings of 50 percent. Activate HTC 5G Hub with 100GB of high-speed data for just $60 per month.2
Both devices offer fully integrated mobile 5G and will deliver fast speeds when Sprint begins launching 5G service in the coming weeks. Sprint expects to launch the largest initial 5G coverage footprint in the U.S. across all nine market areas. Using a key 5G technology, dual-connectivity (EN-DC), Sprint will deliver LTE and 5G simultaneously to customers' devices.
Sprint's Unlimited Premium plan offers Unlimited data, talk and text across teh U.S., Hulu, Amazon Prime, Twitch Prime, Tidal HiFi and 100GB LTE mobile hotspot. It costs just $80 per month for one line.
Sprint is collaborating with Hatch to deliver game-streaming. With a three-month subscription to Hatch Premium's cloud gaming service included on Sprint 5G phones, gamers on Sprint 5G will be among the first in the United States to experience Hatch's mobile 5G cloud gaming service.
Hatch features unlimited on-demand access to a curated portfolio of more than 100 mobile games, including exclusive Hatch Originals like Arkanoid Rising. It competitive leaderboards and shared gameplay sessions with voice chat and the ability to connect with friends and join live tournaments.
LG V50 ThinQ 5G comes with an LG's OLED display and audio from the LG V50 ThinQ 5G speakers, DTS:X 3D Surround and Hi-Fi Quad DAC. The device is powered by the Qualcomm Snapdragon 855 processor, has three rear cameras and two on the front and a 4,000 mAh battery.
Sprint will be the exclusive U.S. provider for the HTC 5G Hub. Within the Wi-Fi radius of HTC 5G Hub, non-5G devices such as laptops, tablets, phones and TVs can experience the speed of Sprint 5G. It enables 5G or 4G LTE Advanced mobile hotspot connectivity for up to 20 users in a compact desktop box with a 5-inch display.
As a home media center, HTC 5G Hub will harness Sprint's 5G speeds to stream 4K videos to a second screen. It can also replace a Wi-Fi router and supports voice commands.
Sprint also promises gamers up to 60fps and 4K resolution (on compatible televisions).
A built-in Gigabit Ethernet port and 7,660mAh battery will keep teams powered up and easily connected. Businesses can connect up to 20 devices safely and securely on a high-speed encrypted network or configure for a corporate VPN.