5. Performance
First of all, this device is very small and slim. This is very good since, MP3 players are generally portable devices. The build quality is very good also. No complaints there. The OLED screen is very good, colours are rich and it's very bright. The resolution of 128x128 is not really the best for photos and video, but for this category of device and the price range, we shouldn't expect anything better.
If you've never used this type of device before, it takes a while to learn all the functions available. Before starting to use it, it's best take a look through the printed manual which explains in depth all the functions of the device.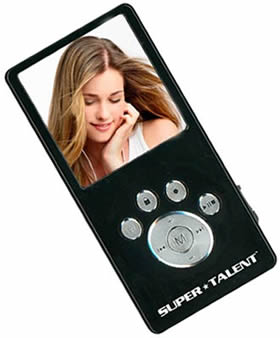 The front control buttons are small so they could be a problem for those with large fingers. Again though, this is a very compact device. Plugging in the included earphones and raising the volume on our first musical selection gave us a pleasant surprise. The volume intensity can go from 1 to 25 and at 10, we could clearly feel the music pumping in our ears. Imagine then how loud it can get with the volume at 25. Be careful though, since you can damage your ears if you listen to music that's turned up too loud for long periods of time.
The ID3 tags and filename scroll on the screen. You can change the cycle speed from the menu. The equalizer modes are straight forward, and can provide a different type of sound depending on you preferences. One downside is that the fast back or fast forward buttons are not very responsive with very large files. We tested numerous MP3 and WMA files without a problem, including CBR and VBR.
The extra features such as voice recording and FM radio are nice treat. We played with them for a while and found them satisfactory. Lastly, the ability to display pictures and videos is interesting, provided that you convert your photos to the MegaScreen MP3 player format. The software that SuperTalent bulks in the retail package works, but needs improvements, especially for Video files. As we mentioned in a previous page, we had problems with the software when converting Xvid files.
In order to charge the device, you have to connect it to a USB port on a PC or MAC system. According to the specs, it takes 240 mins (4 hours) to fully charge and can last for up to 8 hours of use. This is not the best performance from the built-in Li-Polymer battery, but then again it is a small device and space is limited making it hard to accommodate a larger battery.
After connecting the device to a PC, we tested the USB stick performance, using HD Tach RW software.
The performance was rather slow. Only 1.0MB/sec reading and 0.8MB/sec writing performance. Not the best you can find nowadays.