3. Working with menus
To power up the player, hold down the play/stop button for a few seconds. The player will display the SuperTalent logo and then brings up the main menu. Here, you can set important features concerning playback mode, sound equalization, MP3 display (ID3 tags), time and other player settings and functions (recording properties, about, upgrade and format):
Pressing the hold/exit button, you enter the basic navigation menu. From here, you select what you want to do - listen to music, radio, record voice or from line-in, or see the photo album: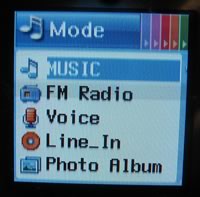 From the Music menu, you can view the directories found in the MP3 player. There are five folders, and each folder serves a different function, as you can understand from its name:

You can place MP3 files where you want. Just navigate to them and press the Menu button to start playback.
The MP3 Playback screen offers several bits of information, like the filename or ID3 tag, the file bitrate, equalization mode, repeat mode, and volume/battery information. Pressing the ">>" or "<<" buttons, you can move forwards and backwards, but the response is a little sluggish, and with big files can be a headache.
Pressing the record button, you enter directly into recording mode.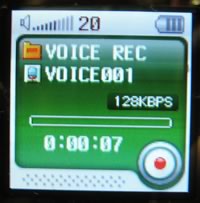 Listening to FM radio is also possible, and you can make a quick scan to find available stations.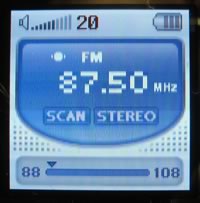 Lastly, the SuperTalent MegaScreen player can play Videos and display Photos in a special format, with good colour.