Technics Showcases New SL-1200GR Turntable, Speaker and Stereo Integrated Amplifier At CES
Panasonic's Technics showacases at CES in Las Vegas the new Direct drive SL-1200GR turntable system, the floor-standing SB-G90 speaker and the SU-G700 stereo integrated amplifier.
Direct drive turntable system SL-1200GR
The new SL-1200G revived the name machine SL-1200 under a new design redefining the direct drive turntable. While following the same design philosophy, Panasonic installed a newly developed coreless direct motor and reviewed parts and materials "one by one," in order to deliver the rich sound of the analog records to more enthusiasts.
Launched in 2016, the SL-1200G combined Technics' traditional analogue technology and digital technology. Its performance literally rocked the hi-fi market and redefined the reference for direct-drive turntables.
Parts from the SL-1200G were newly developed to create the new SL-1200GR, such as the coreless direct-drive motor and precise motor control technology, high-rigidity platter and high-sensitivity tonearm.
Unlike belt-drive and other systems, direct-drive systems rotate the motor at low speed and directly drive the platter. This concept provides numerous advantages, such as the almost complete absence of degradation in S/N ratio due to motor vibration and deceleration mechanisms, as well as high reliability over a long period of time because of not requiring parts replacement.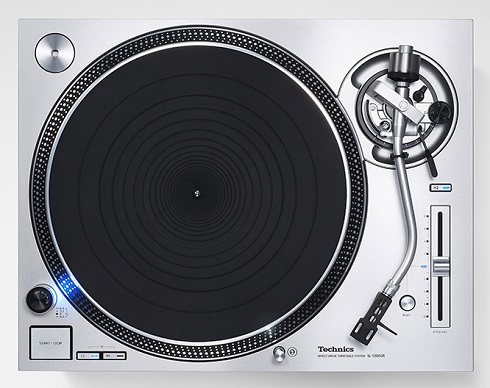 In 2016, Technics developed the twin-rotor, surface-facing, coreless direct-drive motor with rotor magnets placed on both sides, eliminating the rotation irregularity of the motor, referred to as "cogging," which was a unique issue for direct-drive systems. This motor was adopted for the SL-1200G, which once again drew a significant response in the hi-fi market. The
SL-1200GR inherits the same design philosophy with the new development of a single-rotor, surface-facing, coreless direct-drive motor, resulting in the elimination of cogging.
The SL-1200GR?s rotation control, which verifies and corrects the precision of the motor, uses the latest motor control technology cultivated in the development of Blu-ray devices, just as that used by the SL-1200G. In addition, the electrical circuitry has been tuned to ensure the newly developed motor of the SL-1200GR achieves maximum performance.
The platter achieves high-rigidity and vibration-damping characteristics by using a two-layer construction with deadening rubber applied to the entire rear surface of the aluminium die-cast. This eliminates the unnecessary resonance that is otherwise relayed to the record, thereby producing clear sound.
To increase the inertial mass and to reduce vibration, the shape of the aluminium die-cast portion was optimized by simulation. At 2.5kg (including the rubber mat), the SL-1200GR platter is 0.8kg heavier than that of the previous SL-1200MK5. Also, the back surface of the platter features strengthening ribs to improve rigidity. Increasing the surface area of contact with the deadening rubber achieves damping characteristics that are more than twice as good as those of the SL-1200MK5.
The tonearm tracks the rotation of the record and enables reading with high precision. The tonearm inherited by Technics is the traditionally used static-balance universal S-shaped tonearm, employing an aluminium pipe with excellent light weight and rigidity for the material of the tonearm pipe.
With its gimbal suspension construction, the tonearm bearing section of the SL-1200GR uses a cut-processed housing that employs high-precision bearings, as in the SL-1200G. The high initial-motion sensitivity of 5mg or less is achieved through manual assembly and adjustment by skilled Japanese artisans. This enables the grooves etched into the records to be accurately traced.
Gold-plated phono terminals and ground terminals for detachable cables are provided below the tonearm, so a wide variety of cables can be selected. Also, the use of metal shielding construction inside the case reduces the effects of external noise.
Specifications
Technology for Rotational Stability
Coreless Direct Drive Motor
High-Precision Motor Controller
Construction for Vibration Tolerance
High-dampening Turntable Platter
Rigid Cabinet Construction
Silicon Rubber Insulator
Quality Parts
High Sensitive Tonearm
Gold--plated Detachable Terminals
Turntable Section
Type: Direct Drive Manual Turntable
Turntable Speeds: 33 1/3, 45, 78 r/min
Adjust Range: ±8%, ±16%
Starting Torque: 2.2 kg?cm (1.91 lb-in)
Build-up Characteristics: 0.7 s. from standstill to 33 1/3 r/min
Wow and Flutter: 0.025% W.R.M.S.
Rumble: 78dB (IEC 98A Weighted)
Turntable Platter: Aluminum die-cast
Diameter:332mm (13-5/64")
Weight:Approx. 2.5kg (5.5 lb) (Including rubber sheet)
Tonearm Section
Type: Universal, Static Balance
Effective Length: 230mm (9-1/16")
Overhang: 15mm (19/32")

Tracking Error Angle:

Within 2° 32' (at the outer groove of 30cm (12") record)
Within 0° 32' (at the inner groove of 30cm (12") record)

Offset Angle: 22°
Arm Height Adjustment Range: 0 - 6mm
Stylus Pressure Adjustment Range: 0 - 4g (Direct Reading)
Head Shell Weight: Approx. 7.6g

Applicable Cartridge Weight Range:

[without auxiliary weight] 5.6 - 12.0g (14.3 - 20.7g (including head shell))
[with auxiliary weight] 10.0 - 16.4g (18.7 - 25.1g (including head shell))

Cartridge Mounting Dimension: JIS 12.7mm, interval
Head Shell Terminal Lug: 1.2mmf 4-pin terminal lug
Terminals: Audio Output: PHONO (Pin Jack) x 1, EARTH TERMINAL x 1
General
Power Supply: AC120 V, 60 Hz
Power Consumption: 11 W (Approx. 0.2W (Standby))
Dimensions (W x H x D): 453 x 173 x 372 mm (17-27/32 ? 6-13/16 ? 14-21/32 inch)
Weight: Approx. 11.2kg (Approx. 24.7lbs)
Speaker System SB-G90
The new Grand Class SB-G90 Speaker System promises to reproduce a vast sound field in excellent clarity and precision with realism over a wide range, from low to super-high frequencies.
Equipped with a newly developed Balanced Driver Mounting Architecture, the speaker unit is mounted to a sub-baffle installed inside the cabinet at the speaker unit?s center of gravity, which suppresses the vibration of the speaker unit itself. Also, because the speaker unit is not mounted to the baffle on the front, transmission of unwanted vibration from the speaker unit to the baffle can be suppressed.
This makes it possible to reduce distortion in the sound waves generated from the diaphragm and reduce unwanted vibration sound from the baffle.
Cabinet strength is ensured inside the cabinet by using a cross construction with sub-baffles, to which the speaker units are mounted, and horizontal reinforcing panels. A separate sub-baffle is used for each speaker unit, which minimises the effect of mutual vibration between speaker units.
When reproducing sound with full spatial expression, ideally the wave-fronts emitted from the speaker units are aligned at any listening position, i.e. providing a point sound source.
While inheriting the linear phase concept, the SB-G90 has newly developed two-way coaxial cone units (including mid-range and tweeter) targeting high-speed reproduction with enhanced high sensitivity.
In order to fully reproduce the vast frequency spectrum in high-resolution music sources, the SB-G90 uses both a newly developed 25-mm phase precision tweeter and two newly developed 16-cm low-distortion, long-stroke woofers, achieving reproduction in a wide frequency range of 27 Hz to 100 kHz.
In addition, the diaphragm material of all the speaker units is made of anodized aluminium in order to unify the tones over the entire frequency range.
Also, all the speaker units have features such as copper rings and high-linearity-drive voice coils, thereby achieving low distortion over a wide frequency range.
A lightweight aluminium dome diaphragm on which anodizing has been performed is used for the diaphragm of the tweeter. The driver achieves reproduction of a wide frequency range up to 100 kHz by using a new dome shape optimized through simulation, as well as achieving greater uniformity in phase characteristics by using a phase plug.
In addition, the SB-G90 uses high-linearity-drive underhung voice coils, the magnetic gaps of which have had magnetic fluid injected to suppress temperature rise, thereby ensuring superior power linearity.
As with the tweeter, the mid-range also uses an anodized, lightweight, high-rigidity aluminium cone diaphragm. The magnetic circuit achieves low distortion and enhanced drive power by using large magnets, copper caps, and high-linearity-drive underhung voice coils.
The 16cm Low Distortion Long Stroke Woofer woofers have features such as double magnets producing robust drive power, and the magnetic circuit with high-linearity-drive overhung voice coils, copper rings, aluminium short rings, and this newly developed long-stroke unit achieves low-frequency reproduction with wide dynamic range as well as excellent low distortion and response even for a large amplitude.
Specifications
Emotive Acoustic Technology
Balanced Driver Mounting Architecture
Point Sound Source Speaker System
Wide Range & Low Distortion Reproduction
Phase Precision Driver (Coaxial 2-way Speaker Unit)
16-cm Low Distortion Long Stroke Woofer
High Rigidity Cabinet
High Quality Network Circuit
Technics Definitive Design
Black High Gloss Finish
Magnet Fixed Fabric Grille
Dimension (W x H x D): 302 x 1114 x 375 mm (11-7/8 x 43-27/32 x 14-3/4 Inch)
Weight: Approx. 32kg (Approx. 71lbs) /pc
System
3-Way 4 Speakers Bass Reflex - Including Coaxial 2-Way for Midrange and Tweeter

Speaker Unit:

Woofer: 16cm (6-1/2") Cone Type x2
Midrange/Tweeter: Coaxial, 16cm (6-1/2") Cone Type x1 / 2.5cm (1") Dome Type x1

Crossover Frequencies: 480Hz, 3.2kHz
Frequency Range: 27Hz - 100kHz (-16dB), 32Hz - 85kHz (-10dB)
Sound Pressure Level: 88dB /2.83V (m)
Impedance: 4O
Input power (IEC): 100W (Rated), 200W (Max)
Recommended Amp. Power: 40-150W (Rated)
Stereo Integrated Amplifier SU-G700
The new Grand Class SU-G700 Stereo Integrated Amplifier is featuring the JENO Engine (Jitter Elimination and Noise-shaping Optimization), LAPC (Load Adaptive Phase Calibration), and reference-class audio technology concept for high-purity sound reproduction.
In order to faithfully transmit the large amount of audio data included in content to the speakers without loss, the SU-G700 power amp section uses full digital amplification including a JENO Engine, following the design concept of Technics reference systems.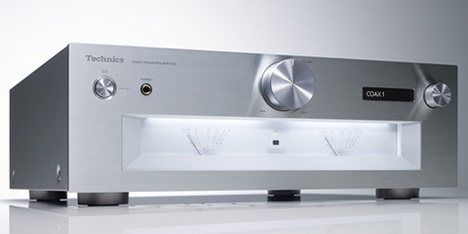 To solve the issue of sound quality degradation due to jitter, which often poses problems to conventional digital amplifiers, the SU-G700 has an original jitter reduction circuit, which eliminates jitter over the entire audible frequency range. Also, a unique, high-precision PWM conversion circuit is used for PWM conversion, which is important for achieving premium sound quality. By optimising items such as the noise-shaping speed, degree, and quantisation number through Technics' expertise, data contained by high-resolution sound sources is converted to PWM signals without loss ? even in the wide dynamic range.
Speaker impedance changes with each frequency, requiring a power amplifier to drive speakers without being affected by their characteristics. However, conventional digital amplifiers were connected to speakers through a low-pass filter at the output stage, making them even more strongly affected by the speaker impedance characteristics.
Also, while the amplitude characteristics of conventional amplifiers could be improved due to negative feedback, phase characteristics could not be enhanced. To solve this problem, Technics developed a speaker impedance adaptive optimisation algorithm that corrects the ideal impulse response through digital signal processing by measuring the frequency amplitude-phase characteristics of the amplifier with the speakers connected. This new technique enables flattening the frequency characteristics of amplitude and phase, which other amplifiers have not achieved previously, as well as delivering a sound with a rich spatial expression.
With a conventional switch mode power supply, the switching frequency changes in response to the load fluctuation in order to control the switching ON time for stabilising the output voltage. This fluctuation component in the switching frequency has a negative impact on sound quality.
The SU-G700?s newly developed power supply reduces the noise component harmful to sound quality by fixing the switching frequency. In addition, the latter stage in the switching power supply is provided with a linear regulator to stabilise the output voltage. The linear regulator uses custom, high-definition electrolytic capacitors.
In integrated amplifiers, there are a variety of circuits, for example handling micro-signals of inputs or large current, such as output circuits and power-supply circuits. The SU-G700 uses a three-section construction with partitions installed between the circuit blocks according to the signal level handled. This eliminates interference between circuit blocks, thus achieving clear sound quality.
Also, the chassis rigidity due to this construction suppresses the vibration of electrical parts, thereby suppressing deterioration in sound quality.
The High-Rigidity Metal Double Chassis features a steel-plate inner chassis and a steel-plate outer chassis to reduce vibration and noise that degrade the purity of sound.
To support heavy parts and components, and to achieve improved stability, the inner chassis is made of a 1.2mm plate. The bottom surface of the cabinet consists of a 2mm steel plate. The front panel is made of a 7mm aluminum plate to resist the effects of electromagnetic noise.
Specifications
Accurate Digital Technology
JENO Engine (Jitter Elimination and Noise-shaping Optimization)
LAPC (Load Adaptive Phase Calibration)
High-speed Silent Hybrid Power Supply
Battery Driven Clock Generator
Noiseless Signal Technology
? Digital Noise Isolation Architecture
? Optimally Activated Circuit System
Technics Definitive Design
High Rigidity Aluminum Cabinet
High Rigidity Metal Double Chassis
3-block Construction to Separate Power Supply, Amplifier and Signal Processing
FTC Output Power
140W + 140W (1kHz, T.H.D. 0.5%, 4?, 20kHz LPF)
70W + 70W (1kHz, T.H.D. 0.5%, 8?, 20kHz LPF)
Dimensions (W x H x D): 430 x 148 x 428 mm (16-15/16 x 5-13/16 x 16-27/32 inch)
Weight: Approx. 12.3kg (Approx. 27.2lbs)
Terminal
Digital Coaxial Input x2 / Digital Optical Input x2 / Analog Line Pin Input x2 / USB-B Input / Phono(MM) Input x1
Analog Pre Output / Analog Line Pin Output / Headphone Output
Digital Input Format
USB-B: PCM up to 384kHz, 32bit / DSD 2.8MHz, 5.6MHz, 11.2MHz with Asynchronous Transfer Mode