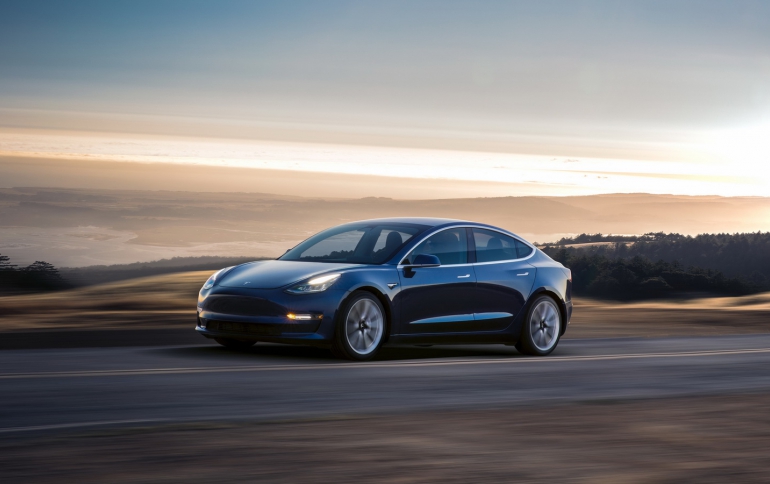 Tesla Met Q3 Production Targets for Model 3
Tesla produced 53,239 Model 3 sedans in the third quarter and delivered 55,840, the company announced Tuesday, meeting its goal of producing between 50,000 and 55,000 Model 3s in the quarter.
The company delivered 83,500 vehicles in Q3, which the company said is 80% more than what they delivered during all of 2017.
Tesla's Q3 deliveries were as follows: 55,840 Model 3, 14,470 Model S, and 13,190 Model X. To put this in perspective, in just Q3, Tesla delivered more than 80% of the vehicles that the company delivered in all of 2017, and also delivered about twice as many Model 3s as they did in all previous quarters combined.
Tesla said that the Q3 Model 3 deliveries were limited to higher-priced variants, cash/loan transactions, and North American customers only. There remain significant opportunities to grow the addressable market for Model 3 by introducing leasing, standard battery and other lower-priced variants of the car, and by starting international deliveries.
This follows CEO Elon Musk's "go-private tweet," that resulted in an SEC settlement under which Musk was forced to pay a $20 million penalty and step down as chairman of the company.
In Q3, Tesla said it was able to increase Model S and X deliveries notwithstanding the headwinds facing from the ongoing trade tensions between the US and China. Those trade tensions have resulted in an import tariff rate of 40% on Tesla vehicles versus 15% for other imported cars in China.