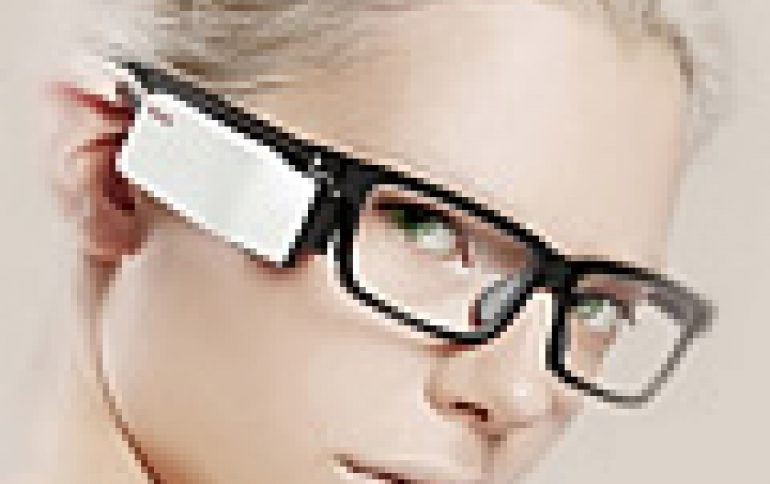 Toshiba Now Offers New Wearvue TG-01 Glasses For Workers
Toshiba today announced the launch of "Wearvue," a new wearable device for the B2B market that allows for hands-free working in facilities such as factories and logistics centers. Wearvue will initially be made available to companies in Japan through on-line reservations, with shipping scheduled to start on February 29.
Wearvue is worn like a pair of glasses and, at only 50 grams, is designed to be light and comfortable enough for long periods of use. The design also achieves a natural appearance that does not distract or disturb people during conversations.
A Toshiba-developed original optical system projects data, text and color images, to the right-hand lens of Wearvue, with a 1:1 aspect ratio. The optical system secures a wide viewing area and a depth of field that makes the data easy to see without obscuring the wider view. Wearvue also includes a personal adjuster for changing the angle of image projection.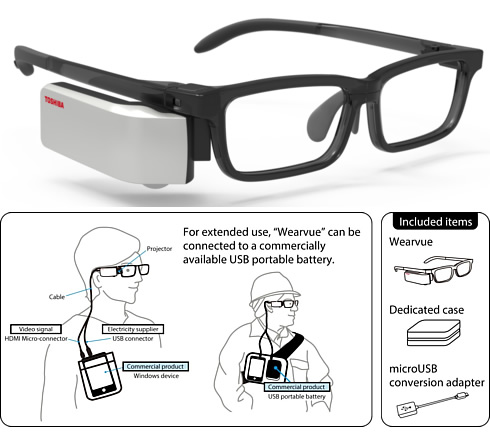 Wearvue applications run on Windows, and in operation the glasses must be connected by cable to a Windows device. The software development kit needed for developing application will be available from Feb. 29 at http://www.toshiba.co.jp/tg/index_j.html
Specifications

Display type

Optical see through-type virtual image system (single eye, fixed on right side)

Reflected lenses thickness

2.7mm

Input resolution

1280 x 720 (720P)

Aspect ratio of output image

1:1 (optical correction achieves a 1:1 projected image)

Angle of view

Horizontal approx. 9 degrees x vertical approx. 9 degrees

Displayed colors

18-bit color (approx. 260,000 colors)

Luminance output for projection area (maximum)

500 cd/m2, nt

Transparency rate

70%

Power source (power feed)

Provided via USB cable. Input power voltage: 5V (DC)
Uses external Windows device or mobile USB battery

Power consumption

2.5W

Battery hours

Connected battery dependent

Dimensions

167.9 mm x 162.5 mm x 38.0 mm (excluding cable)

Weight

50g (excluding cable)

Connector

HDMI (type-D), USB Connector (type-A)

Included in the box

Micro USB adaptor, dedicated case, lens cleaner cloth, handling manual, written guarantee

Operating temperature

5℃ - 35℃

Connection terminal

CPU: AtomZ3735F 1.33GHz or over
Memory: 2GB or more
OS: Windows 8.1 (DirectX11)