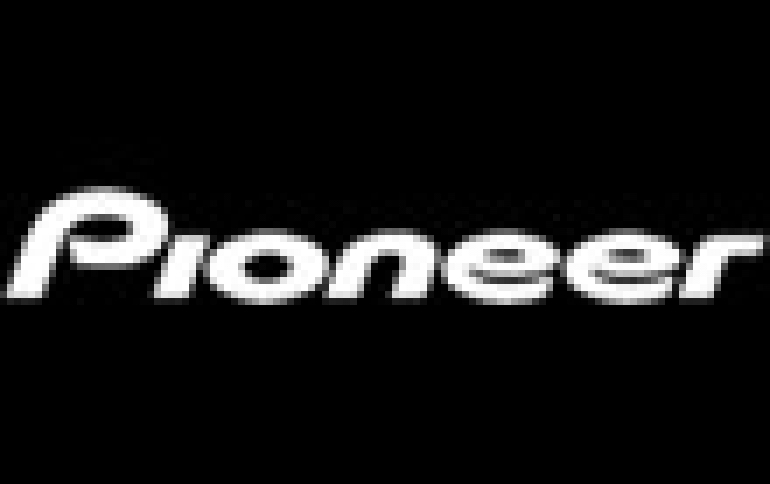 Two New Home Theater Receivers By Pioneer
Pioneer is introducing two new entry-level home theater receivers that offer installation flexibility and support the latest audio and video formats. The VSX-44 and VSX-80 7.2-channel receivers provide installation friendly attributes as well the support for the HDMI 2.0 specification, Roku Ready certification, ESS SABRE Premier Audio DAC (192kHz/24-bit), RS-232 and IP Control (VSX-80 only), expanded multi-zone and multi-source management and functionality, multi-channel high resolution playback, 4K 60P Ultra HD compatibility, and Pioneer's proprietary iControlAV5 App.

The version 2.0 of the HDMI specification offers an increase in signal bandwidth, now up to 18Gbps. The increased bandwidth provides support for new features such as 4K60p 4:4:4 color support.

The receivers have access to Internet radio music services including Spotify, PANDORA and vTuner. In addition, Pioneer incorporates the connectivity standards of HTC Connect that enables wireless high quality music files to be shared between compatible HTC One smartphones and Pioneer receivers.

Pioneer's MCACC technology built into the new models helps create the optimum acoustic environment for movies and music. The receivers use a microphone (included) and a subwoofer EQ (new for 2014 on the VSX-80) to compensate for differences in speaker sizes, output levels, and distances from the user?s listening positions automatically.

The VSX-80 supports the next generation 4K2K Ultra HD resolution standard with the ability to pass through 4K video signals of up to 60 frames per second to any HDMI 2.0-equipped 4K display. It can also upscale lower resolution signals before delivery to make them viewable on compatible 4K Ultra HD displays

Pioneer has added playback support for 96kHz 24-Bit 5.0- and 5.1-channel FLAC and WAV files on the VSX-80. The receiver also supports other high-resolution music files including AIFF, WAV, FLAC, DSD (2.8 MHz), Apple Lossless, MP3, WMA and AAC, offering broad support for the most common high-resolution music. Gapless playback for many of these file formats is supported as well. In addition, Pioneer's MCACC room calibration works with high-resolution music playback.

The VSX-80 is compatible with custom control companies Crestron and Control4, and offers custom installation features including full two-way RS-232C-over-IP control, with the ability to receive metadata from network and iOS connected devices.

Both receivers are offering a variety of multi-zone set-up configurations. The VSX-44 provides powered multi-zone with an analog signal to a secondary area while the VSX-80 offers powered multi-zone with a digital audio signal to another room utilizing a network source such as Spotify, vTuner or Pandora, in addition to supplying a third zone (HDZone) with a HDMI video signal.

All seven speaker outputs can be reconfigured six different ways, including a true 7.2-channel speaker setup or a full 5.2-channel with the extra outputs used to power a completely different zone altogether, all controllable from the receiver and/or a user's portable device via the iControlAV5 App.

Pioneer's iControlAV5 app incorporates multiple controls from basic volume adjustments and input selection to advanced features such as equalizer adjustments and management of audio settings and modes, including full control of the Roku Streaming Stick. With the VSX-80, iControlAV5 adds AV Scaling, enabling manual override of a television's native setting for adjustment of video scaling. The app is available from www.AppStore.com or the App Store for iPhone, iPad and iPod touch. The app is also available in Google Play (www.GooglePlay.com) for Android devices.

Pioneer's AVNavigator is a two-way interactive owner?s manual that removes the complications of setting up a receiver. New for 2014, the VSX-80 features AVNavigator built-in eliminating the need to upload the software to a computer or laptop. Simply connect the receiver to a home network and launch the web browser. The functionality is also included in the iControlAV5 app where users can tap the AVNavigator icon in the application. AVNavigator features Pioneer's Wiring Navi application, providing an interactive guide walking the user through the entire receiver setup process including speaker arrangement, sound optimization, connecting sources, MCACC calibration, renaming inputs, and more. AVNavigator also includes an Interactive Operation Guide application providing a linked two-way operation guide that gives users a way to learn about the receiver?s features (i.e. a push of the standard surround button on the front of the receiver takes the user directly to the portion of the manual that explains the standard surround feature).

The new Pioneer Elite receivers will be available at the end of March with suggested retail prices of $500 (VSX-44) and $700 (VSX-80).