Updated GMail Brings Security and Intelligent Features
Google unveiled on Wednesday its first Gmail redesign since 2013, in expensive overhaul two years in the making aimed at security and offline functionality features, moving closer to rival's Microsoft Outlook platform.
According to Google, Gmail's new look helps you get more done. You can click on attachments - like photos - without opening or scrolling through large conversations, use the new snooze button to put off emails that you just can't get to right now or easily access other apps you use often, like Google Calendar, Tasks (now available on Android and iOS) and Keep.
Gmail will also "nudge" you to follow up and respond to messages with quick reminders that appear next to your email messages to help make sure nothing slips through the cracks.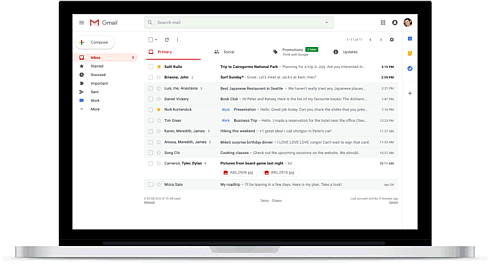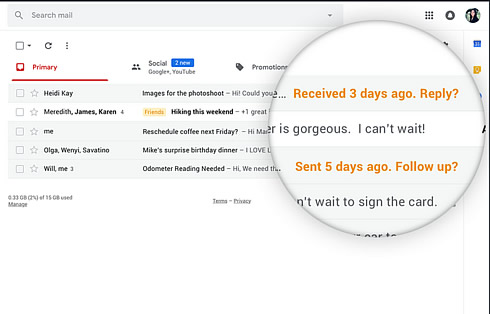 Google is also adding Smart Reply to Gmail on the web to help you reply to messages faster.
New features on mobile, like high-priority notifications, can notify you of important messages. Plus, Gmail will start suggesting when to unsubscribe from newsletters or offers you no longer care about.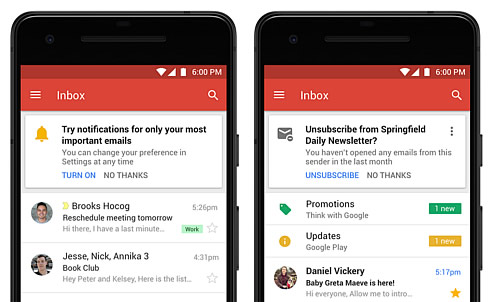 And you might notice new warnings in Gmail that alert you when potentially risky email comes through.
Finally, a new confidential mode allows you to remove the option to forward, copy, download or print messages - useful for when you have to send sensitive information via email like a tax return or your social security number. You can also make a message expire after a set period of time to help you stay in control of your information.
You can start using these new updates in Gmail on the web today, with some features appearing within the coming weeks.
For business users, the G Suite also introduces the Gmail confidential mode.
Built-in Information Rights Management (IRM) controls also allow you to remove the option to forward, copy, download or print messages. This helps reduce the risk of confidential information being accidentally shared with the wrong people.
Confidential mode will begin to roll out to consumer Gmail users and a limited number of G Suite customers in the coming weeks (broader rollout following).
As a part of the redesign, Google is also integrating Gmail with other G Suite apps. Now you can quickly reference, create or edit Calendar invites, capture ideas in Keep or manage to-dos in Tasks all from a side panel in your inbox.
The side panel also makes it easy to access Gmail Add-ons, too, like third-party business apps you might use. This way you don't have to switch between tabs or apps to get work done. You'll start to see the new side panel integration in other G Suite apps in coming months - like inside of your Calendar, Docs, Sheets and Slides apps.
New native offline capabilities in Gmail on the web can help you work without interruption when you can't find Wi-Fi. Search, write, respond, delete, or archive up to 90 days of messages, just as you would working online, but offline. Teams can start using offline capabilities in coming weeks.
Google is also introducing a new Tasks on web, as well as new mobile apps to help you handle work on the go. You can use Tasks to create tasks and subtasks, and even add due dates with notifications to help you stay on track.
And because Tasks integrates with G Suite, you can drag and drop an email from Gmail into Tasks to create a to-do. Tasks with due dates can also appear in your Calendar. You can download the new Tasks mobile apps from the Google Play Store or iOS App Store today.
The all-new Gmail experience is available for businesses to start using today in the G Suite Early Adopter Program (EAP) and can be turned on in the Admin console. You'll start to see offline support, confidential mode (limited release), Nudging, high-priority notifications and unsubscribe suggestions appear in the coming weeks.