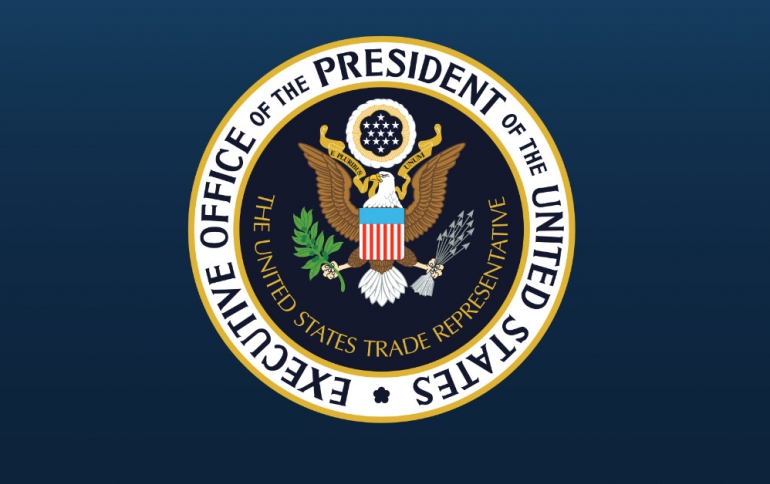 USTR Lists Amazon Websites in Notorious Markets for Counterfeiting and Piracy Report
The Office of the United States Trade Representative (USTR) today released its annual Special 301 Report on the adequacy and effectiveness of trading partners' protection of intellectual property rights and the findings of its Review of Notorious Markets for Counterfeiting and Piracy, which highlights online and physical markets that reportedly engage in and facilitate trademark counterfeiting and copyright piracy.
"The Trump Administration is committed to holding intellectual property rights violators accountable and to ensuring that American innovators and creators have a full and fair opportunity to use and profit from their work," said U.S. Trade Representative Robert Lighthizer. "Over the last year, USTR has secured strong and enforceable obligations on intellectual property in our historic agreements with China, Canada, and Mexico. The two reports issued today illustrate the Administration's commitment to protecting intellectual property rights and combatting counterfeiting and piracy in online and physical markets."
The Special 301 Report identifies trading partners that do not adequately or effectively protect and enforce intellectual property (IP) rights or otherwise deny market access to U.S. innovators and creators that rely on protection of their IP rights.
Trading partners that currently present the most significant concerns regarding IP rights are placed on the Priority Watch List or Watch List. USTR identified 33 countries for these lists in the Special 301 Report:
Algeria, Argentina, Chile, China, India, Indonesia, Russia, Saudi Arabia, Ukraine and Venezuela are on the Priority Watch List.

Barbados, Bolivia, Brazil, Canada, Colombia, Dominican Republic, Ecuador, Egypt, Guatemala, Kuwait, Lebanon, Mexico, Pakistan, Paraguay, Peru, Romania, Thailand, Trinidad & Tobago, Turkey, Turkmenistan, the United Arab Emirates, Uzbekistan and Vietnam are on the Watch List.

USTR also announced Out-of-Cycle Reviews for Malaysia and Saudi Arabia.
These trading partners will be the subject of increased bilateral engagement with USTR to address IP concerns. Over the coming weeks, USTR will review the developments against the benchmarks established in the Special 301 action plans for those countries. For countries failing to address U.S. concerns, USTR will take appropriate actions, which may include enforcement actions under Section 301 of the Trade Act or pursuant to World Trade Organization (WTO) or other trade agreement dispute settlement procedures.
Review of Notorious Markets for Counterfeiting and Piracy
The Review of Notorious Markets for Counterfeiting and Piracy highlights 38 online markets and 34 physical markets that are reported to engage in or facilitate substantial trademark counterfeiting and copyright piracy. An estimated 2.5 percent, or nearly half a trillion dollars' worth, of imports worldwide are counterfeit and pirated products.
The Review maintains its special focus on the distribution of pirated content and counterfeit goods online. This year, the Review contains an "Issue Focus" that explores the nexus between online piracy and malware. The Review also continues to discuss emerging piracy models, including illicit streaming devices, "stream-ripping," and piracy portals and apps that cause major damage to the digital marketplace for legitimate music, movies, and television.
In addition, this year's Review has an expanded discussion on the challenges related to counterfeit and pirated goods on e-commerce platforms and third-party marketplaces.
Intrestingly, several of Amazon.com Inc's foreign websites have been added to the U.S. trade regulator's "Notorious Markets" report.
The Office of the U.S. Trade Representative cited allegations of counterfeit goods sold on the Seattle-based online retailer's websites in Canada, Germany, France, India and the United Kingdom.
Amazon has said it "strictly prohibits" counterfeit products on its platforms and invests heavily to protect customers from such items.
The list has included China's largest e-commerce platform, Taobao.com, which is owned and operated by Alibaba Group Holding Ltd, as well as websites operated out of Indonesia, Poland, the Czech Republic and other countries.
Other conslusions of the report include:
USTR continues to place China on the Priority Watch List and Section 306 monitoring remains in effect.
USTR identifies India on the Priority Watch List for lack of sufficient measurable improvements to its IP framework on long-standing and new challenges that have negatively affected U.S. right holders over the past year.
USTR identifies Indonesia on the Priority Watch List due to the reported lack of adequate and effective IP protection and enforcement.
Trinidad & Tobago are on the Watch List for a lack of enforcement actions against operators that broadcast unauthorized cable and satellite channels, which Trinidad & Tobago had pledged when it was removed from the Watch List in 2016.
Online and broadcast piracy remains a challenging copyright enforcement issue in many countries, including Argentina, Bulgaria, Canada, Chile, China, Colombia, Dominican Republic, Greece, Guatemala, India, Mexico, the Netherlands, Romania, Russia, Saudi Arabia, Switzerland, Thailand, Ukraine, Vietnam, and elsewhere
To read the Review of Notorious Markets for Counterfeiting and Piracy, click here.