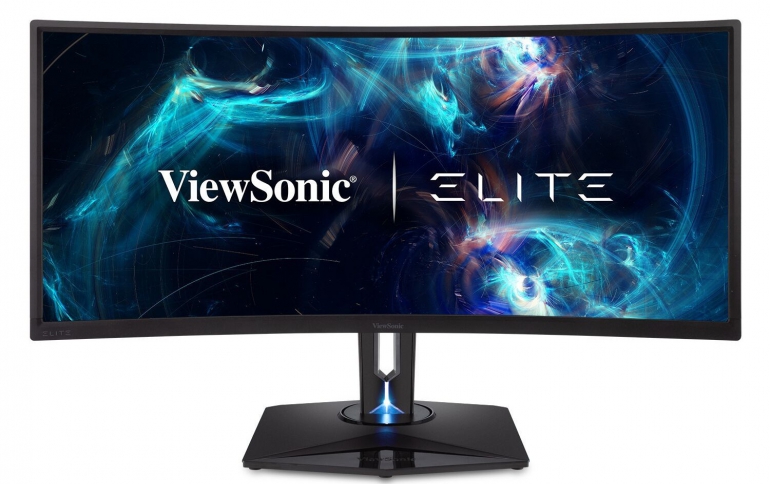 ViewSonic Launches New ViewSonic ELITE Sub-Brand of Monitors, X Series of Smart 4K Ultra HD LED Projectors
ViewSonic is laucnhing the ViewSonic ELITE sub-brand of professional gaming monitors and introduces the X Series of smart home entertainment projectors with Amazon and Google Voice Control compatibility.
ViewSonic ELITE launches with a pair of new gaming monitors: XG240R and XG350R-C. The XG240R and XG350R-C are the first monitors aligned with software programs that enable customizable RGB lighting capabilities.
The ViewSonic XG240R is the first 24-inch monitor under the ViewSonic ELITE sub-brand featuring customizable RGB integration. It delivers 1080p Full HD resolution, boasts a 144Hz refresh rate, 1ms response time and AMD FreeSync anti-tearing technology.
The XG350R-C 35-inch monitor is the primary ultra-wide curved gaming monitor under the ViewSonic ELITE line. With a1800R curve, the XG350R-C features WQHD (3440x1440) resolution and comes equipped with customizable RGB lighting, as well as AMD FreeSync technology to eliminate tearing. The XG350R-C also comes with proprietary SonicExpert sound enhancement technology. With the 35-inch ultra-wide curved screen, the XG350R-C provides a broader field of view.
Both the XG240R and XG350R-C include HDMI and DisplayPort connections, multiple USB 3.0 inputs, and built-in speakers.
The ViewSonic ELITE XG240R and XG350R-C will be available in January 2019 with the following ESPs:
XG240R: $266
XG350R-C: $716
New X Series of Smart 4K Ultra HD LED Home Entertainment Projectors
ViewSonic also introduces the X Series of smart home entertainment projectors with Amazon and Google Voice Control compatibility.
The ViewSonic X10-4K and X1000-4K LED projectors are each engineered with a DLP 4K Ultra HD (3840x2160) chip with XPR technology. These projectors offer up to 30,000 hours of operational life. Both projectors include Amazon Alexa and Google Assistant compatibility, and an integrated Smart TV interface for easy streaming of TV shows and movies from popular content services, while a built-in OS provides access to apps via the Android Aptoide store.
Both the X10-4K and X1000-4K feature Rec.709 color accuracy and Frame Interpolation technology which reduces motion blur and ensures fluid multimedia content projection. Multiple connectivity options include HDMI 2.0/HDCP 2.2, USB 2.0 Type A and Type C, Audio In/Out and RJ45.
Combining 4K resolution with smart streaming functionality and a portable design, the ViewSonic X10-4K projector delivers a theater-like experience in just about any room. It features 2,400 LED lumens of brightness, and with Wi-Fi connectivity, allows users to stream content from providers like Netflix and YouTube.
The ViewSonic X1000-4K is an ultra-short throw LED projector that allows users to place it inches away from a screen or wall and project an image of up to 100-inches. It features 2,200 LED lumens of brightness, motorized focus and a built-in Harmon Kardon sound ba. The X1000-4K also comes with an an integrated Smart TV interface that provides streaming of television shows, movies and content from popular media providers.
Both projectors are coming this Spring. The X10-4K will retail for $2,399, and the X1000-4K will cost you $300 more.
New 4K and 1080p Laser Projectors
ViewSonic also added two new laser projectors to its lineup of projection solutions for home theater entertainment. The LS700HD and LS700-4K are laser phosphor-based projectors loaded with features that deliver long-term big picture usage for movies, games, television and other multimedia entertainment.
The projectors are combining laser technology with 4K Ultra HD (3840x2160) resolution and 3,500 lumens of brightnes. The LS700-4K features HDR content support for detailed image reproduction and SuperColor technology for richer color. The LS700-4K comes with an integrated Smart TV interface for streaming of TV shows and movies from content services.
With native 1080p Full HD resolution, the ViewSonic LS700HD features 3,500 lumens of brightness. Utilizing the latest laser light technology for up to 20,000 hours of usage, the LS700HD ensures long-term enjoyment for just about all entertainment and multimedia viewing needs. In addition to its high brightness, the LS700HD comes with SuperColor technology.
The ViewSonic LS700HD and LS700-4K laser projectors come with a 360-degree orientation function that allows either projector to be installed in nearly any positions and with 1.3x optical zoom and versatile connectivity options, these projectors can be positioned from floor to ceiling for flexible and creative installations. With the latest HDMI technology, these projectors can be connected to any HDMI-enabled device and display 3D images directly from 3D Blu-Ray players. The variety of connectivity options include: HDMI 1.4a/HDCP 1.4, VGA In/Out, USB 2.0, Audio In/Out, Composite, RJ45 and RS232.
LS700HD $2,199 - February 2019
LS700-4K $3,499 - February 2019

M1+ Ultra-Portable Projector

ViewSonic also announced a new ultra-portable LED-based projector featuring Wi-Fi and Bluetooth capabilities. The M1+ has also built-in premium dual Harman Kardon speakers.
On-the-go professionals can share multimedia with a built-in battery that provides up to six hours of power, 16GB of built-in memory, and LED technology that offers up to 30,000 hours of usage.
Designed to be compact and lightweight, the ViewSonic M1+ weighs about one and a half pounds. Featuring 250 lumens of brightness, the M1+ projector is engineered with a 120,000:1 contrast ratio, as well as a short-throw lens that can display large images in small spaces. The M1+ comes with multiple connectivity options including HDMI, USB 2.0 and USB Type C, Audio Out and a MicroSD card reader.
The M1+ projector utilizes the latest solid-state LED technology, making the projector mercury and lamp free. With support for Full HD (1080p) resolution, the M1+ is also 3D compatible with optional ViewSonic 3D glasses (PGD-350). The integratedSmart Stand ensures simple setup, allowing the projector to be placed in different positions at nearly any angle, while also doubling as a lens cover. When the lens is uncovered, the M1+ automatically powers on with full brightness for instant use. A built-in safety feature temporarily turns off the lens when objects are detected too close to the projector.
The M1+ will be available Q1 2019 at an MSRP of $549.99.