Vive Announces Vive Wave Open Platform and Vive Focus, Its Standalone VR device For China
Today, at HTC's Vive Developers Conference (VDC) in Beijing, HTC announced the VIVE WAVE VR Open Platform, a VR open platform and toolset designed for the development of mobile VR content device optimization for third-party partners.
So far, twelve hardware companies in China, including 360QIKU, Baofengmojing, Coocaa, EmdoorVR, Idealens, iQIYI, Juhaokan, Nubia, Pico, Pimax, Quanta and Thundercomm, announced their support for Vive Wave and integrating the VIVEPORT VR content platform into their future products.
HTC also announced VIVE FOCUS, its first standalone VR Headset for the China market. Vive Focus is also based on the Vive Wave VR open platform.
Vive Focus offers enhanced comfort for extended use, easy on-off capabilities, and is the first commercial standalone device to deliver inside-out 6-degree-of-freedom tracking (6DoF) which Vive calls "world-scale". Without the need to be attached to a PC or a phone, Vive Focus provides freedom of mobility while reducing the total cost for users to own a premium VR device in China. It has a high-resolution AMOLED screen with low latency and clarity. The Vive Focus is powered by the features of the Qualcomm Snapdragon 835 VR Platform and utilizes the Vive Wave VR open platform, including the library of VR content available on the Viveport.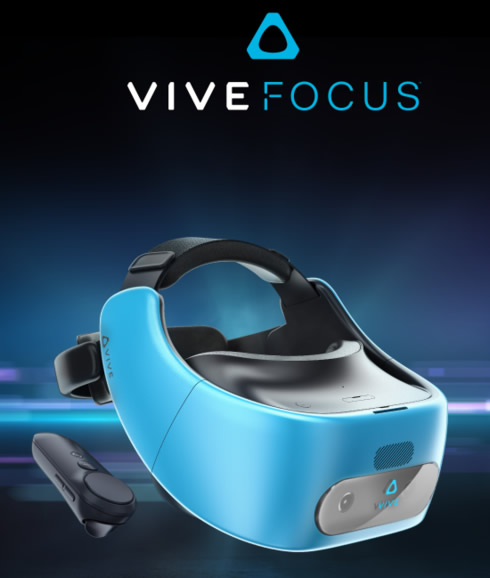 HTC has only announced plans for the Vive Focus in China just yet, and even then there aren't any details on pricing or a release date. Meanwhile, HTC and Google have cancelled their plans to bring a Vive-branded standalone Google Daydream headset to the US.
Also at VDC, Viveport also announced a global strategic partnership with Unity Technologies to enable the one-click publishing of VR content onto Viveport for PC VR, Standalone VR, and mobile VR developers. Unity will integrate Viveport into its content platform and provide a more intuitive way for developers to utilize the new Vive Wave VR SDK. Unity will also integrate Viveport's in-app payment and VR advertisement functions into its development system, with an initial focus on the China market. For the remainder of 2017, Viveport is giving back 100% of all profit earned on its platform back to the developer community.