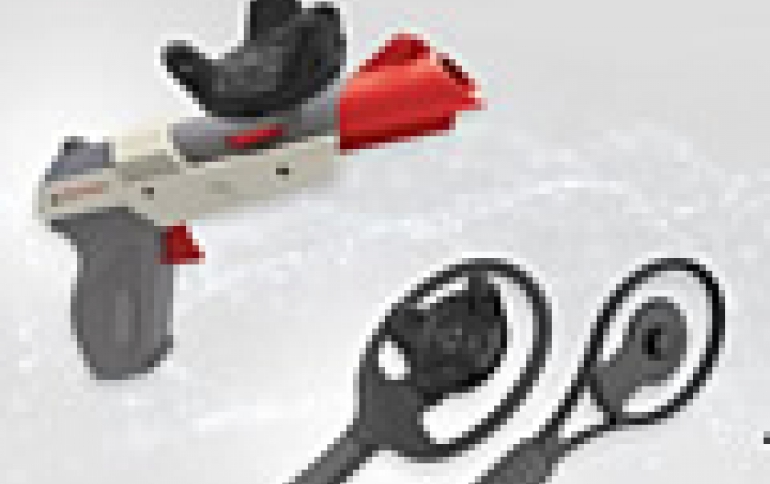 VIVE Tracker Bundles Up Released
The first Vive Tracker accessory bundles are available for pre-order today with expected arrival dates of mid-December.
Hyper Blaster with Duck Season
Racket Sports Set with Virtual Sports
A third partner bundle featuring straps to enable full body tracking, is available for purchase today.
Rebuff Reality's TrackStrap with Redfoot Bluefoot Dancing
Note, the Rebuff bundle does not ship with a Vive Tracker so you'll need to order directly from Vive.com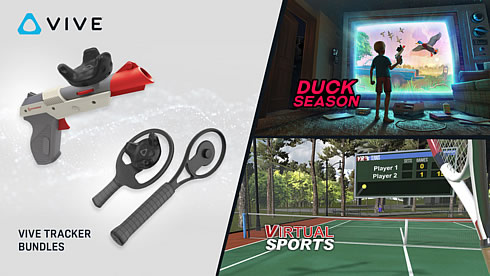 The Hyper Blaster brings a retro light gun to VR for the first time. When paired with Vive Tracker, the Hyper Blaster serves as both a gun and motion controller in integrated games such as Duck Season, Arizona Sunshine, The American Dream VR, Operation Warcade, TacticalAR, and Practisim VR. The Hyper Blaster will be sold exclusively through Amazon and includes Duck Season as a pack-in title, and one Vive Tracker, all for $149.99. Duck Season, by Stress Level Zero, is a throwback to the golden age of 1980's gaming and movies with a hint of horror in a Spielburgian universe.
In addition to the six titles integrated at launch, Vive is working with 10 additional developers to integrate the Blaster by Q1.
Custom-molded and weighted to feel like real paddles and rackets, the Racket Sports Set is packaged for both Ping Pong and Tennis games. Connected via a simple screw, the handles are integrated with five titles. The set will sell for $149.99 and includes both Ping Pong and Tennis handles, a Vive Tracker and a pack-in redemption code for Virtual Sports. Pre-orders are available today via Amazon, Abt Electronics, BH Photo, Fry's, Gamestop, Micro Center and NewEgg with additional retailers expected.
In addition to Virtual Sports, the Racket Sports Set is integrated with four titles today and expect an additional six by end of year.
Rebuff Reality is selling TrackStrap, which easily attaches Vive Trackers to your feet and other body parts to enable full body tracking. A pair of TrackStraps is available now for $24.99 via rebuffreality.com and includes a pack-in redemption code for Redfoot Bluefoot Dancing on Steam, inspired by Dance Dance Revolution (DDR) and Audioshield.