WeChat Teams Up with Google on Gaming, Seeks For Developers' Support
WeChat unveiled Mini Games' achievements to the industry at yesterday's WeChat Mini Games Developers Conference in San Francisco, as it looks for more overseas developers joining in and advance social media commercialization.
As a mobile app with over 1 billion active users, WeChat has become one of the world's biggest social networks, integrating features from social media and news to local services and payment.
The WeChat Mini Games platform, which has grown to over 300 million users, has seen many Mini Games, including two which were showcased at the conference: Wegoing and Tencent Billiards. Wegoing boasted over 100 million registered users, while Tencent Billiards achieved a daily transaction volume of over 10 million RMB and 30-day user retention rate of 40%.
Additionally, WeChat underlined the commercial potential of app by making revenue distribution rates highly attractive. The company detailed at the conference how it helps provide ways for traffic monetization through in-game item purchases and advertising. WeChat announced that game developers receive 100% of monthly in-game transaction volume up to 500,000 RMB and 60% of any remaining amount over 500,000 RMB. Besides this, game developers can pocket up to 50% of in-game advertising revenue.
Some overseas industry giants have already joined the Mini Games ecosystem with their own creations: Google's Guess My Sketch and Game Closure's Linsane Hoops. Both Mini Games have left a big impression on the Mini Games community. Google's "Guess My Sketch" is characterized by its simple gameplay and interactivity with friends that sparked popularity among users. Game Closure's "Linsane Hoops" attracted players with a friends-versus feature, optimizing competition with WeChat friends in an interesting way.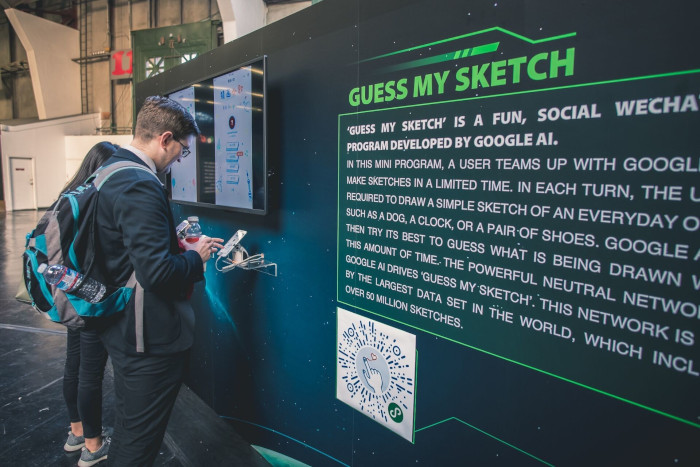 WeChat hopes that more overseas developers will be joining in, focusing on how to integrate WeChat's capabilities to create fun gameplay for users.