Western Digital Releases The 15TB Ultrastar DC HC620 SMR HDD
Western Digital today announced the industry's highest capacity HDD, the 15TB Ultrastar DC HC620 host-managed SMR HDD.
The Ultrastar 15TB host-managed SMR (Shingled Magnetic Recording) HDD is positioned for hyperscale cloud and traditional data center workloads, including large video surveillance "smart city" initiatives, storage for regulatory compliance and Big Data storage. Server and storage systems incorporating 15TB HDDs allows a fully populated 4U60 HDD enclosure to reach a raw storage capacity of 900TB, which is an additional 60TB per 4U rack in the same footprint compared to those utilizing 14TB HDDs. In an at-scale environment where floor space, $/TB, TB per square foot, or watts per terabyte are critical, this TCO savings can be significant.
WD says that while its conventional Magnetic Recording (CMR) HDDs are meant for random reads and writes, this latest host-managed SMR HDD is optimized for sequential writes and areal density.
These emerging workloads for SMR optimization require data to be written sequentially and that is rarely updated, followed by random and frequent reads.
SMR uses an "overlapping" writing technique to pack more bits into the same space. This is achieved by writing data sequentially then overlapping (or "shingling") it with another track of data. By repeating this process, more data tracks can be placed on each magnetic surface.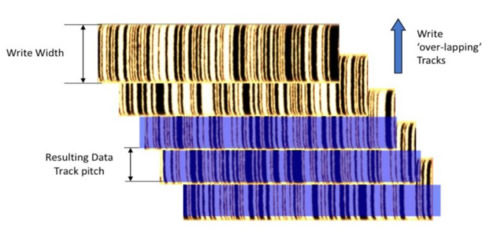 Because of the shingled format of SMR HDDs, all data streams must be organized and written sequentially to the media.
The new disk is based on the company's HelioSeal platform, and as an extension to the first 14TB SMR HDD family. Western Digital is currently shipping Ultrastar DC HC620 qualification samples to select customers with broader availability later this quarter.
Specifications
Interfaces: SATA 6Gb/s, SAS 12Gb/s
Capacity (GB) 15TB
Sector Size (Variable, Bytes/sector)

SATA model: 512e: 512, 4Kn: 4096
SAS Model: 512e: 512, 520, 528, 4Kn: 4096, 4112, 4160, 4224

Max Areal Density (Gbits/sq. in.) 1108 / 1034 (max)
Form Factor 3.5-inch
Data Buffer (MB) 512
Rotational Speed (RPM) 7200
Latency Average (ms) 4.16
Interface Transfer Rate (MB/sec, max) 600 SATA, 1200 (SAS)
Sustained Transfer Rate: 244 / 223 MiB/s (max), 255 / 233 MB/s (max)
Seek Time (read, ms, typical) 7.7/12.0
Reliability Error Rate (non-recoverable, bits read) 1 in 1015
MTBF (M hours) 2.5
Annual Failure Rate (AFR) 0.35%
Load/Unload Cycles 600,000 (at 40 degrees C)
Availability (hrs/day x days/wk) 24x7
Limited Warranty (yrs) 5
Acoustics Operational (Bels, typical) 2.0/3.6
Power Requirement +5 VDC, +12VDC (+/-5%)
Operating (W, typical) 6.4 (SATA model), 8.3 (SAS model)
Idle (W) 5.2(SATA model), 6.2 (SAs model)
Power Consump. Efficiency Index (W/GB): 0.00035 / 0.00037 W/GB (SATA), 0.35 / 0.37 W/TB 0.00041 / 0.00044 W/GB 0.41 / 0.44 W/TB (SAS)
Physical Size: Z-Height (mm) 26.1
Dimensions (width x depth, mm) 101.6 (+/-0.25) x 147
Weight (g, max) 660
Environmental (operating)

Ambient Temperature 5 degrees to 60 degrees C
Shock (half-sine wave): 70
Vibration (5 to 500 Hz:) 0.67 (XYZ)

Environmental (non-operating)

Ambient Temperature -40 degrees to 70 degrees C
Shock (half-sine wave) 300
Random vibration (G RMS 2 to 200 Hz) 1.04 (XYZ)