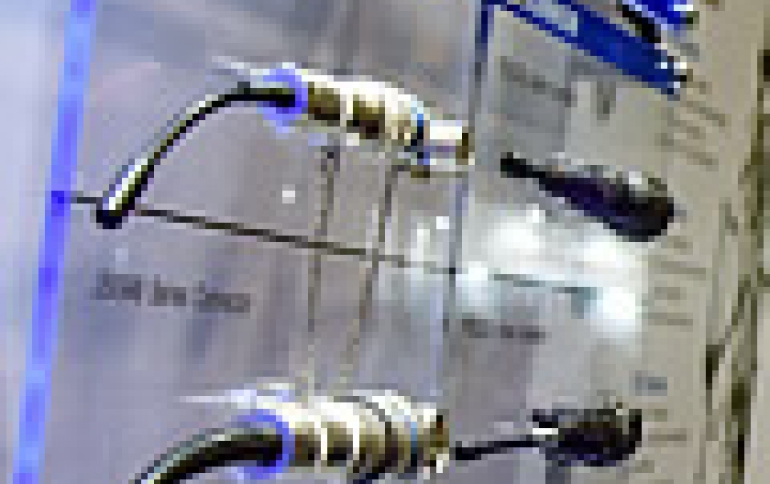 400 Gbit/s Ethernet Optical Modules Debut at Optical Fiber Conference
Companies are showcasing 400 Gbit/second Ethernet optical modules for to data centers at this week's Optical Fiber Conference (OFC), with actual deployments to be expected not earlier than the end of 2019.
The goal is to achieve the highest possible data rates while maintaining acceptable distance, power, heat and cost.
Today's large data centers are transitioning from 10 to 25G Ethernet inside racks of servers and deploying 100G Ethernet between the racks.
Optical module vendors are showing their first 400G products at the Optical Networking and Communication Conference & Exhibition Optical Fiber Conference (OFC) in San Diego, California.
China's Centera Photonics Inc. demonstrates its 400G SR8 OSFP AOC based on 50G-PAM4 per channel integrated on Centera's SIP (System in Package) optical engine platform. It uses the latest PAM-4 modulation techniques, together with Centera's proprietary Silicon MEMS optical engine platform. The company claims that its MEMS optical engine platform is very small in size and with excellent thermal management capabilities and reliabilities by its Silicon material via Semiconductor process.
Inphi Corp. announced its 16nm 400Gbps Porrima Single-Lambda Pulse Amplitude Modulation (PAM4) platform, a complete 56GBaud platform solution for wired network infrastructure including hyperscale cloud data center, service provider and enterprise networks. It is leveraging Inphi's fifth generation DSP-based PAM4 technology and enables the development of 400Gbps optical interconnects in a compact form factor for applications with up to 10km.
The Optical Internetworking Forum (OIF) and the Ethernet Alliance are demonstrating a 400 Gbps Ethernet (400 GbE) network. The joint demonstration features 400 Gbps of Flex Ethernet (FlexE) traffic sent over four bonded 100 GbE interfaces streaming over the Ethernet Alliance 400 GbE network and interconnecting the OIF and Ethernet Alliance booths on the exhibit floor.
The demonstration is designed to showcase the Ethernet Alliance's IEEE 802.3bs 400 Gbps technology recently ratified in December 2017 and the OIF's FlexE 1.1 Implementation Agreement (IA).
The Consortium for On-Board Optics (COBO), an ad hoc group of about 70 companies, released its first specification for modules embedded on routers and switch motherboards.
COBO's approach takes optics off a module that users plug into the faceplate of a router or switch and embeds them on the motherboard. It enables better airflow and larger heat sinks to reduce thermal requirements for systems as data rates rise.
The first generation 400G modules emerging at this year's OFC are expected to consume 12-14W. COBO defines 8- and 16-lane versions that support 20 and 40W, respectively.
COBO will start work soon on a follow-on standard targeting whatever comes after 800G.
COBO is an alternative to a number of options for pluggable optical modules based on ad hoc standards called multi-source agreements. They include the QSFP-double density approach backed by Molex and Facebook, and OSFP with support from Arista and Google.
New Ethernet Alliance Roadmap
The Ethernet Alliance today released its new 2018 Ethernet Roadmap, which foreshadows the technology's ongoing growth and deployment from 10 megabits per second (10 Mb/s) to the approaching era of terabit speeds, offers a view of existing and emerging application spaces, and addresses essential specifications, media, and modules.
The Ethernet Alliance's new roadmap traces Ethernet's path from 10 Mb/s through present-day speeds of 1 to 400 gigabit Ethernet (GbE), and looks ahead to future speeds achieving up to 1.6 terabits (TbE) and beyond.
As you see below (click for larger views), Ethernet nomenclature is explained, as well as technical reference material that will help users understand how Ethernet is achieving 100GbE, 200GbE, and 400GbE.