5G Smartphones are Coming in 2019
The progress being made toward the widely anticipated launch of 5G smartphones in early 2019 is obvious, based on the announcements of smartphone makers, OEMs and 5G chip vendors.
Smartphone OEMs including LG have already announced their 5G smartphones. Vendors such as Xiaomi have gone even further and have teased their audience on social media by showing pictures of phones under test.
Samsung is planning to launch the Galaxy S10 in February next year to celebrate the 10th anniversary of the Galaxy series. There is a possibility that a special model supporting 5G will be included in the Galaxy S10 series.
Verizon has launched their 5GTF residential fixed Wireless broadband service "5G Home" in October. Qualcomm, Intel and Huawei, have completed successful inter-op testing with infrastructure providers such as Ericsson, Nokia, Huawei and others.
Qualcomm is sampling of antenna and RF modules, showing of smartphone form factor devices. During their annual ecosystem event 4G 5G summit in Hong Kong this week, Qualcomm announced addition of a new smaller member to their already announced mmW 5G-NR antenna modules. The company also announced successful completion of sub- 6GHz inter-op testing with Ericsson.
The new module is about 25% smaller in size and claimed to offer similar performance as the previously announced modules but is it also narrower in width. This is important because it can fit on the sides of smartphone without compromising on the thickness or performance.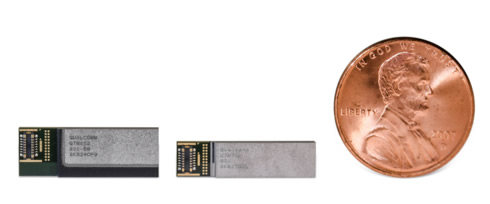 Qualcomm and Ericsson said they have completied an inter-op testing using sub-6GHz bands, another significant step. However, the sub-6Hz bands are equally important in delivering on the promise of 5G to many people at more places. While mmWave bands help fortify capacity and provide speed boost in dense urban and high traffic areas of the network, sub-6GHz will provide ubiquitous 5G coverage everywhere. This means that the rural parts of the network will probably only see sub-6GHz 5G.
Qualcomm also announced a cooperation with Samsung Electronics on the development of 5G small cells. To effectively scale 5G NR networks, the industry is expected to increasingly rely on small cells as foundational building blocks. Given the propagation characteristics of higher frequencies in sub-6 and mmWave bands that will be used in 5G NR networks, small cell solutions are designed to support delivery of uniform 5G experiences, especially indoors where most data is consumed. Mobile operators across the world including United States, Japan and Korea are all expected to deploy small cells as a catalyst to support 5G-class experiences.
5G networks are expected to utilize small cells to provide multi-gigabit throughputs and millisecond level latencies.
Qualcomm FSM 100xx 10nm 5G Solution is capable of enabling the Samsung 5G Small Cell solution to utilize both the sub-6GHz and mmWave spectrum.