Acer Introduces Aspire S7 Series Ultrabooks For Windows 8
Acer today announced the Oct. 26th availability of its Acer Aspire S7 Touch Ultrabook Series in North America. All models in the S7 Series feature a unibody design made from a single block of aluminum, so their chassis are ultra-thin and tough. All models in the S7 Series feature full high definition IPS 10-point displays with 1920 x 1080 resolution. In addition, wide viewing angle technology provides consistent and accurate color from viewing angles up to 178 degrees.
One of the most striking design elements of the Aspire S7 is the elegant white design on the S7-391 models featuring a 13.3-inch touch screen display. The full high-definition screen is surrounded by a glossy white Gorilla Glass 2 cover that is smooth to the touch, thin yet super strong, scratch-resistant and easy-to-clean. Acer also included a thin, soft cushion of material between the aluminum frame and the Gorilla Glass, so if the S7 is dropped, the impact will mainly be absorbed by the chassis and not the glass.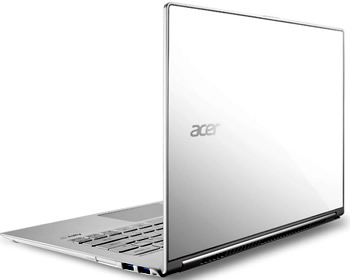 The smaller and lighter S7-191 model includes an 11.6-inch high definition touch screen, and features an all-aluminum unibody and aluminum cover with a cross direction brushed finish.
Taking advantage of the touch benefits associated with Windows 8, the touch enabled screen found on the S7-391 models can be laid back flat 180 degrees, and the image orientation reversed for sharing and collaborating with others.
To ensure the S7 stays running cool, Acer created a new thermal solution called "TwinAir" cooling, a thermal design that extends battery life and keeps the Ultrabook cool and comfortable to use. Two small high-speed (10,000 rpm) thermal fans are used; one to pull in cool air, while another releases hot air.
Acer incorporated an electroluminescent (El) backlit keyboard which automatically turns on and off and adjusts its brightness level based on the ambient lighting.
The Aspire S7 includes 3rd Generation Intel Core i5-3317UB or i7-3517U processors and solid state drives in a RAID 0 configuration. An embedded Li-Polymer battery provides up to 6 hours of battery life, and an optional second battery doubles computing time up to 12 hours.
In addition, the S7 ships with a micro HDMI to VGA cable for use with projectors for presentations, a USB to RJ45 port for connecting to a wired network and a carrying case.
All models in the Aspire S7 Series also include Acer Theft Shield, a free software based solution. When enabled, the Ultrabook recognizes the distance from a designated Wi-Fi signal source, and if the system moves beyond 10 feet of the signal, a loud siren will sound from the Ultrabook's speakers.
The Aspire S7 Ultrabooks also include Acer Green Instant On technology for fast boot and resume, and Acer Always Connect, which lets users manage their multimedia and data on all their devices at anytime, anywhere, even from sleep.
Acer Green Instant On and Acer Always Connect technologies enable data upload and retrieval anytime, anywhere, and deliver power-saving features as well. Acer Green Instant On provides instant-resume functionality (in 1.5 seconds) and ensures battery life that lasts several weeks.
Acer Always Connect gets users online faster than conventional connections.
The Aspire S7 also ships with AcerCloud. This feature provides Acers' customers with remote access to the digital data residing on their Ultrabook via their tablet or smartphone. Not only can they access the data, but they can download and share it among their other PCs and mobile devices anytime, anywhere, even when the S7 is in sleep (standby/hibernation) mode. As long as the Aspire S7 is in sleep mode, Acer Always Connect technology can wake it up through Wi-Fi, allowing the media to be retrieved via a mobile device. AcerCloud also makes it easy to take photos on a smartphone and then view them on their S7 at home or in the office, without the delay and complication of manually transferring files.
The Aspire S7 Series starts at $1,199 for the 11.6-inch model and $1,399 for the 13.3-inch model. The Aspire S7 series will be available for purchase on October 26 at leading retailers across North America.
Specifications


Acer S7 Series Ultrabooks
Model
S7-191-6649
S7-391-6810
S7-391-9886
Processor
Core i5-3317U
(1.7-2.6GHz, 3MB L3)
Core i5-3317U
(1.7-2.6GHz, 3MB L3)
Core i7-3517U
(1.9-3.0GHz, 4MB L3)
Memory
4GB DDR3 onboard
4GB DDR3 onboard
4GB DDR3 onboard
Storage
128GB SSD
128GB SSD
256GB SSD
Display
11.6" FullHD 1080p
(Touch sensitive)
13.3" FullHD 1080p
(Touch sensitive)
13.3" FullHD 1080p
(Touch sensitive)
Dimensions
11.17"x7.70"x0.48"
(284x196x12.2mm)
12.73"x8.79"x0.47"
(323x223x11.9mm)
12.73"x8.79"x0.47"
(323x223x11.9mm)
Weight
2.29 lbs. (1.04kg)
2.86 lbs. (1.3kg)
2.86 lbs. (1.3kg)
Operating System
Windows 8
Windows 8
Windows 8
Price
$1200
$1400
$1650