Acer introduces Windows MR headset and world's lightest 15-inch PC laptop, refreshes Aspire line
At IFA, Acer introduced several new devices, including a new Windows Mixed Reality headset and the world's lightest 15-inch PC laptop, as well as a refresh of the Aspire notebooks.
Acer OJO 500 Windows Mixed Reality Headset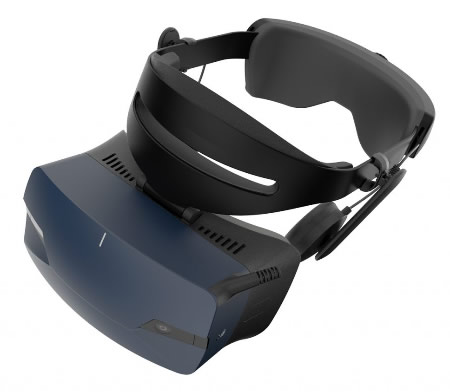 The Acer OJO 500 is the first Windows Mixed Reality headset to include a detachable design in which the lens and head strap can be individually removed, making it easy to store and clean.
For businesses that want to provide customers with clean headwear for each use, and when you need to take a quick call or talk to others in the room, you can flip the mask up, instead of removing the entire headset.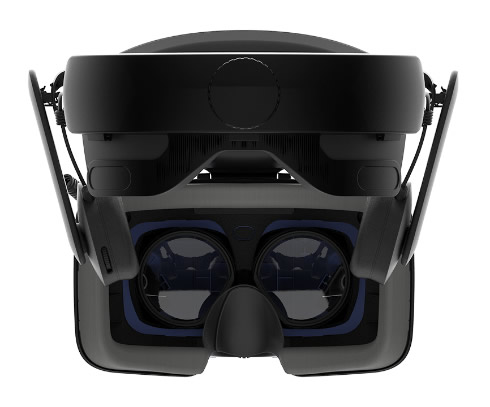 In another first for VR headsets, the patented integrated audio system directs sound from the built-in speakers toward your ear. But you also have the option to leave them open to external sounds if you want to stay aware of your surroundings.
There are currently more than 2,500 games and applications available for the Acer OJO 500 between the Steam VR and the Microsoft Store platforms. It requires a compatible Windows-based PC and other conditions.
Other details about the Acer OJO 500 headset:
For maximum clarity, the Acer OJO 500 includes a built-in interpupillary distance (IPD) wheel and a patented smart phone app to measure IPD distance (the gap between the eye's pupil and the display).
The software-assisted IPD measurement app, Acer IPD Meter, along with Acer IPD Indicator software, lets the wearer modify this distance for sharper, clearer images.
Two front-hinged 2.89-inch high-resolution liquid crystal displays provide a wide 100 degree field of view and deliver a 2880 x 1440 resolution. A fast refresh rate of up to 90Hz delivers clear images.
The 6-degrees of freedom positional tracking includes forward/back, up/down, left/right as well as pitch, yaw and roll. The headset comes with a 13-foot cable allowing a wide range of movement and connects to a PC via HDMI 2.0, while a USB 3.0 connector downloads data.
Featuring inside-out tracking, the camera is on the headset so there is no need to drill holes in a wall or set up extraneous hardware. As soon as the headset connects to a Windows Mixed Reality-ready PC, it installs the required software. Setup takes about 10 minutes.
The Acer OJO 500 comes in an optional configuration that includes two Bluetooth-enabled motion controllers that sync with the headset; and a Windows 10 button, touchpad and grab button so users can interact with digital objects in mixed reality.
Acer Swift 5 notebook
Acer also presented the world's lightest notebook PC with a 15-inch display, the Swift 5 (SF515-51T) notebook, weighing less than 2.2 pounds.
Powered by the latest 8th Generation Intel Core i7-8565U and Core i5-8265U processors to deliver responsive performance and running Windows 10, the Swift 5 also has up to 10 hours of battery life and a LED backlit keyboard for day-to-night productivity.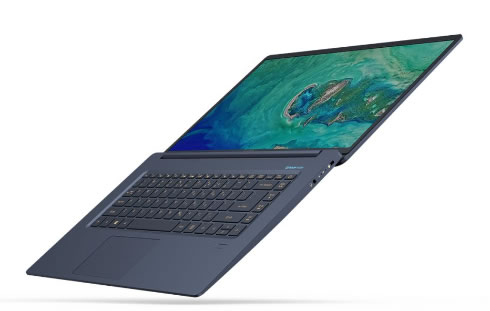 The Swift 5's design features top and bottom covers that are constructed from magnesium-lithium alloy for a thinner design, ensuring durability without bending or twisting. The magnesium-aluminum alloy palm rest provides an extra sturdy base when using the keyboard and trackpad. The slim chassis is 0.63-inch thin, yet makes room for a fingerprint reader that supports Windows Hello.
The Swift 5 also includes:
Up to 16GB of DDR4 SDRAM and up to a 1TB NVMe PCIe SSD
Full HD 1920x1080 IPS touchscreen
Ultra-narrow bezels measuring 0.23 inches, giving it an 87.6 percent screen-to-body ratio
Acer BluelightShield to reduce blue-light emissions for nighttime viewing, while Acer Color Intelligence technology dynamically adjusts gamma and saturation in real-time for optimum screen-color and brightness
Acer TrueHarmony technology and optimized Dolby Audio to deliver high-quality sound via the dual stereo speakers
2x2 802.11ac wireless Gigabit performance
USB 3.1 Type-C Gen-2 port delivering high-speed 10 Gbps data transfers, supporting power delivery and display output, two USB 3.1 Type-A ports (one with power-off charging functionality) and an HDMI port
Acer updates 14-inch Swift 5 and Swift 3 lines
Acer has updated its ultra-portable 14-inch Swift 5 (SF514-53T) with the latest Intel Core processors to deliver a boost in performance and battery life. Now using new Intel Core i7-8565U and Intel Core i5-8265U processors, the 14-inch Swift 5 offers a faster experience to up to 8-hours of battery life.
Acer has also updated the Swift 3 line to include new models with 13.3-inch and 14-inch displays surrounded by slimmer bezels, sleek aluminum designs that open 180 degrees to lay-flat, and the latest technologies for performance and connectivity.
The Swift 3 (SF313-51) now has an option for integrated 4G LTE packed into a 2.86-pound design that is only 0.63-inch thick. 4G LTE provides an always-available connection even when no WiFi network is available. You can also connect via fast and reliable 2x2 802.11ac WiFi.
Powered by Intel Core processors, the Swift 3 provides solid performance and up to 13 hours of battery life. Plus, the notebook offers up to 8GB of DDR4 RAM and up to 512GB NVMe PCIe SSDs, further accelerating response times.
Acer will also offer the Swift 3 in two models with 14-inch displays for those who want a larger display.
The Swift 3 (SF314-55/SF314-55G) packs a full HD 14-inch display into a 3.08-pound design that measures only 0.59 inches and has 6.1mm side bezels. The Swift 3 (SF314-56/SF-314-56G) offers the same full HD 14-inch display, processor and graphics options as the Swift 3 (SF314-55) in a slightly larger design that makes room for a hard disk drive for mobile users who require plentiful data storage on-the-go.
Pricing and Availability
The Acer Swift 5 with 15-inch display (SF515-51T) will be available in North America in January, 2019, starting at $1,099; in Europe, the Middle East and Africa (EMEA) in November, starting at €1,099; and in China, in November, starting at €7,499.
The Acer Swift 5 with 14-inch display (SF514-53T) will be available in EMEA in September, starting at $999; and in China, in November, starting at €7,499.
The Acer Swift 3 with 13-inch display (SF313-51) will be available in EMEA in October starting at €799.
The Acer Swift 3 with 14-inch displays (SF314-55 and SF314-56) will be available in EMEA in November, starting at $799.99 and in EMEA in January, 2019, starting at €799.
Acer Z24
Acer has also refreshed its Aspire Z 24 all-in-one PC and introduced brand-new additions to the Aspire 7, Aspire 5 and Aspire 3 notebooks series.
All powered by Windows 10, the Aspire series PCs cater to the needs of a wide range of users, spanning from the Aspire Z 24 all-in-one home PC for families, the multipurpose and student-friendly Aspire 3 notebook, the practical Aspire 5 notebook for work and play, and the top-of-the-line Aspire 7 notebook for creators, designers and prosumers.
Powered by the latest 8th Gen Intel Core i7+ processors, with support for up to 32GB of Intel Optane Memory and NVIDIA GeForce MX150 graphics, the Acer Aspire Z24 is designed for connectivity and casual applications (such as web browsing, social media, watching movies and casual gaming).
Designed to blend in next to living room, it is extremely thin at 0.4 inches, with an ultra-narrow bezel for maximum screen real-estate for its 23.8-inch Full HD IPS screen. A glossy V-shaped metal stand supports it. The Z 24 also comes with a far-field microphone array made up of four digital microphones so you can use Alexa or Cortana to get weather reports, play music or manage everyday tasks using your voice from up to 13.12 feet away.
Acer Aspire 7
Aimed at prosumers, designers, content creators, or those who want a PC with more bite, the Aspire 7 features up to an 8th Gen Intel Core i7-8705G processor with Radeon RX Vega M GL graphics encased in a slim 16.9 mm, all-metal body, weighing less than 1.6 kg. It has up to 16 GB DDR4 memory, 16 GB, a Dual PCIe with up to 512 GB, NVMe, RAID 0 SSD and a backlit keyboard. Featuring a 4K display with Acer ColorBlast technology and Acer Color Intelligence, and speakers featuring Dolby Atmos sound and Acer TrueHarmony technology, the Aspire 7 speeds through rich content creation, video and photo editing, or viewing 4K content, while also providing a high-powered multimedia experience.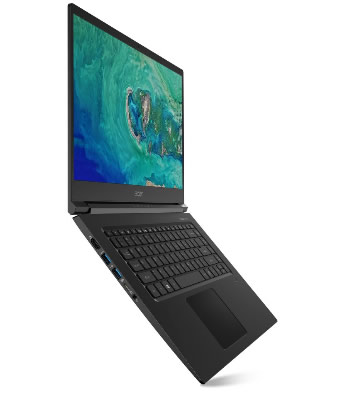 Acer Aspire 5
The Aspire 5 gives bloggers, photographers and creators exceptional CPU and graphics performance with up to an 8th Gen Intel Core i7 processor and up to an NVIDIA GeForce MX150 GPU. With a 15.6-inch Full HD IPS display and Acer Color Intelligence, crisp, true-to-life colors come alive. Users can adjust gamma and saturation in real-time, optimizing screen color and brightness without clipping.
Acer Aspire 3
The Acer Aspire 3 is a stylish 14-inch full HD display laptop built for everyday tasks at home, work or school, and includes a built-in optical disk drive and features such as up to 8GB of DDR4 2666 MHz memory, a Precision Touchpad, Acer BluelightShield, an HDMI port and three USB ports. There's also a lot of room to grow, with upgradeable storage options and plenty of space for media, personal photos and documents, as well as an optional built-in DVD drive.
The Aspire Z 24 all-in-one PC, Aspire 7 and Aspire 5 notebooks will support Alexa for PC, joining Acer's industry-leading portfolio of Alexa for PC-compatible devices.
Pricing & Availability
The Acer Aspire Z 24 series will be available in North America in October, starting at $899; and in EMEA in October, starting at €899.99.
The Acer Aspire 5 series will be available in EMEA in December, starting at €549.
The Acer Aspire 3 series will be available in EMEA in December, starting at €399.