Adobe Introduces Creative Suite 5.5 Product Line
Adobe today announced the new Adobe Creative Suite 5.5 product line enabling designers and developers to target smartphone and tablet platforms by taking advantage of Flash, HTML5, video, mobile app, digital publishing tools as well as a new subscription payment plan. Advances to HTML5, Flash authoring, digital publishing and video tools as well as new capabilities that kick-start the integration of tablets into creative workflows, anchor the new Adobe Creative Suite 5.5 product family.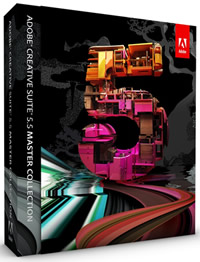 Today also sees Adobe debut a flexible subscription-based pricing plan in an effort to attract customers that want to get current and stay current on Creative Suite products, have project-based needs, or try the software for the first time. With subscription pricing, Adobe's customers can use flagship products, such as Adobe Photoshop for US$35 per month, Adobe Design Premium CS5.5 for US$95 per month, Adobe Creative Suite 5.5 Master Collection for US$129 per month.
Mobile Development for Android, BlackBerry Tablet OS and iOS
The new Creative Suite 5.5 Web Premium Suite is packed with innovations in HTML5 and Adobe Flash authoring tools, empowering developers to create rich content and applications for virtually any screen. This release helps enable designers and developers to deliver mobile applications on Android, BlackBerry Tablet OS, iOS and other platforms; create rich browser-based content across screens using HTML5; and leverage Flash Player to deliver premium video content, casual games and rich Internet applications. With the launch of Adobe Flash Builder 4.5 Premium (available in Creative Suite 5.5 Web Premium) and the Flex 4.5 framework, developers can develop and deploy mobile applications to more than 200 million smartphones and tablets by the end of 2011.
Flash Enabled Devices on the Rise
With more than 131 million smartphones expected to have Flash Player installed by the end of the year, Adobe Flash makes it possible to bring rich content to desktops and devices inside the browser. Flash Player is supported on Android, HP webOS and Google TV today. BlackBerry Tablet OS, upcoming versions of Windows Phone, Samsung SmartTVs and others are expected to support Flash Player in the near future.
Access Latest Advances in Digital Publishing
Creative Suite 5.5 Design Premium Suite builds upon Adobe?s recent offerings in digital publishing, already deployed by magazine and business publishers to create digital editions for tablet devices. Using Adobe InDesign CS5.5, in combination with the integrated Folio Producer toolset, designers can add new levels of interactivity to their page layouts targeted to tablet devices. Documents can include video, audio, panoramic views, 360-degree object rotation, pan and zoom of images, integration of HTML and HTML5 content and other interactive overlays. Creative Suite 5.5 complements Adobe Digital Publishing Suite to support publication, sale and analysis of content on an array of tablet devices.
Integrating Tablet Devices into Creative Workflows
With today?s announcements, Adobe is extending the creative process beyond the desktop by helping integrate tablet devices into creative workflows. The new Adobe Photoshop Touch Software Development Kit (SDK) enables developers to build tablet applications that interact with Photoshop from Android, BlackBerry PlayBook and iOS devices. Adobe also announced three new iPad applications that demonstrate the creative possibilities of using tablets to drive common Photoshop workflows ? Adobe Color Lava for Photoshop, Adobe Eazel for Photoshop and Adobe Nav for Photoshop.
New Video Capabilities
For video and audio professionals, Adobe Creative Suite 5.5 Production Premium Suite promises to deliver breakthrough performance, workflow improvements, creative innovations and new audio editing capabilities to filmmakers and video professionals. The Adobe Mercury Playback Engine, introduced in Adobe Premiere Pro CS5, broadens its graphics processing unit (GPU) hardware support to include laptops and more supported cards, allowing users to open projects faster, get real-time feedback and work more smoothly at higher resolutions.
Accelerate and Optimize Creative Workflows
Adobe Creative Suite 5.5 products integrate with Adobe CS Live, a set of online services that accelerate key aspects of the creative workflow. CS Live online services include: Adobe BrowserLab; Adobe CS Review; Acrobat.com; Adobe Story; and Adobe SiteCatalyst NetAverages.
The new Creative Suite product lineup is headlined by Adobe Creative Suite 5.5 Master Collection, which includes, in a single package, all of Adobe?s creative tools, such as Photoshop, Illustrator, InDesign, Acrobat, Flash Builder, Flash Catalyst, Flash Professional, Dreamweaver, Adobe Premiere Pro and After Effects. These products are available separately or as components of one or more of the five Creative Suite editions. The complete Creative Suite 5 lineup includes Creative Suite 5.5 Master Collection, Creative Suite 5.5 Design Premium, Creative Suite 5.5 Web Premium, Creative Suite 5.5 Production Premium and Creative Suite 5.5 Design Standard.
Adobe Creative Suite 5.5 products will ship next month with availability through Adobe Authorized Resellers, the Adobe Store at www.adobe.com/store in North America and Adobe Direct Sales. Estimated street price for the suites is expected to be US$2599 for CS5.5 Master Collection, US$1899 for CS5.5 Design Premium, US$1799 for CS5.5 Web Premium, US$1699 for CS5.5 Production Premium and US$1299 for CS5.5 Design Standard. Upgrade pricing and volume licensing are also available, Adobe said.
By subscribing to Creative Suite, Adobe's customers can choose a one-year subscription plan for lower payments or a month-to-month subscription.