Adobe Releases New CS6 Software Suite
Adobe today announced the Adobe Creative Suite 6 software package for designers and Web developers. CS6 will be available in four Creative Suites - Adobe Creative Suite 6 Design & Web Premium, Adobe Creative Suite 6 Design Standard, Adobe Creative Suite 6 Production Premium, and Adobe Creative Suite 6 Master Collection. These include popular packages such as Photoshop, Illustrator and InDesign, along with other tools.
Unlike previous versions, Creative Suite 6 will be available on a monthly subscription basis as part of Adobe's Creative Cloud offering. Users will be able to download and install every Adobe CS6 application. Subscriptions will start at $50 a month for those who sign up for a year. Creative Cloud also integrates Adobe Touch Apps into everyday work, introduces cloud-based sync and store capabilities, and powers the publishing of apps.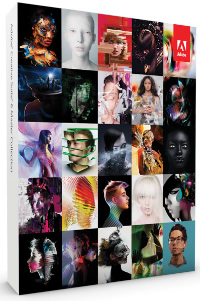 Let' see some information about the updated software.
Photoshop CS6 offers high performance powered by the Adobe Mercury Graphics Engine. Adobe has also built on Photoshop's Content-Aware capabilities with new Content-Aware Patch and Content-Aware Move features.
Illustrator CS6 debuts a revamped interface, and features include a new image tracing engine, easy pattern creation and ability to apply gradients to strokes.
InDesign CS6 streamlines the creation of multiple layouts from a single set of content with new Adaptive Design Tools - Alternate Layout, Liquid Layout, Content Collector Tools and Linked Content.
A new application, Adobe Muse, enables designers to create and publish HTML5 web sites without writing code, was also announced today.
Adobes new tools for HTML5 include:
- Web pros can integrate HTML5 animations, created with Adobe Edge preview, into their Dreamweaver projects.
- The updated Adobe Dreamweaver CS6 addresses the challenge of Web designs with the ability to build fluid grid layouts replacing the manual process of creating and configuring separate CSS-based interfaces for phone, tablet and desktop.
- Adobe Flash Professional CS6 users can translate and transition their skills to HTML5 using the Flash Professional Toolkit for CreateJS.
Tools found in Adobe Creative Suite 6 Production Premium include:
- Adobe Premiere Pro CS6 is featuring a new editing environment. The Adobe Mercury Playback Engine now supports OpenCL on MacBook Pros.
- The new After Effects CS6 is faster and more responsive than ever. With Global Performance Cache, previews are saved and ready to go.
- New to Production Premium are Adobe Prelude CS6, which streamlines logging and ingest workflows in post-production, and Adobe SpeedGrade, which contains finishing tools for film finishing and color grading.
- Adobe Audition CS6 accelerates audio post-production: real-time clip stretching makes it simple to stretch clips to fit an edit; and Automatic Speech Alignment introduces a powerful new engine for automated dialogue analysis.
Besides the subscription scheme (Adobe's Creative Cloud) Adobe's Customers will still be able to buy CS6 as a packaged software suite, just as they can still buy the programs separately. Prices for CS6 range from $275 for the cheapest upgrade to $2,599 for the full Master Collection.