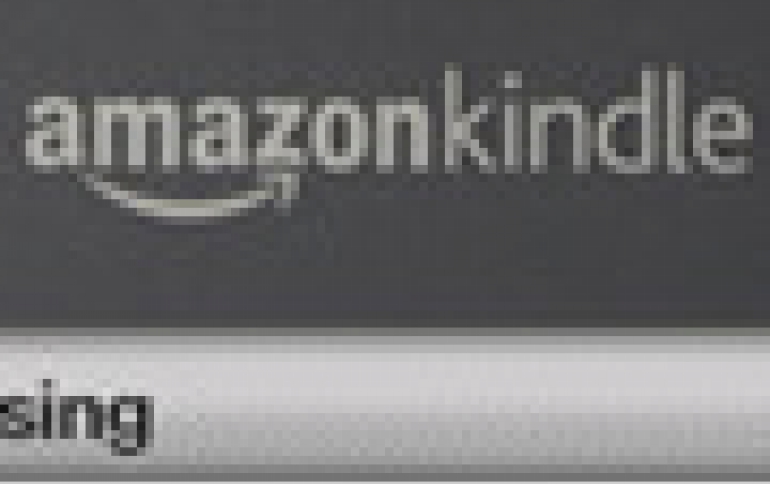 Amazon Announces New Kindle
Today, Amazon.com introduced a new generation of Kindle. The all-new Kindle has a new electronic-ink screen with improved contrast, a new design with a 21 percent smaller body while still keeping the same 6-inch-size reading area, and a 15 percent lighter weight at just 8.7 ounces. The new Kindle also offers 20 percent faster page turns, up to one month of battery life, double the storage to 3,500 books, built-in Wi-Fi, a graphite color option and more--all for $189, and still with free 3G wireless.
Also today, Amazon introduced a new addition to its family of portable reading devices--Kindle Wi-Fi. The device does not support 3G and retails for $139. The all-new Kindle and Kindle Wi-Fi are now available for pre-order and will ship in August 27.

Kindle offers a selection of the most popular books. The U.S. Kindle Store now has more than 630,000 books, including New Releases and 109 of 111 New York Times Best Sellers. Over 510,000 of these books are $9.99 or less, including 80 New York Times Best Sellers. Over 1.8 million free, out-of-copyright, pre-1923 books are also available to read on Kindle. Kindle lets you buy your books once and read them everywhere--on Kindle, Kindle DX, iPad, iPod touch, iPhone, Mac, PC, BlackBerry, and Android-based devices. Amazon's Whispersync technology syncs your place across devices, so you can pick up where you left off. With Kindle Worry-Free Archive, books you purchase from the Kindle Store are automatically backed up online in your Kindle library on Amazon where they can be re-downloaded wirelessly for free.
"Kindle is the best-selling product on Amazon for two years running. We lowered the price to $189 and sales growth tripled. Now, we are excited to introduce a new generation Kindle that is smaller, lighter, and faster, with 50 percent better contrast. Readers are going to do a double take when they see Kindle's bright new screen and feel how remarkably light the smaller 8.7 ounce design feels in one hand," said Jeff Bezos, Amazon.com Founder & CEO. "If you don't need the convenience of 3G wireless, we have an incredible new price point--$139 for Kindle Wi-Fi. Kindle Wi-Fi has all the same features, same bookstore, same high-contrast electronic paper display, and it's even a tiny bit lighter at 8.5 ounces. At this price point, many people are going to buy multiple units for the home and family."
The new Kindle uses Amazon's all-new electronic ink display with 50 percent better contrast. Unlike LCD screens, Kindle's paper-like display looks and reads like real paper, with no glare, even in bright sunlight.
Kindle's all-new, high-contrast electronic ink display is further optimized with Amazon's proprietary waveform and font technology to make pages turn faster and fonts sharper. Waveform is a series of electronic pulses that move black and white electronic ink particles to achieve a final gray level for an image or text. Amazon tuned the new Kindle's waveform and controller mechanism to make page turning 20 percent faster. In addition, this waveform tuning combined with new hand-built, custom fonts and font-hinting make words and letters more natural-looking. Font hints are instructions, written as code, that control points on a font character's line and improve legibility at small font sizes where few pixels are available.
The new Kindle has also a 21 percent smaller body while still keeping the same 6-inch-size reading area. At only 8.7 ounces, the new Kindle is 15 percent lighter and still 1/3 of an inch thin, making it lighter than a paperback and thinner than a magazine. With Kindle you can read comfortably and naturally with just one hand for hours. The new Kindle Wi-Fi is even lighter at just 8.5 ounces.
It has up to one month of battery life with wireless off. Keep wireless on and your Kindle will have battery life of up to 10 days.
Kindle also offers free 3G wireless, which means no annual contracts and no monthly fees. In addition to free 3G wireless, Kindle now has built-in Wi-Fi support. Amazon is offering Kindle customers free Wi-Fi access at AT&T Wi-Fi hotspots across the U.S. for shopping and downloading Kindle content--no AT&T registration, sign-in, or password required.
The new Kindle also uses an improved built-in PDF reader with new dictionary lookup, notes and highlights, and support for password protected PDFs.
It also uses a new web browser based on the open source Web browser engine, WebKit. The updated browser is faster, easier to navigate, and provides a new "article mode" feature that simplifies web pages to just the main text-based content for easier reading. Web browsing with Kindle over 3G or Wi-Fi is free.
With Text-to-Speech, Kindle can read out loud to you. New Text-to-Speech enabled menus allow customers to navigate Kindle without having to read menu options. In addition to listening to books aloud, users now have the option of listening to content listings on the home screen, item descriptions, and all menu options.
The all-new Kindle cover features an integrated, retractable reading light. The light is a permanent part of the cover, so it's always with you, and hides away into the cover when not in use. The LED light illuminates Kindle's entire paper-like display, adding brightness without adding glare. Amazon's patent-pending hinge system secures Kindle in place and conducts electricity from Kindle's battery to the reading light, eliminating the need for batteries. The Kindle cover is sold separately.
Kindle is expected to face competition from Apple 's flashy iPad and other e-readers, such as the the Wi-Fi-only Nook, an e-reader sold by competitor Barnes & Noble Inc., and Sony's low-end e-reader, the Reader Pocket Edition, which doesn't have wireless connectivity.