AMD Announces New Embedded Chips
AMD extends its ambidextrous strategy to embedded customers and offers a choice of ARM or x86 SoC, APU or CPU options coupled with AMD Radeon graphics.
The company today disclosed its roadmap for the embedded computing market. The new lineup includes two x86 accelerated processing units (APUs) and central processing units (CPUs), a first look at a high-performance ARM system-on-chip (SoC) and a new family of discrete AMD Embedded Radeon graphics processing units (GPUs) expected to launch in 2014.
AMD wants to customize more of its chips for a wide range of non-PC devices. It expects PC chip designs modified for those new devices to account for at least a fifth of its revenue by the end of 2013.
"There are different customer needs in different segments of this market -- from low-power to high-performance, Linux to Windows, x86 to ARM -- and now with our upcoming product portfolio, we are addressing them by providing embedded design engineers with a range of solutions backed by our embedded longevity program for supply stability assurance to fit their every need," said Arun Iyengar, vice president and general manager, AMD Embedded Solutions.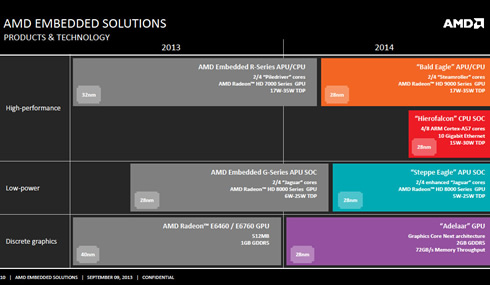 In 2014, AMD plans to bring to market two new high-performance AMD Embedded R-Series processor families: the "Hierofalcon" CPU SoC family based on the ARM Cortex-A57 architecture and the "Bald Eagle" APU and CPU offering based on the x86 microprocessor architecture codenamed "Steamroller." The upcoming "Steppe Eagle" APU SoC is designed to provide improved performance while extending the low-power characteristics of the current AMD Embedded G-Series SoC family. In addition, "Adelaar" will bring to market the first discrete GPU based on AMD Graphics Core Next architecture for embedded systems.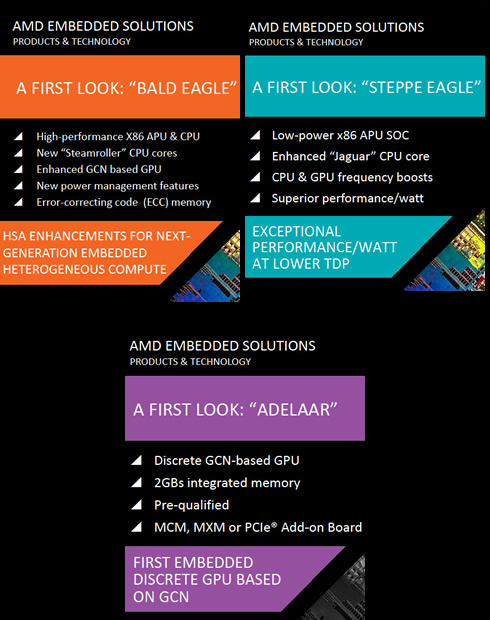 "Hierofalcon" is the first 64-bit ARM-based platform from AMD targeting embedded data center applications, communications infrastructure and industrial solutions. It will include up to eight ARM Cortex-A57 CPUs expected to run up to 2.0 GHz, and provides high-performance memory with two 64-bit DDR3/4 channels with error correction code (ECC). The highly integrated SoC includes 10 Gb KR Ethernet and PCI-Express Gen 3 for high-speed network connectivity. The "Hierofalcon" series also provides security with support for ARM TrustZone technology and a dedicated cryptographic security co-processor, aligning to the increased need for networked, secure systems. "Hierofalcon" is expected to be sampling in the second quarter of 2014 with production in the second half of the year.
"Bald Eagle" is the next generation high-performance x86-based embedded processor available as both an APU and CPU featuring up to four new "Steamroller" CPU cores within a 35W TDP. The APU products will provide the new power-optimized AMD Radeon Graphics Core Next GPU architecture and HSA enhancements for high-performance embedded applications - a solution for next-generation digital signage and embedded digital gaming. The "Bald Eagle" family will also introduce new power management features, such as configurable TDP, allowing engineers more design flexibility. "Bald Eagle" is expected to be available in the first half of 2014.
"Steppe Eagle" will further extend the performance and low-power range of the current AMD Embedded G-Series APU SoC platform with an enhanced "Jaguar" CPU core architecture and AMD Graphics Core Next GPU architecture that include new features for increased CPU and GPU frequency. Designed for low-power embedded applications, "Steppe Eagle" is designed to offer increased performance-per-watt both at a lower TDP than the current AMD Embedded G-Series APU SoC, as well as extending the high-end performance above 2 GHz. "Steppe Eagle" also provides embedded design engineers the flexibility to leverage the current AMD Embedded G-Series APU SoC board design and software stack for a variety of applications with footprint compatibility. "Steppe Eagle" is expected to be available in the first half of 2014.
"Adelaar" is the next-generation discrete AMD Embedded Radeon GPU based on Graphics Core Next architecture specifically designed for embedded applications. Bringing high performance to embedded applications, "Adelaar" comes as a market-differentiating multi-chip module (MCM) with pre-qualified and integrated 2 GB of graphics memory. The "Adelaar" GPU family will deliver rich 3D graphics, multi-display support and support for DirectX 11.1, OpenGL 4.2 and both Windows and Linux. "Adelaar" is expected to be available in the first half of 2014 with seven years of planned supply availability as an MCM, mobile PCI express module (MXM) and standard PC graphics card.