AMD Officially Announces New Radeon HD 6800 Series of Mid-range GPUs
AMD today introduced the next generation of PC gaming, the AMD Radeon HD 6800 series, designed to be "perfect graphics cards" for gamers by promising unprecedented game performance starting at $179 SEP. The new cards, the Radeon HD 6870 and the HD 6850 are based on the 40nm process technology. The new cards are parts of the "Barts" GPUs, which are part of the AMD?s Northern Islands family. "Barts" offer improved efficiency compared to the previous "Cypress " series of cards, the HD 5800 series.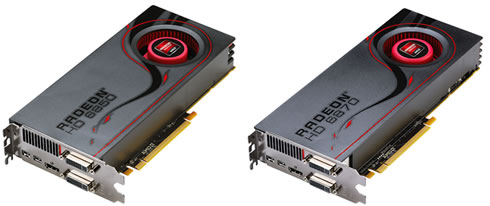 The Radeon HD 6870 has a core clocked at 900MHz, which is driving 32 ROPs and 1120 SPs. Attached to that is 1GB of GDDR5 running at 4.2GHz effective. AMD puts the load TDP at 151W (the same as the Radeon HD 5850) and the idle TDP at 19W, lower than the last generation parts.
The he Radeon HD 6850, is utilizing a harvested version of the Barts GPU, which along with a lower load voltage make the card the low-power member of the 6800 family. The 6850 runs at 775MHz and is attached to 960SPs. Like 6870 it has 1GB of GDDR5, this time running at 4GHz effective. With its lower power consumption its load TDP is 127W, and its idle TDP is unchanged from 6870 at 19W.
| | | | | | |
| --- | --- | --- | --- | --- | --- |
|   | AMD Radeon HD 6870 | AMD Radeon HD 6850 | AMD Radeon HD 5870 | AMD Radeon HD 5850 | AMD Radeon HD 4870 |
| Stream Processors | 1120 | 960 | 1600 | 1440 | 800 |
| Texture Units | 56 | 48 | 80 | 72 | 40 |
| ROPs | 32 | 32 | 32 | 32 | 16 |
| Core Clock | 900MHz | 775MHz | 850MHz | 725MHz | 750MHz |
| Memory Clock | 1.05GHz (4.2GHz effective) GDDR5 | 1GHz (4GHz effective) GDDR5 | 1.2GHz (4.8GHz effective) GDDR5 | 1GHz (4GHz effective) GDDR5 | 900MHz (3600MHz effective) GDDR5 |
| Memory Bus Width | 256-bit | 256-bit | 256-bit | 256-bit | 256-bit |
| Frame Buffer | 1GB | 1GB | 1GB | 1GB | 1GB |
| FP64 | N/A | N/A | 1/5 | 1/5 | N/A |
| Transistor Count | 1.7B | 1.7B | 2.15B | 2.15B | 956M |
| Manufacturing Process | TSMC 40nm | TSMC 40nm | TSMC 40nm | TSMC 40nm | TSMC 55nm |
| Price Point | $239 | $179 | ~$349 | ~$229 | N/A |
For today?s launch AMD is pricing the Radeon HD 6870 at $239, and the Radeon HD 6850 at $179.
AMD claims that the new AMD Radeon HD 6800 series graphics cards provide more than 30 percent greater game performance than competing products, harnessing AMD?s second-generation Microsoft DirectX 11-capable architecture, high energy efficiency, and a rich feature set, including AMD Eyefinity multi-display technology.
In terms of hardware connections the cards come with two DVI ports, two mini-DP sockets in line with DisplayPort 1.2 specifications and an HDMI 4.1a port. The cards can support up to three displays from a single port.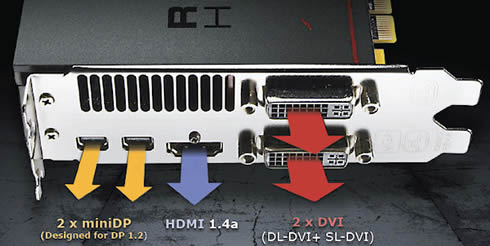 Taking full advantage of AMD?s experience with DirectX 11, the AMD Radeon HD 6800 series is AMD?s second-generation DirectX 11-enabled chip designed to deliver more than 30 percent greater game performance over the closest competing products in their class and even faster tessellation for a more realistic gaming experience.1,3 The AMD Radeon HD 6800 series? architectural efficiency and advances in power management technology.
AMD Radeon 6800 series graphics cards feature improved image quality, including all-new morphological anti-aliasing compatible with DirectX 9, DirectX 10, or DirectX 11 applications, and improved anisotropic filtering.
Beyond DirectX 11 games, the AMD Radeon HD 6800 series also promises to deliver an exceptional game play experience in DirectX 9, DirectX 10, DirectX 10.1 and OpenGL titles in single card or multi-card AMD CrossFireX configurations.
The AMD Radeon HD 6800 series graphics cards are the first in the industry to offer support for both DisplayPort 1.2 and HDMI 1.4a, providing PC users with expanded options for multi-monitor configurations, display selection, and new DisplayPort audio features.
AMD Eyefinity technology continues to be the most affordable multi-display solution available, offering a choice in display compatibility and configurations. More than 45 game titles have been AMD Eyefinity-validated or are AMD Eyefinity-ready titles, and there are hundreds of more games that are AMD Eyefinity-compatible. Additionally, continuing improvements to AMD Catalyst graphics drivers may unlock new functionality and flexibility in AMD Eyefinity features and configurations.
With the AMD Radeon HD 6800 series graphics cards, AMD is also introducing AMD HD3D technology, the result of our open 3D initiative for stereo 3D gaming and movies. AMD HD3D technology supports over 400 titles through AMD's partners, and AMD?s open 3D ecosystem approach encourages the broadest selection of 3D solutions, available at the most affordable cost.
The new cards also feature AMD's Accelerated Parallel Processing (APP) technology, Unified Video Decoder 3 (UVD) - a dedicated video playback accelerator that enables users to get the most out of Blu-ray 3D movies, other HD video formats, and online video, and they fully support both DirectCompute and OpenCL, ensuring broad application support.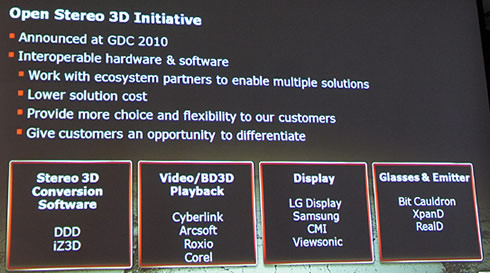 The AMD Radeon HD 6800 series graphics cards is supported by AMD's add-in-board companies, including ASUS, Club 3D, Diamond Multimedia, Force3D, GIGABYTE, HIS (Hightech Information Systems), MSI, PowerColor, SAPPHIRE Technology, VisionTek and XFX.
According to early benchmarks, Nvidia's GTX 470 is faster than the 6870, and at only $20 more. In addition, the HD 6850 it?s just as fast as the GTX 460 1GB on average, even though it?s $20 cheaper. We will have more details on that when we run our own tests. After Nvidia's price cuts for its Geforce GPUs in an effort to compete with AMD's new offerings, the Nvidia's GeForce GTX 460 GPUs are curently sold for $209 for the OC version, $199 for the 1GB version and $169 for the 768MB version. The GeForce GTX 470 is available at just $259.
AMD also today unveiled that the successor of the current "North Islands" GPU will be the "Cayman" (dual GPU) and the "Antilles" GPU, which will be available in Q4 2010 (November and December). These implementations will find their way to the market trough the upcoming Radeon HD 6970/ HD 6950 (Cayman) and the Radeon HD 6990 (Antilles) graphics cards. AMD added that it would also continue to sell the HD 5700 series of graphics cards.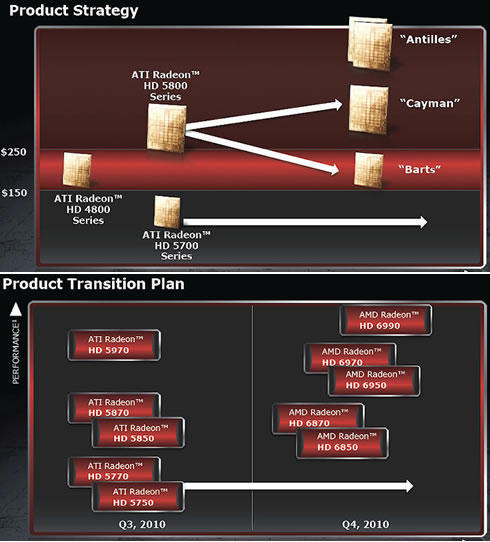 The Nortern Islands this series desktop PC version, but, AMD is also planning a mobile version of the same core issue.
AMD also plans to release a version of the Nortern Islands GPU for mobile devices, the "Vancouver" family, which will include the "Blackcomb," "Whistler," and "Seymour" GPUs. These are expected to reach the market in the beginning of 2011.