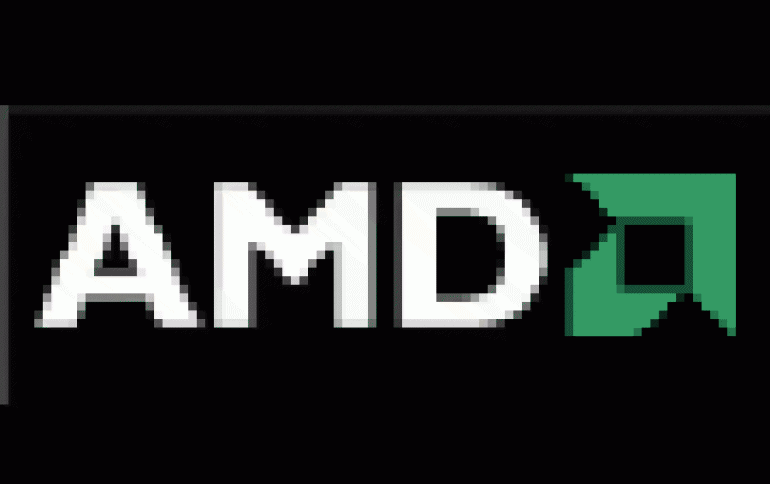 AMD Reports Fourth Quarter and Annual Results
Fourth Quarter Processor Sales Increased Nine Percent Sequentially, Driving Fifth Consecutive Quarter of Positive Operating Income AMD (NYSE:AMD) today reported record sales of $1.26 billion and operating income of $20 million for the quarter ended December 26, 2004. The fourth quarter net loss of $30 million, or $0.08 per share, includes charges of $49 million, or $0.13 per share, largely associated with the conversion and retirement of debt.

Fourth quarter sales increased by five percent from the fourth quarter of 2003 and were up two percent from the third quarter of 2004. In the fourth quarter of 2003, AMD reported sales of $1.21 billion and net income of $43 million, or $0.12 per share. In the third quarter of 2004, AMD reported sales of $1.24 billion and net income of $44 million, or $0.12 per share.

For the full year ended December 26, 2004, AMD achieved record sales of $5 billion, a 42 percent increase from 2003. Fiscal year 2004 net income was $91 million, or $0.25 per share, including charges of $51.6 million, or $0.14 per share. AMD reported sales in 2003 of $3.52 billion and a net loss of $274 million, or $0.79 per share, including credits of $13.9 million, or $0.04 cents per share.

"In 2004 both the processor and Flash memory businesses were profitable," said Robert J. Rivet, AMD's chief financial officer. "Total sales increased by 42 percent compared with 2003, driven by 29 percent growth in our microprocessor business and 65 percent growth in our Flash memory business.

"Fourth quarter sales growth was largely due to a nine percent increase in Computation Products Group (CPG) sales, helping AMD report its tenth consecutive quarter of improved gross margin. Record fourth quarter microprocessor sales were driven by increased server and mobile dollar and unit sales. As anticipated, AMD64 processor sales increased to 50 percent of total PC processor sales for the quarter.

"Memory Group sales were weaker than expected due to an aggressive pricing environment, significantly lower sales in Japan, and a delay in qualifying a new product in the wireless segment. Products based on MirrorBit(TM) technology continued to earn customer acceptance and increased as an overall percentage of Flash memory sales.

"As planned, we took significant steps to improve our balance sheet and liquidity position during the quarter, which reduced our debt by $200 million. This was the result of converting $200 million of convertible debt to equity and refinancing the $600 million outstanding on our Fab 30 loan."

BUSINESS OVERVIEW

Fourth quarter operating income of $20 million declined from $46 million in the fourth quarter of 2003 and from $68 million in the third quarter of 2004. This was the fifth consecutive quarter of positive operating income for the company. Operating expenses of $498 million increased from $389 million in the fourth quarter of 2003 and from $433 million in the prior quarter. Fourth quarter research and development costs increased 9 percent as compared to the prior quarter largely due to Fab 36 start-up costs. Marketing, general and administrative costs increased 21 percent as compared to the third quarter of 2004 primarily due to seasonal merchandising activities, previously guided increased marketing investments and SOX certification costs.

Fourth quarter gross margin increased to 41 percent from 40 percent in the third quarter of 2004 due to processor sales growth. AMD ended the fourth quarter with a cash balance of $1.20 billion, up from $1.19 billion at the end of the third quarter of 2004.

Record CPG sales of $730 million were up 26 percent over the fourth quarter of 2003 and increased by nine percent from $673 million in the third quarter of 2004. CPG generated operating income of $89 million in the fourth quarter, flat compared with $89 million in the third quarter.

CPG's sales growth was driven by a double-digit percentage unit shipment increase across all segments in the fourth quarter with particularly strong sales in high-growth regions. Both server and mobile processor sales achieved new records.

Memory Group sales of $504 million decreased 11 percent from the fourth quarter of 2003 and were down six percent from $538 million in the prior quarter. The Memory Group incurred an operating loss of $39 million, down from operating income of $15 million in the third quarter of 2004. The average bit density in Spansion(TM) Flash memory products grew in the quarter and the Memory Group shipped a record number of bits, with MirrorBit technology increasing as a larger percentage of overall bits shipped.

ADDITIONAL HIGHLIGHTS OF THE QUARTER

-- More than 40 percent of Forbes Global 100 companies or their affiliates now use AMD64 processor-based systems to run critical enterprise applications. New AMD64 platform customers include Canon, Inc., Chevron Texaco Corp., ConocoPhillips, Deutsche Bank, Renault, SingTel and Tokyo University.

-- AMD maintained its leadership position in high-end PC processors with the introduction of the AMD Athlon(TM) 64 FX-55 processor, the world's ultimate 64-bit PC processor for enthusiasts, gamers and professional users seeking high-end performance.

-- AMD won China's Science & Technology Daily newspaper 2004 TOP 10 award for leading the IT industry to pervasive 64-bit computing.

-- PC Magazine named AMD processors "Best of the Year 2004" in rack-mounted media center PCs, value notebooks and desktop gaming PCs.

-- The Institute of Electrical and Electronics Engineers, Inc. gave AMD the 2005 IEEE Corporate Innovation Recognition award "for innovation in the evolution of the x86 microprocessors and its extension to a 64-bit architecture."

-- Formula One team Sauber Petronas launched its new AMD processor-powered supercomputer. This groundbreaking supercomputer, powered by more than 500 AMD Opteron(TM) processors and one of the most advanced in Formula One and the automotive industry, will act as the "brain" for the team's Computational Fluid Dynamics center.

-- AMD introduced the new Mobile AMD Sempron(TM) processor 3000+ for thin-and-light notebooks.

-- AMD launched the Personal Internet Communicator (PIC), a consumer device designed to provide people in global high-growth regions with affordable Internet access and computing capabilities. The first Internet service providers to offer the PIC include VSNL, India's largest telecommunications service provider and a member of the Tata Group of companies, and Cable & Wireless in the Caribbean.

-- Microsoft endorsed AMD's position that multi-core software applications should be licensed by socket, not by core.

-- Spansion entered the serial Flash memory market. The Spansion FL Flash memory family is designed to be used in a wide range of consumer electronics, PC peripherals and in-cabin automotive electronics.

-- Spansion announced plans to develop a new "ORNAND" Flash memory architecture that combines the best of NOR code execution and NAND data storage capabilities in a single product based on MirrorBit technology.

CURRENT OUTLOOK

AMD's outlook statements are based on current expectations. The following statements are forward looking, and actual results could differ materially depending on market conditions.

Based on the strong acceptance of AMD64 technology, AMD expects its processor momentum to increase as the year unfolds. In the first quarter, AMD expects processor sales to be flat to down slightly in the typically seasonally down quarter.

AMD expects Flash memory sales to be down in the first quarter due to continued imbalance in supply and demand, continued pressure on ASPs and seasonality.

AMD TELECONFERENCE

AMD will hold a conference call for the financial community at 2:30 p.m. PT today to discuss fourth quarter financial results. AMD will provide a real-time audio broadcast of the teleconference on the Investor Relations page of its Web site at www.amd.com or www.streetevents.com. The webcast will be available for 10 days after the conference call.