AMD Reveals the Threadripper 3970X, 3960X, and the $49 Athlon 3000G
AMD today revealed the details of its highly-anticipated 3rd Gen Threadripper processors that are due to launch later this month.
The company also announced the Athlon 3000G, which packs Vega 3 graphics and will cost just $49.
AMD confirmed that the 32-core Threadripper 3970X and the 24-core 3960X will retail for $1,999 and $1,399 respectively. That's considerably more than Intel is pitching its 18-core Core i9-10980XE at, which has a 1000 unit price of $979 and will likely tip the scales at around $1,000. Intel's massive price cuts with its Cascade Lake-X processors, all due out this month, position AMD at the top of the high-end desktop pricing stack.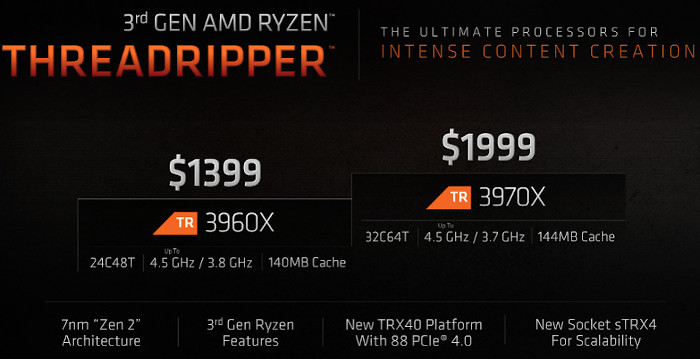 The Threadripper 3970X has double the core count of the Core i9-10980XE, but will cost double at $1,999 - an increase of $200 compared to the Threadripper 2990WX.
Both new processors are based on AMD's 7nm Zen 2 architecture and will have a maximum boost frequency of 4.5GHz. Their cache is set at 144MB -- double that of the Ryzen 9 3950X.
AMD has confimed that its 3rd Gen Threadripper CPUs will not be compatible with X399 motherboards (and older Threadripper CPUs won't work in the new TRX40 motherboards either). However, the new TRX4 socket remains the same so coolers will be compatible.
The TRX40 chipset offers PCI-E 4.0 support as well as more PCI-E lanes - 72 available in total.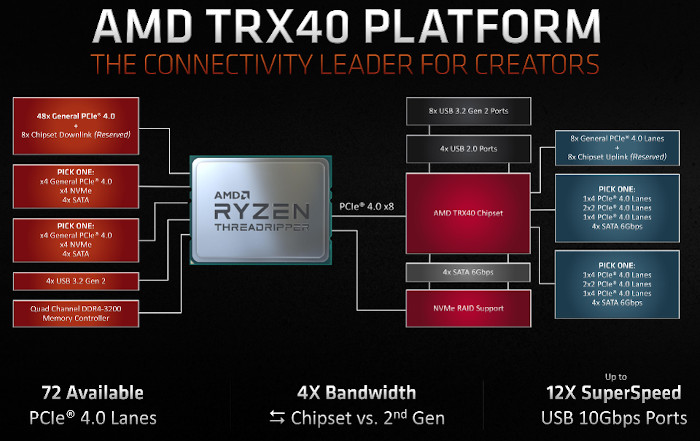 AMD TRX40 Specifications
Quad-Channel DDR4 Memory with optional ECC support
A total of 88 PCI Express Gen 4.0 Lanes
Multi-GPU Support (AMD CrossFire and SLI)1
Up to 12 native USB 3.2 Gen2 Ports (Superspeed 10Gbps)
Up to 4 native USB 2.0 Ports
Up to 2 x4 NVMe ports
Up to 20 SATA Ports
SATA RAID 0, 1, 10
NVMe RAID Support
Overclocking Support
AMD StoreMI Storage Acceleration Technology Included
AMD says that memory overclocking and speed support is also improved.
The new Threadripper CPUs are primarily aimed at high-end content creation and workstation tasks and AMD is claiming up to 60% performance boosts over the previous generation.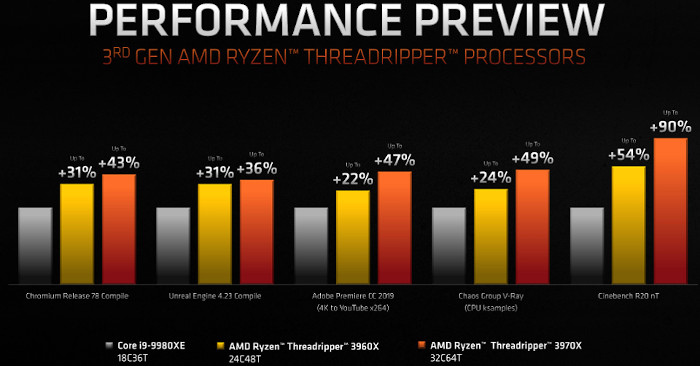 AMD also confirmed that 2nd Gen Threadripper processors will continue to be available.
 
AMD Ryzen Threadripper 3960X
AMD Ryzen Threadripper 3970X
# of CPU Cores
24
32
# of Threads
48
64
Base Clock
3.8GHz
3.7GHz
Max Boost Clock
Up to 4.5GHz
Total L1 Cache
2.25MB
3MB
Total L2 Cache
12MB
16MB
Total L3 Cache
128MB
Unlocked
Yes
CMOS
12 nm
Package
sTRX4
PCI Express® Version
PCIe 4.0
Default TDP / TDP
280W
280W
Max Temps
68°C
OS Support

Windows 10 - 64-Bit Edition

RHEL x86 64-Bit

Ubuntu x86 64-Bit

System Memory
3200MHz DDR4
Memory Channels
4
AMD Ryzen 9 3950X
AMD says that the Ryzen 9 3950X porcessor is offering up to 22% performance increase over previous generations. The 16-core CPU supports 1080p gaming in select titles. Built on the "Zen 2" architecture, the AMD Ryzen 9 3950X also excels in power efficiency with a TDP7 of 105W.
AMD suggests that the AMD Ryzen 9 3950X processor great performance when used with a liquid cooling solution. AMD is recommending the use of an AIO solution with a minimum 280mm radiator.
| | | | | | | | |
| --- | --- | --- | --- | --- | --- | --- | --- |
| Model | Cores / threads | Boost / Base frequency (GHZ) | Total cache (MB) | TDP (Watts) | Platform | PCIe Gen 4.0 LANES (processor + AMD X570) | SEP (USD) |
| AMD Ryzen 9 3950X | 16/32 | Up to 4.7/3.5 | 72 | 105W | AM4 | 44 (36 useable) | $749 |
Athlon 3000G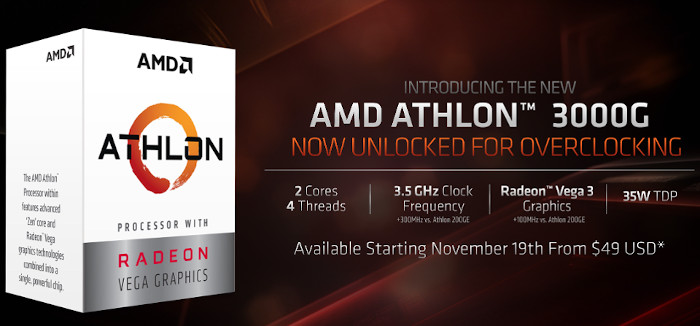 AMD also announced the Athlon 3000G CPU, which offer 2 cores, 4 threads and integrated Radeon Vega 3 graphics. The CPU is aimed at budget systems and costs just $49.
The overclockable, 35W part has a maximum boost frequency of 3.5GHz. It should be noted, though, that the CPU uses the Zen+ architecture and not the more recent Zen 2 architecture.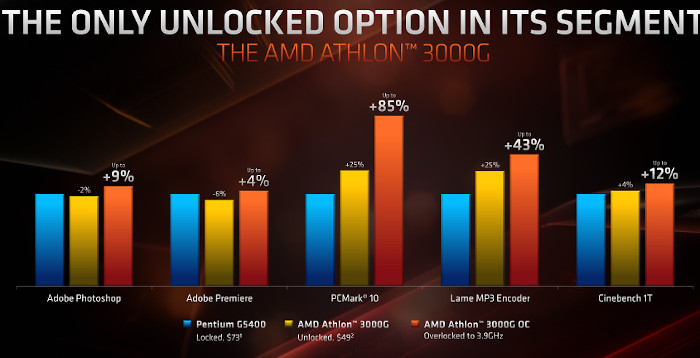 According to AMD's figures, the Athlon 3000G CPU has similar or better performance to Intel's more expensive Pentium G5400 in content creation and significantly higher frame rates in games compared to the Intel CPU's onboard graphics. It's not going to handle modern games at 1080p and resolutions up to 720p in popular titles such as Fortnite and Rocket League.
 
AMD Athlon 3000G
# of CPU Cores
2
# of Threads
4
Base Clock
3.5GHz
Graphics Model
Radeon Vega 3 Graphics
Graphics Frequency
1000 MHz
# of GPU Cores
3
Total L1 Cache
192KB
Total L2 Cache
1MB
Total L3 Cache
1MB

Unlocked

Yes
CMOS
14 nm
Package
AM4
PCI Express® Version
PCIe 3.0
Default TDP / TDP
35W
Max Temps
95°C
OS Support

Windows 10 - 64-Bit Edition

RHEL x86 64-Bit

Ubuntu x86 64-Bit

System Memory
2667MHz
Memory Channels
2