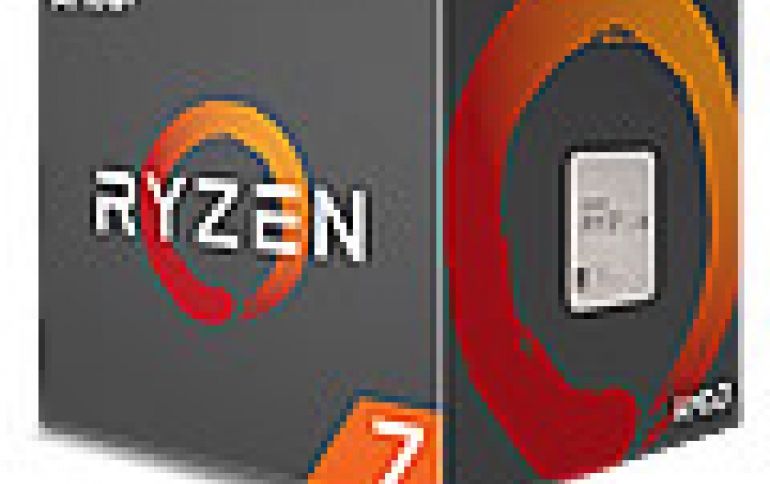 AMD Ryzen 7 Desktop Processors Launch, Adding Pressure To Intel
After four years of development, AMD today released the first three models of its high-performance AMD Ryzen desktop processor, designed for PC gamers, prosumers and enthusiasts who need performance without spending a fortune.
Ryzen is the first processor based on the entirely new AMD "Zen" core x86 microarchitecture and AMD's first use of a 14nm FinFET node (GlobalFoundries) on CPUs.
With the Zen microarchitecture, AMD's goal was to return to high-end CPU performance by offering a competitive per-core performance again. Typically per-core performance is measured in terms of 'IPC', or instructions per clock: a processor that can perform more operations or instructions per Hz or MHz has a higher performance when all other factors are equal. In AMD's initial announcements on Zen, the goal of a 40% gain in IPC compared to the best version of Bulldozer was put into the ecosystem, with no increase in power. At the formal launch last week, AMD stated that the end goal was achieved with +52% in industry standard benchmarks such as SPEC from Piledriver cores (with an L3 cache) or +64% from Excavator cores (no L3 cache).
Following Ryzen 7 will be Ryzen 5 (Q2) and Ryzen 3 (2H17) for the desktop. There is also AMD's new server platform, Naples, featuring up to 32 cores on a single CPU. Naples is expected to launch in the Q2/Q3 timeframe. In the second half of this year (Q3/Q4), AMD is planning to launch mobile processors based on Zen, called Raven Ridge. This processor line-up will most likely be with integrated graphics, and it will be interesting to see how well the microarchitecture scales down into low power. As Ryzen CPUs are geared towards a more performance focused audience, and the fact that they lack integrated graphics, AMD will also maintain its line of 'Bristol Ridge' platform (Excavator based processors that also support the 300-series socket).
The Ryzen CPUs will form part of the 'Summit Ridge' platform - 'Summit Ridge' indicates a Ryzen CPU with a 300-series chipset (X370, B350, A320). AMD makes the jump to a desktop platform that supports DDR4 and a high-end desktop platform that supports PCIe 3.0 natively. These CPUs use the AM4 socket on the 300-series motherboards, which is not compatible with any of AMD's previous socket designs.
Today marks the launch of Ryzen 7 CPUs, a trio of eight-core, sixteen-thread designs. The Ryzen 7 parts, the processors have a TDP of either 65W or 95W, and prices will range from $330 to $500.
Product
Line
Model
Cores
Threads
Base
Clock
(GHz)
Boost
Clock
(GHz)
Included
Cooler
TDP
(Watts)
Price
On
Sale
Ryzen 7
1800X
8
16
3.6
4.0
N/A
95
$499
Now
Ryzen 7
1700X
8
16
3.4
3.8
N/A
95
$399
Now
Ryzen 7
1700
8
16
3.0
3.7
Wraith
Spire
65
$329
Now
Ryzen 5
1600X
6
12
3.6
4.0
Wraith
Spire
95
N/A
Q2
Ryzen 5
1500X
4
8
3.5
3.7
Wraith
Spire
65
N/A
Q2
All the processors will be using the AM4 socket, with bases frequencies from 3.2 GHz to 3.6 GHz, and turbo frequencies up to 4.0 GHz for the high-end parts. The base design supports 512MB of private L2 cache per core and 2MB of a shared exclusive L3 cache.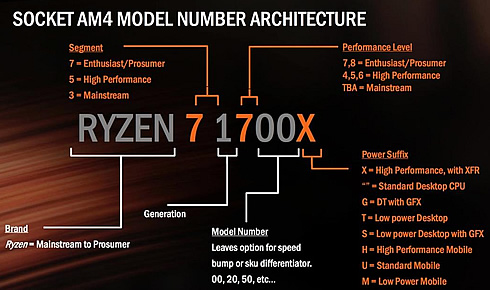 The high-end parts are 'Ryzen 7', which all happen to be eight-core parts and start around $300-$320. With a fully enabled chip, 16MB of L3 cache is available.
In the mid-range are 'Ryzen 5' processors, set to be launched in Q2, which are all eight-core parts under the hood but are either 6-core parts or 4-core parts depending on the model.
At the bottom are 'Ryzen 3', due 2H17, all of which are quad core parts but do not have hyperthreading.
All parts support overclocking.

For the Ryzen 7 launch, AMD will have three Wraith cooler models in play.
These are iterative designs on the original, with minor tweaks and changes, but the concept is still the same - a 65W near silent design (Stealth), a 95W near silent design (Spire), and a 95W/125W premium model (Max). The 125W models come with an RGB light, however AMD has stated that the premium model is currently destined for OEM and SI designs only. The other two will be bundled with the CPUs or potentially be available at retail.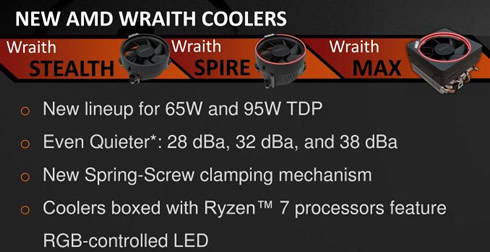 "Ryzen processors incorporate intelligent, performance-boosting technology that provides PC gamers, prosumers, and enthusiasts with incredible responsiveness, outstanding performance, and more immersive experiences, all in an extremely efficient package," said Jim Anderson, senior vice president and general manager, Computing and Graphics Group, AMD. "In the near future we will bring to market additional lines of Ryzen processors, scaling from Ryzen 7 in the enthusiast segment, through high performance users with Ryzen 5, and then mainstream users with Ryzen 3. This CPU portfolio represents disruptive price-to-performance and compelling top-to-bottom features like unlocked CPU multipliers and AMD SenseMI Technology."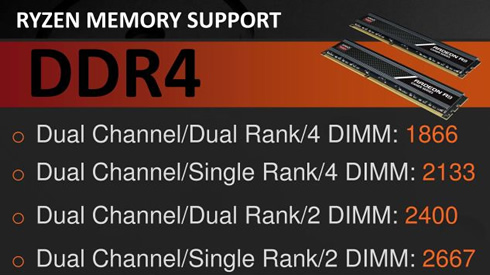 Alongside Ryzen 7 processors, AMD also announced the product specifications for two Ryzen 5 processors, and demonstrated the flagship Ryzen 5 1600X beating the flagship Intel Core i5 7600K by more than 60% in multi-threaded CPU testing.
In addition to being available to DIY builders and boutique PC vendors, in the coming months consumers will also be able to purchase Ryzen-based systems from PC vendors.
During an event in front of press last week, Ryzen CPUs were put through their paces and have already broken world records. ASUS overclocking expert Jon "Elmor" Sandstrom, veteran overclocker Petri "SF3D" Korhonen and the AMD Ryzen OC team managed to push the AMD Ryzen 7 1800X CPU to over 5.35GHz with record breaking performance in the 8-core CPU category. The liquid nitrogen-cooled Ryzen CPU completed the industry standard Cinebench R15 and R11.5 tests with scores of 2454 and 27.40.
The freely available Ryzen Master Software utility gives broad control of CPU settings allowing users to squeeze every drop of performance from their CPU.
According to the first benchmarks with Ryzen CPUs, Ryzen seems to be a great gaming CPU, although AMD is not going to win every head-to-head comparison with Intel's offerings. In some benchmarks, AMD is equal or above Intel's HEDT parts in both Single Thread amd Multi Thread. However there are cases where AMD is lacking behind even to Broadwell.
Price for Performance remains AMD's strong point, considering that a $499 1800X could match or beat a $1049 i7-6900K.
Quick benchmarks
We had the chance to have a sample of the Ryzen 7 1800X CPU in our labs for just a few hours, so we ran some benchmarks with it, comparing it with Intel's Core i7-5960X processor.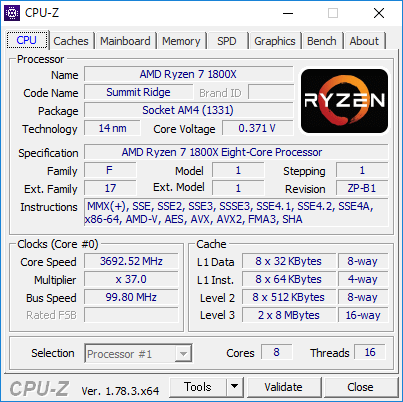 Here is out test set up:
Asus "ROG CROSSHAIR VI HERO (X 370 chipset)
Corsair DDR 4 - 3000 ( CMK 16 GX 4 M 2 B 3000 C 15)
ZOTAC GeForce GTX 1080 AMP Extreme video card
Windows 10 Pro 64 bit (power plan set to "high prerformance")
Storage: OCZ VTR 180 480GB SSD
Graphics driver: GEFORCE GAME READY DRIVER 378.66
We start with the x264 FHD Benchmark, which measures the encoding performance of H.264 video. As you see below, the Ryzen 7 1800Xwas about 20% faster than the Core i7-5960X. Notice than AVX 2 is not supported by the x 264 FHD Benchmark: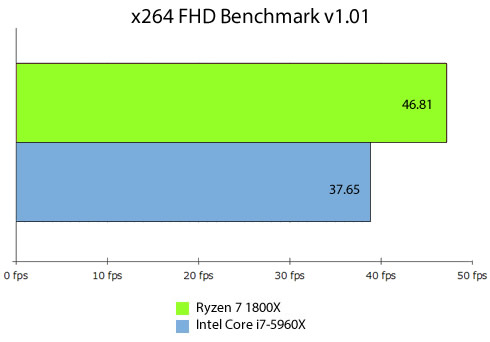 CINEBENCH R 15 measures the performance of the CPU. As you see below, the AMD Ryzen 7 1800X is faster than the Core i7-5960X by about 16% in the single thread and 22% in multithreading tests, respectively: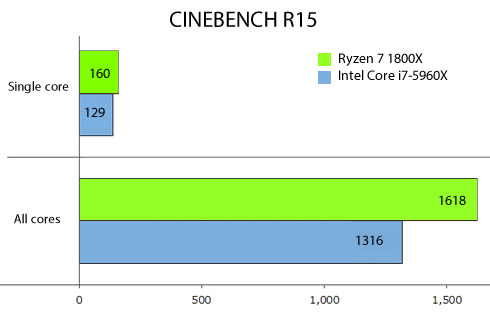 We are moving on to the HWBOT x 265 Benchmark, which measures the encoding performance with H.265 video files. The Ryzen 7 1800 X was a bit slower than the the Core i 7 - 5960 X in the 1080p test, and gave pretty much the same performance with the Core i7-5960X in the 4K test.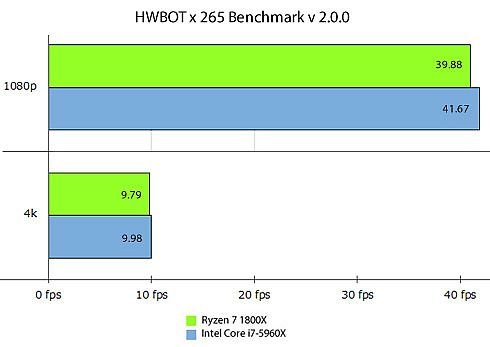 For the TMPG Enc Video Mastering Works 6 betest, in addition to the video encoding test with H.264 and H.265 videos, we measured the performance of each processor with AVX 2 both enabled and disabled.
With AVX 2 enabled, the Ryzen 7 1800 X was faster by about 17% H.264 encoding, but the Core i 7 - 5960 X took a small lead in the H.265 test. On the other hand, AMD's CPU was faster (20%) with AVX 2 extension disabled:
Moving on to the PCMark 8 benchmark, the Ryzen 7 1800 X scored about 3 - 5% higher than the Intel Core i 7 - 5960 X:
We also used Sandra's "Processor Arithmetic" benchmark to measure the computing power of the CPUs. The AMD Ryzen 7 1800X to k the lead by about 13- 17% in the integer arithmetic test and by 12 - 20% in the floating point arithmetic test. This is close to the result we got with CINEBENCH R15's multithreaded test.
However, in the "Processor Multi-Media" test, which measures the multimedia processing performance by using the extended instruction set provided in the CPU, the Core i 7 - 5960 X scored about 20% higher than the Ryzen 7 1800 X.
The "Cryptography" test measures the encryption processing performance of a CPU. Intel's chip has a good lead here.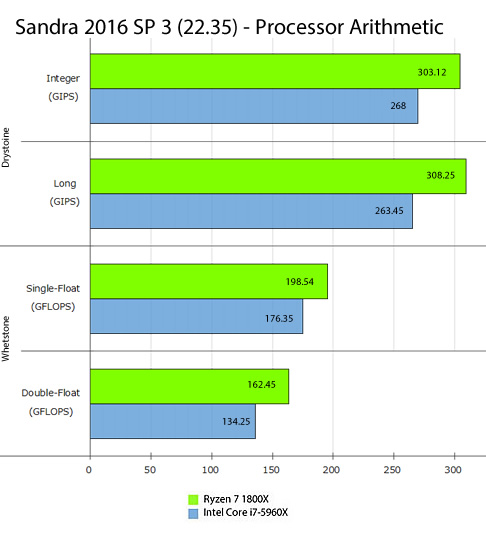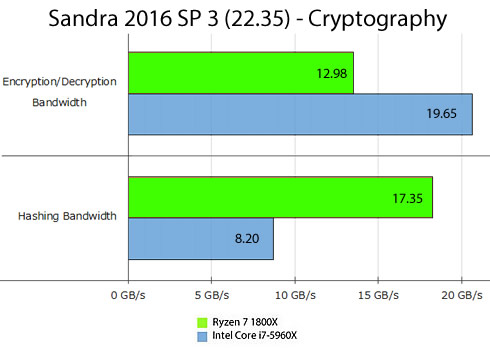 The Ryzen 7 1800X supports dual channel DDR 4 - 2666 memory and achieves speed of about 31 GB / s. The Core i 7 - 5960 X reached the 46 to 47 GB / s, so it has maintained a wide lead in this test: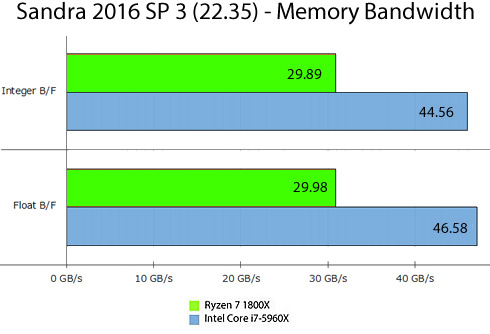 We also ran some gaming benchmarks. In the classic 3D Mark, the two CPUs gave similar scores in the Time Spy, Fire Strike Ultra and Fire Strike tests. However, the Physics Score of the AMD CPU was about 17% higher than Intel's chip.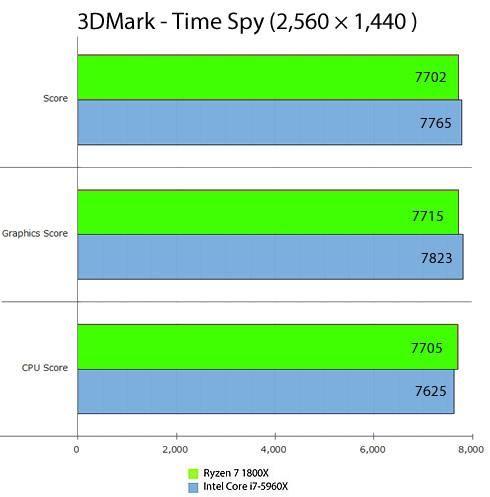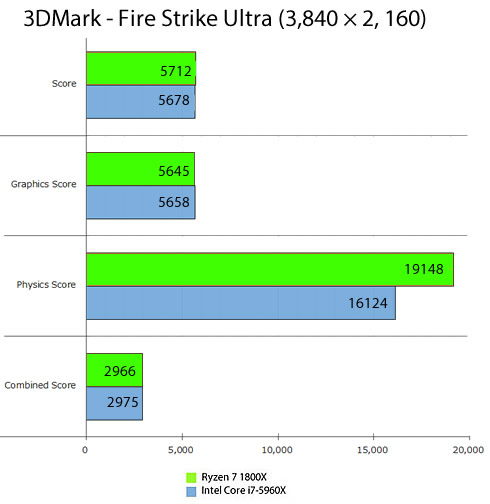 In Final Fantasy XIV, we set the video quality settings to the highest level and took measurements at resolutions of Full HD and and 4K. The processors gave the same scores in the 4K test but the Core i7-5960X took a 12% lead in the 2K test: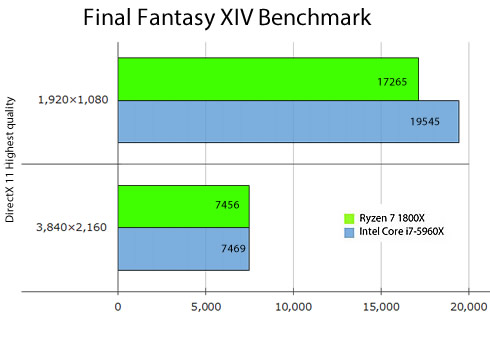 In Ashes of the Singularity test, we set the screen resolution to full HD and used the DirectX API. The test was done in under the 'Standard' and 'Carzy ' settings.
The Ryzen 7 1800 X has almost no difference in the ' actual frame rat'e and the' average CPU frame rate'. It was slower than the Core i 7 - 5960 X in all tests:
During the benchmarks, we also measured the power conumption of each CPU. In idle state, our test system with the Ryzen 7 1800 X installed consumed 43 W, which was more than 10W less than the 57W of the same system with the Core i 7 - 5960 X on board.
On the other hand, the peak power during benchmarking reached the 160 - 190W for the Core i 7 - 5960 X, compared to the 160 W for the Ryzen 7 1800 X. It is obvious the AMD's chip is more power efficient.