5. DAE Tests
AOpen CRW5232 - Page 5
DAE Tests
- Pressed and CDR AudioCD results
The AOpen CRW5232 uses 52x CAV strategy for CD-DA. Below is a screen shot from the CDSpeed transfer rate test with a pressed audio CD: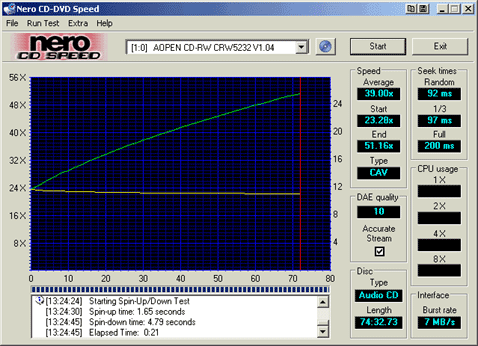 According to CDSpeed, the disc was read using CAV, returning a start speed of 23.28x while the average reading speed was 39x. The drive fell short of the 52x mark, reaching an end speed of 51.16x. On the seek times test the random and 1/3 seeks finished fast while the drive needed more time to finish the full seek test. The seek times here are not very different from those returned in the same seek times tests completed with pressed and CD-R media where times hovered around the 100ms for random and 1/3, and just above 200ms for full seek.
We then ripped the contents of the same audio disc to the hard disk with CDDAE software.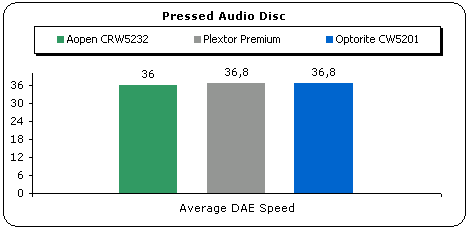 From the above graph we can see that all drives gave back similar ripping speeds for the pressed audio disc.The AOpen drive finished the test with an average DAE speed of 36x while the Premium and Optorite drives reported a speed of 36.8x each.

The same pressed audio disc was copied onto a CD-R and was read again with CDspeed. The AOpen CRW5232 returned exactly the same ripping speed as the Optorite drive at 36.2x while Plextor was a bit slower at 34.2x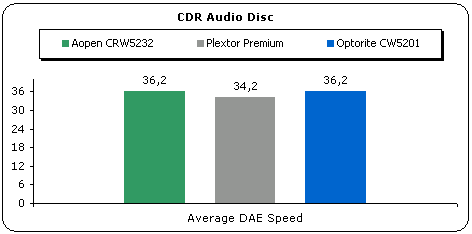 - Advanced DAE Quality
After the end of the CDSpeed Advanced DAE Quality test, the software results are presented in the following screen shot: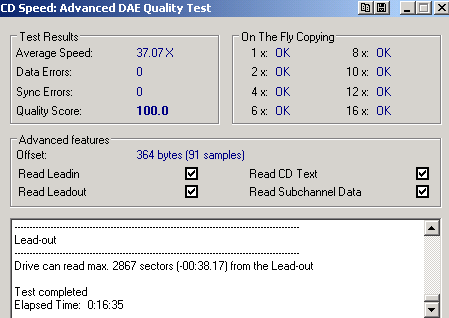 The AOpen CRW5232 received a score of 100 (perfect). CDSpeed reports that the drive can read Leadin, LeadOut, Cd Text and Subchannel Data.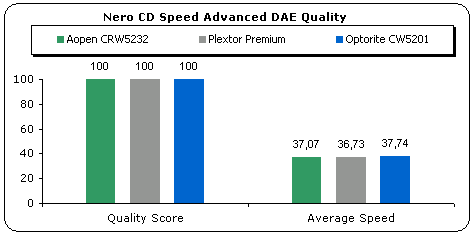 In the above graph we present the quality scores and average speeds for the AOpen CRW5232, Plextor Premium and Optorite CW5201 drives. All drives have a quality score of 100 while the average speed was almost the same for all drives, with AOpen being marginally slower at 37.07x
- Support of 90/99mins AudioCDs
Supports 99min disc
- Reading/Ripping Protected AudioCDs
For the test procedure we used two audio discs with different audio protections schemes. The tasks we tested for are recognition and ripping to the hard disk. The software we used is Exact Audio Copy.
* Pressed Audio disc protected by Sony Key2Audio (Celine Dion - New Day Has Come)
* Pressed Audio disc protected by Cactus Data Shield 200 (Natalie Imbruglia - White Lilies Island)
Key2Audio

CDS200

EAC

Aopen CRW5232

Cannot recognize

OK

Optorite CW5201

OK

OK

Plextor Premium

OK

OK, with few errors
The AOpen drive could not recognize the Key2Audio protected audio disc, but had no problems with ripping and playback of the CDS200 protected disc.