6. CD Recording Tests
AOpen CRW5232 - Page 6
CD Recording Tests
- CD-R Writing Tests
The AOpen drive supports 8x, 12x, 16x, 24x, 32x, 40x, 48x, and the maximum 52x CAV writing speeds. Below you can see the CDSpeed writing simulation graph with Taiyo Yuden 48x CD-R media.
The drive starts writing the disc at 23.87x and reached a writing speed of 52.32x at the end of the process. The average writing speed was 39.86x.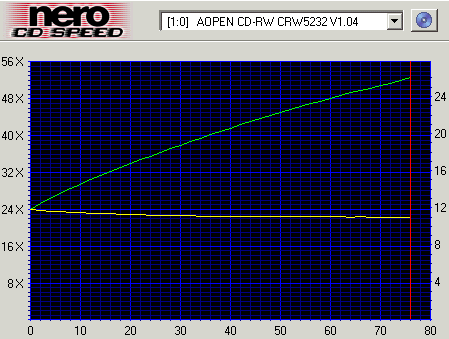 - Recording Times

For the burning tests we created an 80min data compilation using Nero Burning Rom and recorded the data on a 700MB disc. The AOpen CRW5232 finished the writing process in 2:36 minutes with selected writing speed of 52x. From the above graph we can see that the AOpen drive was fastest among the three drives on the writing process with maximum speed.
Below you can see the best writing times of the AOpen CRW5232 for 12x, 16x, 24x, 32x, 40x, 48x and 52x. In each case, the Just Link feature was enabled: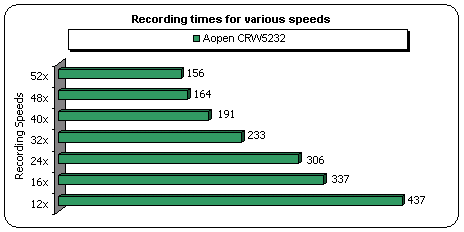 The following graph illustrates the recoding times for various media.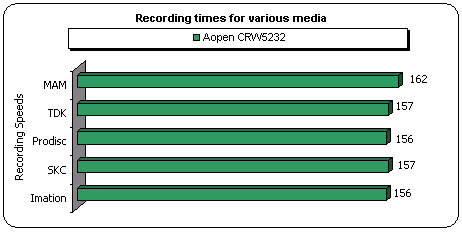 - CD-RW Writing Tests

The AOpen CRW5232 supports the 32x P-CAV maximum rewriting speed for the CD-RW format. Below are the results of the CDSpeed writing simulation test with blank 32x HS-RW media from Mitsubishi Chemicals. CDSpeed reported that the maximum writing speed was 32.34x while the average speed was 30.89x.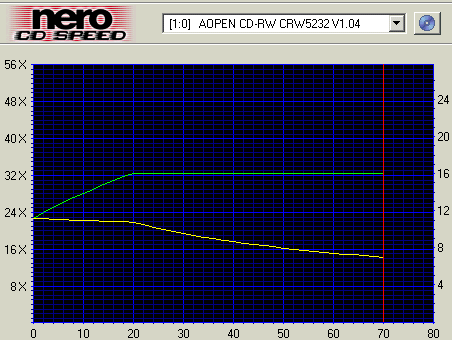 We also used Nero Burning Rom in order to burn a 32x US-RW data disc from MC. The data compilation burnt had a size of 651 MB and the duration of the recording process was 2:58 minutes. The following graph illustrates the time that each drive needed to burn the specific compilation and also the time to quick erase the HS-RW media. The AOpen drive proved slightly faster in both cases.
- Packet Writing Tests
InCD
We used InCD and Mitsubishi Chemicals 32x US-RW media for all Packet Writing tests. Quick formatting of the media took 30sec. The formatted disc had 530mbs of free space. We copied a 403 MB file (403.147 KB) from the hard disk (on the same PC as the CD writers) to the formatted RW media via Windows explorer (drag and drop).
| | | |
| --- | --- | --- |
| | Duration | Average speed |
| Read | 2:24 min | 19.11x |
| Write | 2:25 min | 19x |
The test result summaries are given in the above table. For both read and write tasks the drive needed almost the same time and the average reported speed is 19.11x for the reading and 19x for the writing processes.
MountRainier
| | | |
| --- | --- | --- |
| | Duration | Average speed |
| Read | 3:19 min | 13.8x |
| Write | 4:26 min | 10.34x |
According to the specifications, the AOpen CRW5232 supports MountRainier packetwriting. Just as we did with InCD, here too we used a 32x HS-RW media form Mitsubishi Chemicals. Because of the background format that occurs during MountRainier writing, the drive needed more time in comparison to InCD. The average write speed is 10.34x while the average read speed is 13.8x
- Other features
| | |
| --- | --- |
| Overburning | Up to 98min |
| CD text reading/writing | Yes |