8. Writing Quality Tests - 3T Jitter Tests
AOpen CRW5232 - Page 8
Writing Quality Tests - 3T Jitter Tests
We conducted the same tests as in the previous page, but this time we burned a variety of CD-R media with the AOpen drive.Following are the 3T Pit & Land Jitter result graphs.
- 3T Pit results
As can be seen from the graph above, all media tested exceeded the 35nsec limit at some point. Only EMTEC 48x and MAM 48x media produced satisfactory results. All other manufacturers media produced high levels throughout.
The average 3T Pit Jitter table below simply confirms our conclusion from above, with EMTEC and MAM media having acceptable values. TDK also has what appears to be an acceptable level at 34.22, but don't forget this is the overall average and one look at the graph above shows that towards the outer tracks, the TDK disc reaches 50nsecs.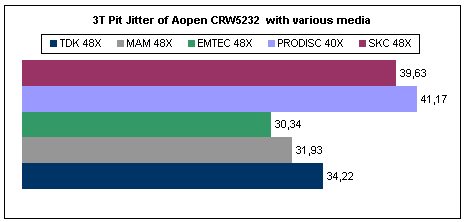 - 3T Land results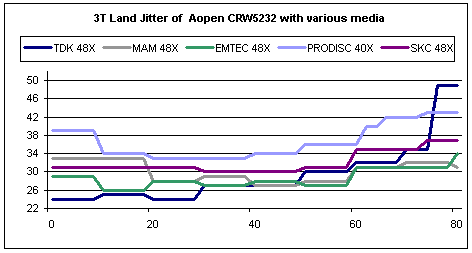 The 3T Land Jitter results don't really present a very different picture from the Pit Jitter results. Here too, only EMTEC and MAM media managed to stay below the 35nsec level, and while TDK and SKC both start off quite well, they exceed the limit towards the end.
The table below shows that no manufacturers media managed to stay within limits. However, both EMTEC 48x and MAM 48x media were only marginally above the limit for 3T Pit Jitter and certainly appear to be a good choice for this drive.
| | | | | |
| --- | --- | --- | --- | --- |
| Recording Speed | Average 3T Pit Jitter (ns) | Average 3T Land Jitter (ns) | > 35ns | Max 3T jitter values (ns) |
| TDK 48x | 34.22 | 29.20 | Yes | 50 Pit, 49 Land |
| MAM 48x | 31.93 | 30.15 | Yes | 36 Pit, 32 Land |
| EMTEC 48x | 30.34 | 28.51 | Yes | 39 Pit, 34 Land |
| PRODISC 40x | 41.17 | 36.61 | Yes | 50 Pit, 43 Land |
| SKC 48x | 39.63 | 32.02 | Yes | 60 Pit, 37 Land |
- Summary
The AOpen CRW5232 in general did not provide good results in the jitter measurement tests. While often, it may be acceptable for some media to exceed the 35nsec Redbook limit, in this case the values were consistently high, and in many cases very high, exceeding 50nsec.
On the following page we examine the C1 and C2 error rates.