Arm Announced Arm Neoverse Cloud to Edge Infrastructure and Roadmap
Arm today annpunced announced at Arm TechCon a dedicated infrastructure roadmap and a new brand identity, Arm Neoverse.
By designing Arm Neoverse IP on the most cutting-edge process nodes and including infrastructure specific features, Arm is providing a basis upon which its ecosystem can build products that span the cloud to edge.
Arm also provided a first look at its Neoverse processor IP roadmap, with early details on upcoming platforms optimized for leading-edge process nodes. The new roadmap is designed specifically for infrastructure, beginning with the launch of the "Ares" IP platform in early 2019 on 7nm and delivering staggering performance gains of 30 percent per generation through 2021. The roadmap also includes "Zeus" (7nm+), and "Poseidon" (5nm) platforms.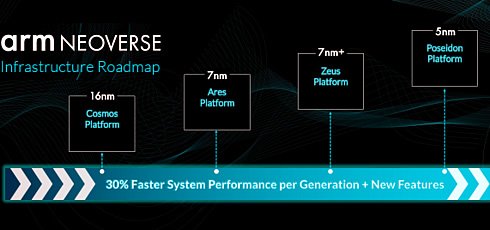 "Today Arm is sending disruptive shockwaves across the cloud, networking and storage world as Arm Neoverse delivers the foundation for the new global infrastructure to enable a trillion connected devices," said Drew Henry, senior vice president and general manager, Infrastructure Line of Business, Arm. "Arm Neoverse IP will enable a broad set of our ecosystem partners to transform infrastructure from cloud to edge and push compute to where it's most needed, store data where most appropriate, and evolve networking to securely connect this complex world."
Versions of the new products will support SoCs packing up to 256 cores and up to eight DDR memory channels, eight HBM stacks, 128-Mbit caches, and fast interfaces such as CCIX.
The Neoverse roadmap fits the roadmap of TSMC. However, Arm said that Neoverse will also support Samsung and UMC nodes.
Long term, the brand is expected to include a variety of CPU, GPU, and other cores, as well as SoCs from customers. Arm will also offer architecture licensees to customers who want to customize Neoverse cores.