ARM Unveils Cortex-A15 MPCore Processor For Mobiles, Small Servers
ARM today introduced the Cortex-A15 MPCore processor that delivers a 5x performance improvement over today?s advanced smartphone processors, within a comparable energy footprint. The announcement signals ARM's ambitious move into high-performance computing since the the 2.5-GHz Cortex A15 processor, codenamed Eagle can be installed in advanced smartphones and mobile computing systems (1 GHz - 1.5 GHz single or dual-core configurations), high-end digital home entertainment products (1 GHz - 2 GHz dual-core) and low-power servers (1.5GHz-2.5 GHz quad-core configurations).
In advanced infrastructure applications, the Cortex-A15 processor running at up to 2.5GHz is expected to enable highly scalable solutions within constantly shrinking energy, thermal and cost budgets. The Cortex-A15 processor is available for licensing today and is targeted at manufacture in 32nm, 28nm and future geometries.
"The launch of the Cortex-A15 MPCore processor marks the beginning of an entirely new era for the ARM Partnership. It brings together more than 20 years of ARM expertise in low-power design with a host of new and very aggressive high-performance technologies," said Mike Inglis, EVP and GM, processor division, ARM. "The Cortex-A15 MPCore processor will become the next major step along the industry?s energy efficient computing roadmap and open up a wide range of new application possibilities for our Partners."
The Cortex-A15 extends the capabilities of the ARM Cortex-A Series by adding efficient hardware support for OS virtualization, soft-error recovery, larger memory addressability and system coherency.
The Cortex-A15 also enjoys full application compatibility with all of the other Cortex-A processors. This enables immediate access to an established developer and software ecosystem, including Android, Adobe Flash Player, Java Platform Standard Edition (Java SE), JavaFX, Linux, Microsoft Windows Embedded Compact 7, Symbian and Ubuntu, along with more than 700 ARM Connected Community members providing applications software, hardware and software development tools, middleware and SoC design services.
The launch of the Cortex-A15 MPCore processor is the result of ARM?s work with licensee partners Samsung, ST Ericsson and Texas Instruments, ARM said.
The Cortex-A15 MPCore processor will be supported by specifically optimized ARM Physical IP that was developed jointly with the processor. These optimizations enable development of leadership physical implementations, initially targeting 32nm and 28nm technologies with a roadmap extending to 20nm.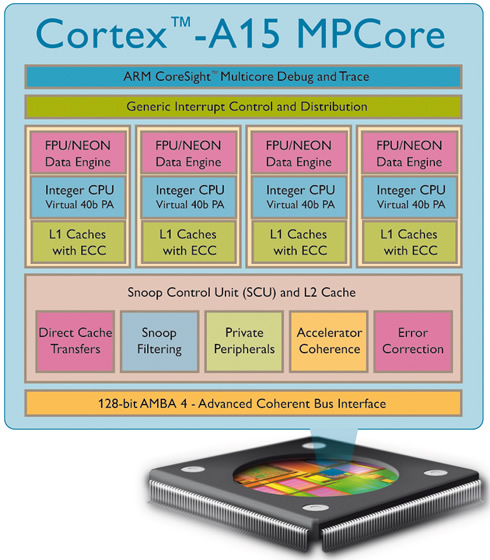 Specifications Cortex-A15 MPCore:
Architecture: ARMv7-A Cortex
Multicore:
- 1-4X SMP within a single processor cluster
- Multiple coherent SMP processor clusters through AMBA 4 technology
ISA Support:
- ARM
- Thumb-2
- TrustZone security technology
- NEON Advanced SIMD
- DSP & SIMD extensions
- VFPv3 Floating point
- Jazelle RCT
- Hardware virtualization support
- Long Physical Address Extensions (LPAE)
Memory Management: ARMv7 Memory Management Unit
Debug & Trace: CoreSight DK-A15
Key Features
Thumb-2 Technology
Delivers the peak performance of traditional ARM code while also providing up to a 30% reduction in memory required to store instructions.
TrustZone Technology
Ensures reliable implementation of security applications ranging from digital rights management to electronic payment. Broad support from technology and industry Partners
NEON
NEON technology can accelerate multimedia and signal processing algorithms such as video encode/decode, 2D/3D graphics, gaming, audio and speech processing, image processing, telephony, and sound synthesis
DSP & SIMD Extensions
Increase the DSP processing capability of ARM solutions in high-performance applications, while offering the low power consumption required by portable, battery-powered devices. The DSP extensions are optimized for a broad range of software applications including servo motor control, Voice over IP (VOIP) and video & audio codecs.
Floating Point
Hardware support for floating point operations in half-, single- and double-precision floating point arithmetic. The floating point capabilities of the Cortex-A15 processor offer increased performance for floating point arithmetic used in next generation of consumer products such as Internet appliances, set-top boxes, and home gateways.
Jazelle RCT
Provides up to 3x reduction on code size for Just-in-time (JIT) and ahead-of-time compilation of bytecode languages while also supporting direct byte code execution of Java instructions for acceleration in traditional virtual machines
Hardware Virtualization
The Cortex-A15 MPCore processor is the first ARM processor to incorporate highly efficient hardware support for data management and arbitration, whereby multiple software environments and their applications are able to simultaneously access the system capabilities. This enables the realization of devices that are robust, with virtual environments that are well isolated from each other.
Long Physical Address Extensions (LPAE)
The introduction of Large Physical Address Extensions (LPAE) enables the processor to access up to 1TB of memory.
Optimized Level 1 Caches
Performance and power optimized L1 caches combine minimal access latency techniques to maximize performance and minimize power consumption. Caches are 32KB for instruction and 32KB for data. Also providing the option for cache coherence for enhanced inter-processor communication or support of rich SMP capable OS for simplified multicore software development
Integrated, Configurable Size Level 2 Cache Controller Providing low latency and high bandwidth access to up to 4 MB of cached memory in high frequency designs, or design needing to reduce the power consumption associated with off chip memory access
Reliability and Soft Fault Recovery
All RAMs within the Cortex-A15 processor including L1 and L2 caches are protected by parity and ECC error correction. This mechanism can correct single-bit errors, detect double-bit errors and log errors. The ECC support does not penalize the common case (no errors)
AMBA 4 Cache Coherent Interconnect (CCI)
The CCI provides AMBA 4 AXI Coherency Extensions (ACE) compliant ports for full coherency between multiple Cortex-A15 MPCore processors, better utilizing caches and simplifying software development. This feature is essential for high bandwidth applications including gaming, servers and networking that require clusters of coherent single and multicore processors. Combined with the the ARM CoreLink network interconnect and memory controller IP, the CCI increases system performance and power efficiency.
Cortex-A15 NEON Media Processing Engine (MPE)
The Cortex-A15 MPE provides an engine that offers both the performance and functionality of the Cortex-A15 Floating-Point Unit plus an implementation of the NEON Advanced SIMD instruction set for further acceleration of media and signal processing functions. The MPE extends the Cortex-A15 processor?s floating-point unit (FPU) to provide a quad-MAC and additional 64-bit and 128-bit register set supporting a rich set of SIMD operations over 8, 16 and 32-bit integer and 32-bit Floating-Point data quantities every cycle.
Cortex-A15 Floating-Point Unit (FPU)
The FPU provides high-performance single, and double precision Floating-Point instructions compatible with the ARM VFPv3 architecture that is software compatible with previous generations of ARM Floating-Point coprocessor.