Assassin's Creed Odyssey and More at Ubisoft's E3 Presentation
Ubisoft today talked about upcoming game titles and presented Assassin's Creed Odyssey, Just Dance 2019 and more.
Assassin's Creed Odyssey
Assassin's Creed Odyssey takes a bigger step back in time than any other game in the series, bringing players to Ancient Greece in the 5th century BCE, centuries before the founding of the Assassin's Brotherhood in Egypt. Launching October 5 on Xbox One, PS4, and PC, Odyssey casts players as one of two Spartan outcasts-turned-mercenaries - Alexios or Kassandra - free to forge their own destiny during the Peloponnesian War, thanks to a big emphasis on player choice.
Beginning with the decision of which character to play as, Assassin's Creed Odyssey gives players the ability to make story-altering choices by navigating interactive dialogue, making or rejecting alliances, and pursuing romance. Assisted by a mysterious First Civilization artifact, the Spear of Leonidas, you'll also be able to unlock new, seemingly supernatural abilities as you journey through Greece, hunting secretive enemies, meeting famous historical figures, encountering myths, and fighting in huge battles between Athens and Sparta.
With that in mind, Odyssey also brings back open-world naval gameplay, putting you at the helm of a trireme warship and setting you loose to hunt pirates and other threats with a steadfast crew of archers. You'll be able to not only customize your ship, but recruit unique crewmembers as well, persuading allies and enemies alike to add their perks and abilities to your roster. You'll also be able to dive under the waves at any time, discovering undersea ruins and battling sharks as you explore.
Assassin's Creed Odyssey also builds on Assassin's Creed Origins' approach to gear; not only will you continually find diverse new weapons to wield, but you'll now be able to find, equip, and customize new helmets, breastplates, belts, greaves, and bracers, with each changing your mercenary's appearance as well as their stats.
Assassin's Creed Odyssey will be available in standard, Deluxe, Gold, and Ultimate Editions. The Deluxe Edition adds gear packs and a naval pack, as well as XP and currency boosts, while the Gold Edition includes the Season Pass and grants early access to the game starting October 2. The Ultimate Edition, meanwhile, contains the Season Pass and the Deluxe Edition content, as well as early access beginning October 2. Additionally, players who preorder the game will get an additional mission, "The Blind King."
Assassin's Creed Odyssey arrives on Xbox One, PS4, and PC on October 5, and will feature enhancements for Xbox One X and PS4 Pro. Stay tuned for more on the game, and more news from E3 2018.
Skull & Bones
Skull & Bones is showing off a new PvPvE mode at E3 2018 called Hunting Grounds. Setting players loose in the open Indian Ocean, this new mode will let them hunt merchant ships, loot trade routes, and sink enemy vessels either as a lone wolf or part of a pirate gang. As you pillage and plunder your way towards fame and notoriety, you'll have to fend off the forces of powerful empires, fiendish rival pirates, and even the treacherous ocean itself. And in true pirate fashion, there's always the possibility of your pirate gang turning on you to take your riches. Skull & Bones will launch in 2019 on PS4, Xbox One, and PC.
On your journey through the Hunting Grounds, you'll need to gather intelligence and prepare your ship's crew and weapons before each hunt. Once you're out on the open waters, you'll have to decide what kind of pirate you'll be.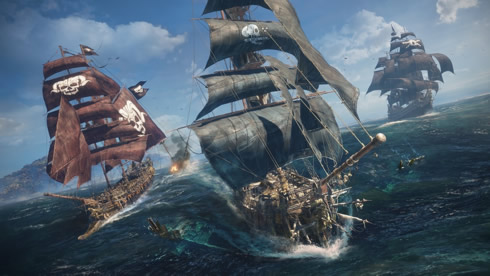 Hunting Grounds will be available alongside Disputed Waters, Skull & Bones' dedicated PvP multiplayer mode, which pits you and four other players against a rival pirate gang to fight over riches, sink opponents' ships, and make off with the treasure before the deadly pirate hunters arrive.
On your journey to become a pirate king, you'll acquire unique and formidable warships. In addition to finding a vessel that suits you, you'll be able to customize your ship with different weapons and crewmates to further refine your experience. Pirates who want to strike fear into the hearts of their enemies at first sight can also customize nearly every visual aspect of their ship, including sails, figureheads, ship wheels, paint colors, and pirate captain.
The Crew 2 Open Beta Begins June 21
Ubisoft said that The Crew 2 launches on June 29, bringing a gigantic open world full of land, air, and water races to PS4, Xbox One, and PC. Before that happens, though, you'll be able to preview the game for free with the open beta, which runs from 1:00AM PT on June 21 until 1:00AM PT on June 25. You can preload the beta on all three platforms now.
During the open beta, a livestreamed King of the Road Trip event will kick off at 1:00PM PT on June 22, with 16 racers competing for the title. Coming from four different areas of the US - the West, Midwest, South, and East Coast - the challengers will compete in an adventure set in their respective regions, testing their skills on a journey through the US. The last racer standing will be crowned as King of the Road Trip, with the event ending at 5:00PT on June 22.
The Crew 2 races onto PS4, Xbox One, and PC on June 29.
Just Dance 2019
Get ready to be straight stuntin' when Just Dance 2019 launches October 23 (October 25 in Europe). This time around, you'll see the reason why they dance all night long with 40 brand new songs including "Finesse (Remix)" by Bruno Mars Ft. Cardi B, "Bum Bum Tam Tam" by MC Fioti, and plenty of other dance hits from around the world. The party doesn't stop there, with a one month trial to Just Dance Unlimited, you'll turn heads forever. The dance-on-demand subscription service gives you access to more than 400 songs with more being added all year long.
This year, watch the whole room change in new dance stages designed by creative experts like street artist Chanoir and stop-motion studio Clay Animation. With the return of Kids mode, even the youngest dancers can make sure their big Bronx boogie's got all the dancers shook. A dynamic new homepage offers up a central hub with more features than a drop top Porsche with seasonal and special event playlists, news, and highlights from around the community.
Just Dance 2019 also offers up a personalized experience. The game learns your dancing habits and offers up custom recommendations based off your previous song selections. You can also create your own custom playlists to make sure that you can easily access your favorite jams and have Bruno sing to you while you do your money dance whenever you want. With enough practice, you'll be a master of any dance. Just remember to blame it on your confidence when you're racking up those high scores.
Just Dance 2019 will be available on PS4, Xbox One, Nintendo Switch, Xbox 360, Wii U, and Wii. There's no need for Kinect or PS Move for those playing on PS4 and Xbox One - with the Just Dance Controller app, any smartphone can be used to play Just Dance.
For Honor - Marching Fire Update Adds New Faction, Heroes, and Mode
A new faction of warriors is entering For Honor's fray this October, and they're bringing the biggest-ever For Honor update with them. The Marching Fire update arrives on October 16, introducing a new faction from China, the Wu Lin, who add four new Heroes to the current roster of 18. And that's only the beginning - Marching Fire also adds a new 4v4 multiplayer mode, Breach, which lets players take part in a full-on castle siege. A sizable raft of other improvements and additions are on the way as well, including graphical enhancements and a new mode featuring unlimited PvE content.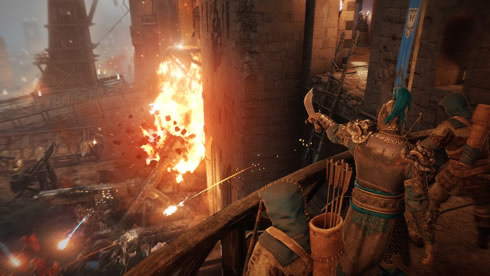 Marching Fire launches October 16 on PS4, Xbox One, and PC, bringing players the biggest For Honor update since launch.
For Honor is now available on PS4, Xbox One, and PC.
Trials Rising
The high-flying, hard-riding action of the Trials series is set to return in February 2019 with the launch of Trials Rising on Xbox One, Nintendo Switch, PS4, and PC. Developed by Ubisoft RedLynx, based in Helsinki, and Ubisoft Kiev, Trials Rising will introduce riders to tracks set in famous real-world locations with creative twists. With more tracks than ever, Trials Rising will challenge players to earn a spot on the leaderboards, compete against other riders, and take on contract challenges from in-game sponsors to rise through the ranks on their way to Trials glory. The game will feature local and online multiplayer, as well as the ability to compete against the ghosts of other players' best times in single player.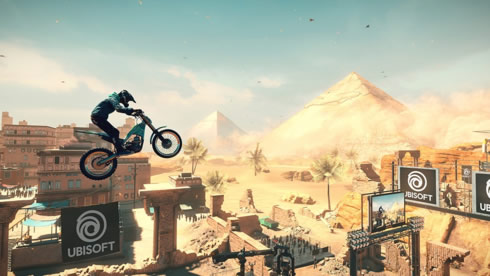 In addition to competition, a new mode called Tandem Bike will test riders' cooperation as two players split control of one bike and try to navigate action-packed tracks. Players will also be able to customize the look of their riders and bikes, and then share their creations with the community for a chance to earn rewards if other players decide to use their designs.