1. Introduction
01 - Introduction

There is not much that we can say about Asus that hasn't already been said. It's been in the industry for a long time, manufacturing quality-based products. In 2003, Asus sold 5,000,000 motherboards which means one out of every 5 desktop computers was built using an Asus motherboard. In the VGA arena, Asus is known for two things: a)its quality, b) its slightly pricier products.
This time we'll be examining the Asus AX X600 XT PCI Express card. For those of you who missed our previous reviews, here's a recap on what is PCI-Express :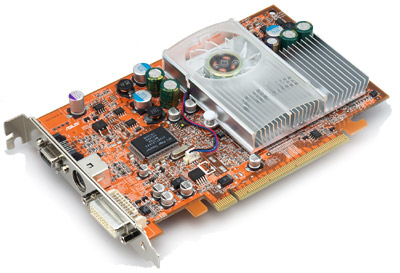 In a nutshell, it's the technology used when your newly installed graphics card communicates with your motherboard. Currently, unless your computer is 6 years old or older your motherboard has an AGP slot for your vga card. As today's (and tomorrow's) processors and Input/Output or I/O devices demand much higher bandwidth than that available with AGP's 8X, PCI-Express was created with a maximum bandwidth of 16X. In the following 2 years, AGP will be phased out as all vga cards, soundcards and other peripherals will be manufactured for PCI-Express powered motherboards. However, for the time being, PCI-Express has been designed to be backwards compatible, meaning that it's still using the same principles as PCI2.2 to avoid application and driver problems. Due to this compatibility limitation, an issue in performance arises as the AGP8X version of a VGA card is currently faster than the newer PCI-E version.
- Packaging - Bundle
Asus continues the tradition that sees its VGA cards shipping in large, shiny boxes, no matter the actual size of the card inside. Luckily, the X600 comes with a rich bundle to fill the box.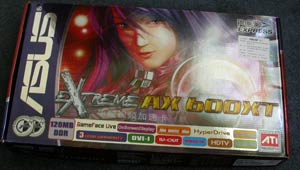 The main star of the X600's bundle is the so called Asus CD Suite, a bright orange plastic 12 cd case containing all of the card's software. The full version of Deus Ex is the only game it contains as well as 4 other cd's that are included in all Asus VGA cards packages.
Software Bundle:
-Deus Ex
-AsusDVD
-MediaShow
-PowerDirector
-Ulead Cool 3D and Photo Express
-Asus VGA driver (R8.02)
-Asus VGA manual
Also inside the package, you'll find a DVI-to-VGA adaptor (the only way we could connect the card with our monitor), an S-Video to composite cable for VideoIn/VideoOut use and the HDTV adaptor for HDTV connectivity.
The DVI-to-VGA adaptor, S-Video to composite VIVO cable, HDTV adaptor and the Asus CD Suite bundled with the AX 600XT.