16. Conclusion
16 - Conclusion
Just like the Powercolor X600XT , the Asus AX600XT yielded satisfactory performance. It's able to render most of the games with all the eye candy enabled but mainly under low resolutions. In any case, don't expect not to give up some quality options in order to enjoy games such as Thief 3 or Doom 3.
The card's price varies, at around $230 and as we mentioned before is targets towards the mid-to-high end user. It's really a shame the X600 is nothing but a port of the 9600XT for PCI-Express powered motherboards. All the other new generation ATi products (X300,X700 and X800) seem to set new standards in terms of price/performance but X600 has nothing new to offer.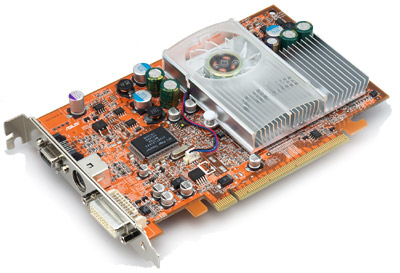 As you saw on the previous page, the AX X600XT is quite an overclocker. The fan/heat-sink didn't help a lot in cooling the memory modules but it did a great job on the GPU core. The core's clock is the most significant part when trying to overclock a card, so the performance boost we got was more than satisfactory.
The AX600XT's bundle is a lite version of the X800XT's bundle.With Counterstrike: Condition Zero missing from the CD case, Deus Ex is the only game to stand out amongst the remaining software. However, Deus Ex is a great game, worth purchasing and it surely gives the bundle some strong points along with the portable Asus CD Suite.
Pros:
-Reasonable performance
-Great bundle
-HDTV output
Cons:
- Noisy cooling fan
- A bit pricey
| | |
| --- | --- |
| | |
| | |
| | |
| | |