ASUS Launches Essence STX II and Essence STX II 7.1 Hi-Fi-Grade Sound AUdio Cards
PC enthusiasts will certainly be interested in the new Asus Essence STX II and STX II 7.1 PCI-Express sound cards. Key factors include 124dB signal-to-noise-ratio (SNR) clarity for line-out and 120dB for headphones with a 600 ohm-headphone amplifier included.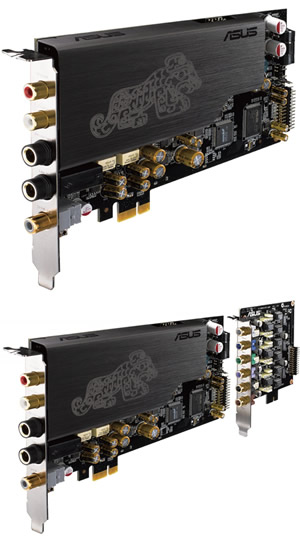 Precision clock is controlled by a temperature-compensated crystal oscillator (TCXO) clock source, power delivery is optimized with low-dropout (LDO) regulators and German-made WIMA capacitors deliver balanced sound.

The new series also feature additional gain control for in-ear monitor (IEM) headphones, MUSES 8920 and MUSES 8820 operational amplifiers (op-amps) and an included op-amp swap kit.

Both Essence STX II and STX II 7.1 benefit from swappable op-amp sockets and come with a swap kit that includes three additional op-amps - two Texas Instruments LME49720s and one MUSES 8820 ? that allow users to create different timbres and tonal combinations.

Exclusive to Essence STX II 7.1 is a multichannel daughterboard that delivers true 7.1-channel surround with 120dB SNR outputs. This daughterboard slides into a slot adjacent to Essence STX II 7.1.

Each channel is fully customizable with nine swappable op-amp sockets.

The cards also benefit from a software package that includes a full version of Dolby Home Theater software suite for PCs.

Asus did not provide pricing details for the new products.


 

Essence STX II 7.1

Essence STX II

Channel

7.1

Stereo

SNR (signal-to-noise ratio)

124dB (RCA out)

120dB (headphone out)

118dB (line input)

120 dB (surround out, Essence STX II 7.1 only)

124dB (RCA out)

120dB (headphone out)

118dB (line input)

THD+N (total harmonic distortion plus noise)

0.0003% (-110dB)

Frequency response

10Hz-90kHz

Sample-rate resolution

Up to 192kHz @ 16/24bit

Output impedance

100ohm (line out)

10ohm (headphone out)

Full-scale output voltage

2Vrms (line out)

7Vrms (headphone out)

Swappable op-amps

2 x MUSES 8920 (I/V slot)

1 x MUSES 8820 (LPF slot)

3 x LM4562 NA (I/V slot of daughter board)

6 x JRC 2114D (LPF slot of daughter board)

2 x MUSES 8920 (I/V slot)

1 x MUSES 8820 (LPF slot)

 

Connectivity

8 x stereo RCA out (front/side/center-subwoofer/rear)

1 x 6.3mm(1/4?) headphone out

1 x 6.3mm(1/4?) input (line-in/mic-in)

1 x S/PDIF Coaxial out

1 x Front panel audio header (HD audio/AC 97 compatible)

2 x stereo RCA out (left/right)

1 x 6.3mm(1/4?) headphone out

1 x 6.3mm(1/4?) input (line-in/mic-in)

1 x S/PDIF Coaxial out

1 x Front panel audio header (HD audio/AC 97 compatible)

Software

Dolby Digital Live/ Dolby Headphone/ Dolby Virtual Speaker/Dolby Pro-Logic II

Op-amp swap kit

2 x LME 49720

1 x MUSES 8820

1 x IC clamp

Dimensions (W x L)

168 x 107mm (main board)

111 x 102 mm (daughter board)

168 x 107mm