ASUS Launches RAIDR Express PCI Express-based SSD
ASUS officially announced RAIDR Express, the first PCI Express-based SSD with a DuoMode feature that allows it to work with either legacy (traditional) or modern UEFI BIOS. Aimed at hardcore gamers and PC enthusiasts, RAIDR Express offers a 240GB capacity, sequential 830MB/s read and 810MB/s write speeds, and bundled with many features that maintain the high-speed performance and extend its lifespan. Boasting the ROG red and black design with double-sided metal shielding and an 620,000 hours mean time between failure (MTBF) to ensure quality, RAIDR Express is built to last.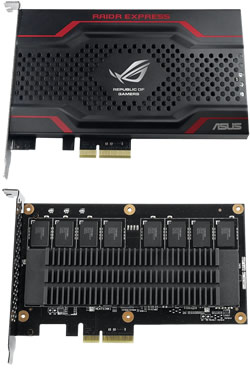 With two BIOS chips onboard, RAIDR Express includes a hardware switch that lets users alternate between legacy and UEFI modes, ensuring the best compatibility with PCs old and new.
In legacy mode, the RAIDR Express can be used on older motherboards ? those with a traditional (non-UEFI) BIOS. By switching to UEFI mode, users can boost PC startup times.
The SSD uses the latest generation dual LSI SandForce controller, Toshiba-made 19nm 16K-page size multi-level cell (MLC) sync-NAND flash and offers 100,000 4K read/write input/output operations per second (IOPS) and 830/ 810MB/s sequential read/write speeds.
The bundled RAMDisk utility that allows users to dedicate up to 80% of a computer?s available RAM for use as a high-speed virtual drive that accelerates the loading of applications and games. In ASUS tests, read speeds of over 12,000MB/s were reached.
Better still, RAMDisk extends the life of RAIDR Express by reducing unnecessary write operations. RAMDisk even backs itself up to the main system drive when the PC is shut down and restores itself automatically at power-up. The ROG SSD TweakIt tool ups the speed stakes still further by relocating repetitive write activities to the RAMDisk for even faster operation, while keeping RAIDR Express at peak performance for much longer. SSD TweakIt can also be used to apply a preset profile that refines processor settings automatically to achieve additional speed boosts of up to 5%.
RAIDR Express also includes ROG HybriDisk technology super-charges hard disk drive storage. HybriDisk allows RAIDR Express to act as a solid-state cache for high-capacity hard drives up to 4TB, but its PCIe architecture means data transfers smash the 600MB/s SATA limit for traditional PC storage. ROG CrystalDiskMark benchmark tool is also included.