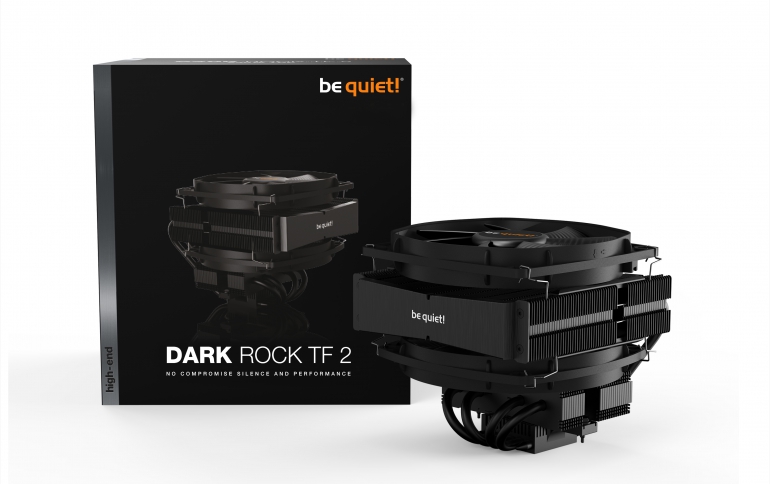 be quiet! Dark Rock TF 2: High-end cooling with top-flow design
be quiet!, the German manufacturer for premium PC components, is announcing Dark Rock TF 2. This high-end top-flow CPU cooler combines maximum cooling performance of up to 230W TDP with virtually inaudible operation, thanks to its dual-heatsink design, six high-performance 6mm heat pipes, and two Silent Wings 135mm fans. Dark Rock TF 2 also looks the part with its brushed aluminum top cover and special black coating with ceramic particles, making it the ideal choice for all who strive for the highest yet quiet cooling performance in style.
Effortless cooling under extreme conditions
For anyone looking for a true high-end cooler, Dark Rock TF 2 ticks all the right boxes. The dual-heatsink design with six high-performance copper heat pipes offers maximum performance even under extreme overclocking conditions and the top-flow design provides ideal cooling not only for the CPU but also for the surrounding motherboard components. Even so, Dark Rock TF 2 is virtually inaudible, thanks to a funnel-shaped Silent Wings 3 135mm as the upper fan, and a Silent Wings 135mm (without funnel-shaped entry) as the lower fan. Both fans are equipped with a durable fluid-dynamic bearing, smooth six-pole motors, and up to nine airflow-optimized fan blades, resulting in a low noise level of 27.1 dB(A) at 100% PWM speed. Anti-vibration rubber inserts on the heat sink fins further dampen unwanted operational sounds.
Elegant yet functional design for all build conditions
With its impressive 230W cooling performance Dark Rock TF 2 performs exceptionally well, but also looks the part. The brushed aluminum cover gives it an elegant look while the special black coating with ceramic particles improves heat transfer compared to other, less sophisticated coating methods. The dual-heatsink design allows installation of memory modules with a height of up to 49mm, while installation of the cooler itself is effortless thanks to the optimized mounting kit with a fixed cooler mounting bridge. Even though Dark Rock TF 2 includes two fans, users looking for high-end cooling in more compact builds can utilize the cooler in single-fan assembly for a low overall height. be quiet! offers a three-year manufacturer's warranty on Dark Rock TF 2.
Dark Rock TF 2 is available from August 10 at a recommended retail price (MSRP) of $85.90 / €85.90 / £79.99.