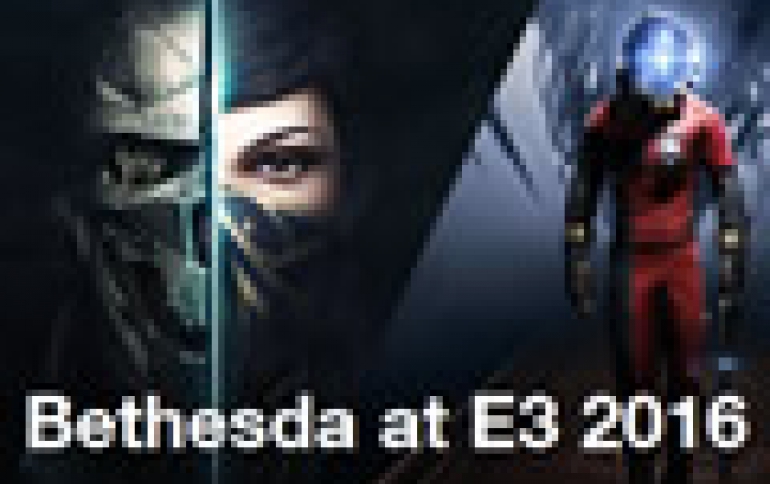 Bethesda at E3 2016
At this year's BE3 Showcase, Bethesda announced Quake Champions, Skyrim Special Edition and Prey, updates on DOOM, Fallout and two Elder Scrolls games - along with the global gameplay premiere of Dishonored 2. Kicking off the BE3 Showcase, Quake Champions was revealed to the world with a cinematic trailer. This arena-style multiplayer shooter captures the essence of Quake, while bringing it to a new generation of players who might be experiencing the franchise for the first time. The competitive shooter is built for eSports, and will be fast on PC, running at 120hz with unlocked framerates.
Arkane Studios - renowned for their first-person action games, including Dishonored - brings their vision to Prey, reimagining the franchise from the ground up.
One of the most beloved games of the last generation, Skyrim Special Edition brings the fantasy to life in remastered detail, with all the official add-ons included. Skyrim Special Edition will release on October 28, 2016, and will support full PC Mods on console.
In the worldwide premiere of gameplay, Dishonored 2 showed off its new setting, new hero, and new mission design. Along with the beauty of Karnaca, Arkane Co-Creative Director Harvey Smith revealed new insights into Emily Kaldwin (both her character and her unique powers) along with detailed walkthroughs of the game's themed missions - including a long look at The Dust District and a sneak peek at A Crack in the Slab.
Bethesda Game Studios revealed three more add-ons, with the first available next week. Get the full scoop on Contraptions Workshop, Vault-Tec Workshop and the game's final add-on, Nuka-World.
It's been a two years since The Elder Scrolls Online has launched. ESO has seen numerous updates and DLC packs. The latest - Dark Brotherhood - releases on console this week. But the biggest news might be One Tamriel, an update that allows players to go anywhere and group with anyone, regardless of their level.
Along with strategic card-based gameplay, The Elder Scrolls: Legends also has a story-driven campaign. Find out more about how you can change the past, present and future of Tamriel in the new campaign trailer.
Hot on the heels of its release, DOOM is back with even more ways to create, play and take on demons from Hell. For starters, DOOM will have a free demo of the first full level of the game - but it's only available for a limited time. Also, along with a bevy of free updates to SnapMap and Multiplayer, Executive Producer Marty Stratton unveiled the first premium DLC pack, releasing next month.
Countless Mods have already been created for Fallout 4. Full PC Mods are also coming to console with the all-new Skyrim Special Edition .
Not only Bethesda announced that Fallout 4 is coming to VR devices in the next 12 months, but it was also available as a VR demo complete with guns and Raiders at the BE3 Plus event.